The early morning flight to Budapest is a killer. You rise at 5am and then get the first tube up to Tottenham Hale then the over ground train to Stansted. It is cold, dark, misty and wet. Simon (my architect friend), Louise (Mrs Woodham Smith), and I exchange many glances wondering why on earth we are doing this. But we get through it. Coffee is drunk, and a breakfast bap with an omelette and bacon restores a bit of sanity as the eyes begin to focus. Ryanair does its very best to render the flight as gruesome as possible. Firstly, the flight gate is announced and then is closing almost immediately, thereby adding a breathless, brisk walk to our early morning. Then, having rushed, we stand for half an hour queuing to queue. One line of relentless waiting follows another and as, when we are seemingly on the brink of actually sitting down, they slip in another queue on the tarmac. Finally, landing in Budapest the ghastly Ryanair add insult to injury by trumpeting a little fanfare to themselves, celebrating superficially how efficient and on time they are but surreptitiously celebrating how they have tortured all of us for hours and the prospect of torturing us on the way back.
Stephanie, who is getting married in August, is waiting for us as we emerge. She is an enthusiastic, open-hearted woman of around thirty, born in America but with a Hungarian soul. She is trained as a lawyer but is now working to build and develop her father's wineries, Sauska wines. Surreally, we cannot escape from the airport. We all have 10,000 forint notes and though that is only about $50 we cannot break the note anywhere to get the necessary 2,000 to exit the car park. I try to buy a phrase book. The book shop has no cash at all. I go to the change office. They also only have denominations greater than 5000. Finally, I go the cafe to spend as much on coffee as I can. Espressos and cappuccinos are ordered and, as the girls twiddle the relevant nobs, I look at the chocolate bars resting in a basket before me. I remove a twix and a mars bar, beside I observe little bottles marked Palinka and flavoured with plum, apricot, and pear. What are these? Palinka is local vodka. Wow, isn't it great to sell vodka shots to go with coffee? Come on Starbucks- get with the programme! Needless to say a purchase is made, the car can be extracted, and Simon and I stand outside and greedily gulp down our early morning coffee, fortified. The day is seriously looking up.
Budapest is dusted with snow; the city looks romantic and straight out of a fairy tale. The roofs are adorned and graced by the Szolnay factory coloured tiles and the frequent onion domes twinkle even in the grey sky. Last week I stood shivering on Hammersmith Bridge watching my son row, this week I am on the chain bridge. Weirdly, they are almost by the same architect. William Tierney Clark built the first suspension bridge over the Thames at Hammersmith. The current bridge stands on the same foundations and has the same profile but is an 1880's replacement by Bazalgette. Tierney Clark, though based more or less his whole in Hammersmith itself, ironically, designed the first suspension bridge, indeed the first permanent bridge across the Danube between Buda and Pest. Widely considered the signature construction of the city and completed by a Scottish engineer also called Clark (but no relation) it is actually a scaled up version of a bridge at Marlow crossing the Thames!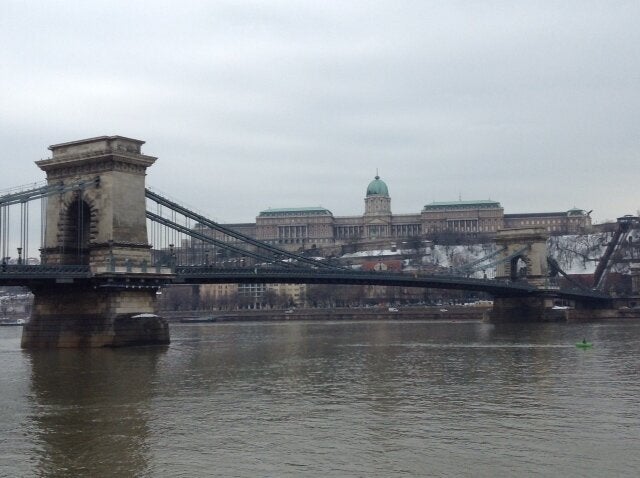 For supper, we headed to a new restaurant in the city with Christian and Stephanie. Christian always takes his own wine, and when I say his own wine, I mean his own wine. The restaurateurs kick up a bit of a fuss, but Christian charms them and soon they are putty in his hands, bringing ice buckets and special glasses. Many of Christian's wines are named after prime numbers. This evening we taste a preview of 105. It is an explosion in the mouth; it has an amazing mixture of crispness and minerals, with fruit and honey jostling for attention. It is not sweet at all but neither is it dry. In short, it is a poem- a love affair. I want to drown in it. With it, I eat an extraordinary-sounding dish of barley, scallops, and pig's ear. It sounds weird but the barley is prepared like a risotto and has a yellow tinge from saffron. The ear is sliced to thin shreds and deep fried, rendering it crispy and salty, all vestige of an ear a distant memory. The food throughout the meal is delicious but we are preoccupied by the wine.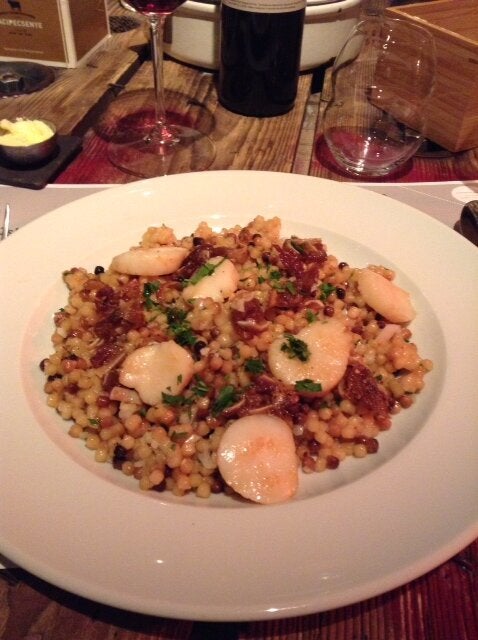 Back to London, and then down to Sussex to have a midlife crisis day. Boy's toys are to the fore. I am visiting Eagle Cars and Shaw Speed & Custom. The latter exhibited at Masterpiece London last year and are producers of custom Harley Davidsons. They are the only non USA firm to ever become world champions at the annual custom show. Their bikes are the diametrical opposite of the brash flame and nude expectation of 'custom' bikes. They are simple, pared down, almost British reserve style bike. But they are astonishingly glamorous. Each one is a unique design fashioned from both an initial design and reworked in the workshops based on what will actually work and be ride-able. Like all good workshops, their rooms are spotlessly clean and every nut and bolt has an ordered and clean home. I love the calm professionalism as much as the bikes themselves. I am shown round by John and his right hand man Steve. Though they are boss and employee, there is a touching, almost father and son, bond between them. Total trust is conveyed in every sentence, coupled with mutual respect. Steve is shaven headed, tall, and slim. If it wasn't for his easy smile and friendly manner, he could be quite intimidating. John is grey-haired and ageless, clearly a generation older then Steve, but nonetheless hard to date, he could be 60 but equally could be older or younger. They drive me over to the nearby Eagle cars. They are the renowned specialist dealers and restorers of e-type Jaguars. Based at what appears to be a simple collection of wooden farm buildings, they have created a jewellery box of wonders. Black painted doors open to reveal an unbelievable array of these iconic sports cars. Each one is cosseted back to perfection in a forensic way by the Eagle team. My camera clicks away as I am rendered speechless through a mixture of respect and desire. I am wooing them to bring some of their cars to Masterpiece. They would be a 'wow'. In many ways, they typify all that we try to achieve with the show: great art, beautiful condition, fabulous engineering and most importantly, a current and relevant respect for today and the past.