The heavy wagons of the contemporary art world have rumbled into London. Christies and Sotheby's have punched sales up, with the evenings offering each around 50 lots and totals reaching over £20 million, backed up by day sales of about £10 million. By way of contrast, and to give an idea of the importance of this market there were decorative arts sales last week in New York which both brought in just over $2 million, or to keep it in the same currency about £1.3 million. PAD has emerged from the LAPADA chrysalis in Berkeley Square, and Regent's Park plays host to the leviathan Frieze fairs. Frieze Masters is the bigger draw for me, but the main show is equally, if not more, astonishing. There are a lot of people and there is a lot of money in town.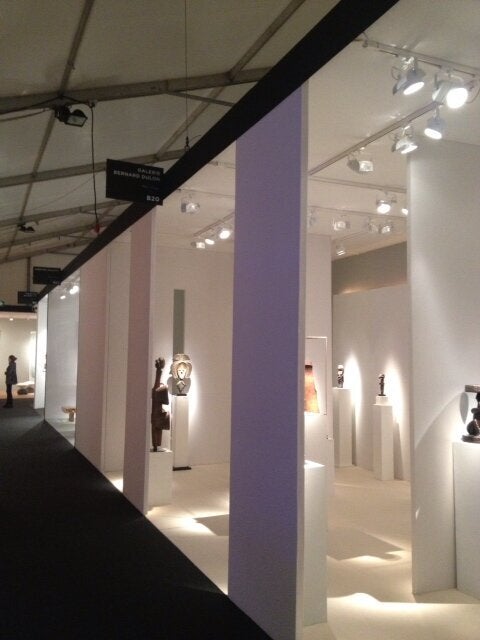 Faced with so much to see and do, I began the week drinking champagne. The stupid o'clock Eurostar. Getting to the train for 5 am required a cycle ride to St Pancras at 4.30 am. Luckily it was not raining and the brisk cycle through a quiet London was a joy. I have never enjoyed the Elephant and Castle double roundabouts so much. They flew past. Up over London Bridge, the Thames looking sluggish and moody- I peddled onwards to the station. I chained up my bike, full of energy and raring to go. Seemingly an instant later and before most Londoners get to work, the train deposits me at the gare du Nord. A brief walk follows, to the charming but impressive gare de L'Est. I meet up with my wine-making friend and his 'chef de cave', and we are on our way to Reims, everyone in good spirits for the oenological adventure ahead.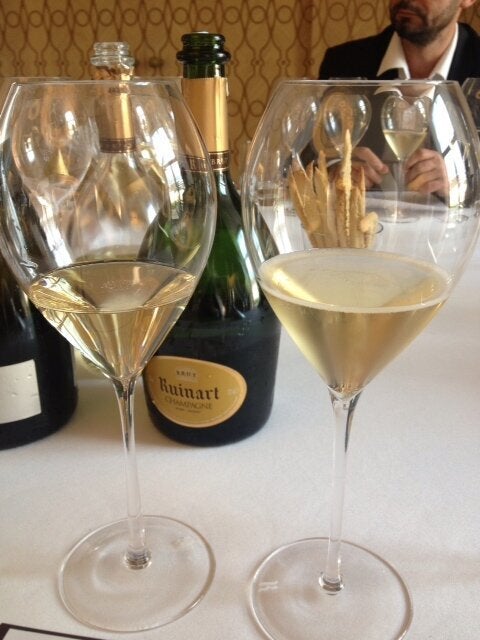 Since Ruinart became the champagne sponsors for Masterpiece, I have grown from being a fan to being an ardent devotee. This year at the fair I became addicted to the rosé
champagne. They make two, Ruinart and Dom Ruinart. My advice to all is to avoid the Dom. It is so astonishingly delicious you will penury yourself! The standard champagnes have a Dom too, and that is equally ridiculous. Last year, Nicola and I were invited to the château for lunch and a tasting. They plied us and entertained us, and we staggered back to London delighted and unsteady. This time, the two Frederics, the president Dufour and the chef de cave Panaiotis, had agreed to do the same for my friend. His wine making business in Hungary Sauska wines is up and coming, and he is just beginning to make 'Methode champenoise'. He is not using Pinot noir and Chardonnay, however. He is making wines from the Hungarian local grapes Furmint and Harslevelu. He is doing something incredibly hard, but as rewarding as it is challenging. We are being given an hour with Frederic P, and he is amazing, kindly sacrificing time from the harvest. He is an eager, direct, highly-focused wine obsessive. Spare and trim of form, he wastes no time and spells out the handling, nitrogen, pressing and fermentation processes at Ruinart in exquisite detail. It becomes apparent that though the great champagne house are physically close, for obvious reasons, their wine making philosophies are radically different. At each stage, from planting to bottling, there is room for debate and difference. The professionals discussed and I sat quietly sipping Dom Ruinart. I could not share any wisdom but I could swallow. They all spat it out, I consumed as heroically as was dignified.
Lunch at the magnificent les Crayeres hotel brought another masterclass. The food was as elegant as the surroundings, and my grilled kidneys with morelles mushrooms were distractingly good. But the magical thing was listening, as Frederic D gave my friend advice on how to market the wine. It was equally clear, true and as passionately expressed as that of his namesake. The day concluded as we headed off to the station, but not before we had time to sit and reflect on the fact that Ruinart is clearly in fantastic shape, with two very strong hands at the wheel.
PAD is elegant and stately, with wide aisles surreally punctuated here and there with massive trees. The interior is a total contrast to the claustrophic atmosphere that was here but a few short weeks before. The dealers seem chirpy and though the aisles were far from crowded on the day I went, there was a mood of confidence. There was a lot of serious art and the French were there in force. But the most amusing stand was that of Tim Jeffries of Hamilton Gallery. He had constructed a bondage chamber in one side of his stand, with raunchy photographs enhanced by chains and black leather. He had won the stand prize and not surprisingly as it was witty, challenging and showed off the art well.
Frieze Masters was amazing. The dealers had pulled out all the stops. The international trade had gathered in this sober festival of grey to bring great work. True it was basic, true the restaurants are squashed in at the back, but the overall effect is one of a gathering of excellence. The dealers looked eager and optimistic and I think enough business was done. I sat down briefly beside Mathew, the owner and founder, and congratulated him. He seemed exhausted but well, and so he should be- the fair is, once again, the talk of the town.
Sunday I had set aside for the main Frieze, but it began badly, with the unpleasant discovery that our side passage had been broken into and four precious bicycles had been stolen. My almost new Toni Bevilaqua, both my sons bikes, and, weirdly, an old dog of a bike that my wife occasionally rides. Astonishingly my Van Moof was left behind, and the reason became clear later on. The police arrived and took my pathetically pointless statement. Then we looked at the door, which had a massive foot print by the lock. Forensics came up from Croydon and took a print of it, Nike apparently, easy to tell from the tread. I had not chipped or 'frame registered' any of the bikes, so bye bye! I felt really sad for all us, including the bikes. It is sort of like virgins being sold off to be slaves. Their next owners will treat them roughly and they will probably end up in some degraded state. My poor bikes!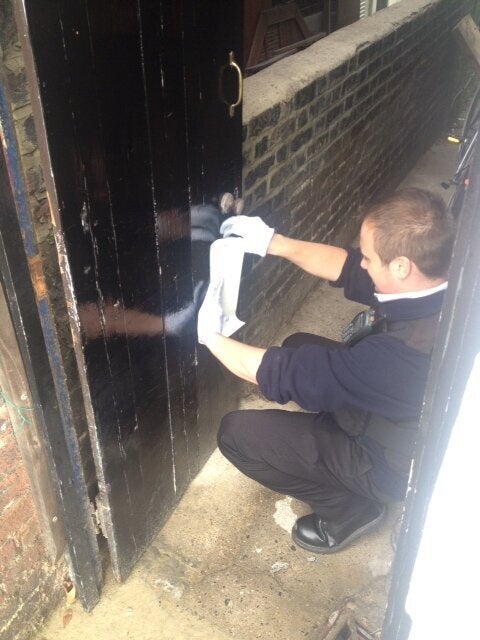 But, my motto has always been," every loss is a shopping opportunity in disguise". So we head off into town to buy a bicycle. Several shops later we find ourselves further depressed. There is nothing out there we like and the knowledge of the shop assistants is both lamentably small or they are unpleasantly pushy. We repair to Villandry in Great Portland Street, ostensibly to have a quick lunch before heading into the Frieze maelstrom, having failed on the bike-front. Lunch is delightful. Villandry is consistently good, stylish, good service, great, not-imaginative food. A glass of crisp cold Prosecco, dressed crab and a delicious burger with bacon, and the world is beginning to look right again. But the heavens have opened. Rain is falling in torrential proportions. We naughtily head for the car, but are stopped by a small bike shop call Velorution. The owner is wise and grey haired and the shop is elegant and the bikes are beautiful and well explained. Despite the downpour my sons and I try out several and finally fall for an all black beast of a bike, the Leader 725, built around the ethos of the New York couriers. It is light, well-balanced and very fast. They set it up for us, increasing the ratio of the single gear. Downstairs in the workshop there are two identical bikes, just bought by a legend of English football for himself and his son. There are only two hundred and fifty of these bikes in the UK. He tells there is an unexpected boon to buying a rare bike. Thieves don't take them as they are too easily traced. Hence the survival of my Van Moof. aha! We end the day excited by the whole bike experience and heartened against the sadness of our loss.