I love shopping. In fact I would have to admit that I have made a career of it. So, when my friend, fireball antiquarian book dealer Daniel Crouch, asked me to accompany him as shotgun on a trip to my favourite shopping county Norfolk, it would have been churlish to refuse. My reward was not to be monetary but gastronomic, as we were to be booked in and fed at the Gunton Arms. Given that the destination was Norfolk this exchange suited me perfectly.
Daniel is an awesome storyteller and the scrapes and the adventures he has been through would fill several books - let alone a small short blog. But there is hardly a city on this planet where he has not fought his way out of a bar and into the arms of a very sellable undervalued atlas or map. He is only a shade past 40 years of age and if he does not die young from excess he will be busy amusing his friends and making heavy sacks of money for plenty of years to come.
Passing Norwich we toyed with visiting the dealer come carp enthusiast Richard Cranmer but he declined our visit. He is one of those dealers who have rooms of charming and sellable material but none of it is for sale. I only go once every three or so years, as it is pretty dispiriting and annoying. Thus we started our tour in Aylsham at the den of Pearse Lukies. He is known affectionately and accurately as Baldy. The epithet is particularly appropriate as he is a bald speaker too. He has an amazingly eclectic eye and you would be mad to waste your time predicting what you might encounter. True, you could predict and anticipate finding knackered bits of medieval carving and a flurry of early furniture but further guesswork would be futile. Daniel is looking for a refectory table for his hall and a trunk to use as both toy storage and a coffee table. We examine together a quantity - but a colonial brass bound Chinese hardwood trunk, a Charles X mahogany ottoman and an English late regency desk with extraordinary bone knob handles, distract me. As the discussions progress so a charming pair of rosewood William IV occasional tables, in residual order, emerge and I am compelled to take them on. Accompanying Pearse is his son Morgan who has come into the business and chatters away with great enthusiasm and innocent salesmanship - to the affectionate amazement of his father. We take our leave and head to Holt, I have spent money but Daniel has held back.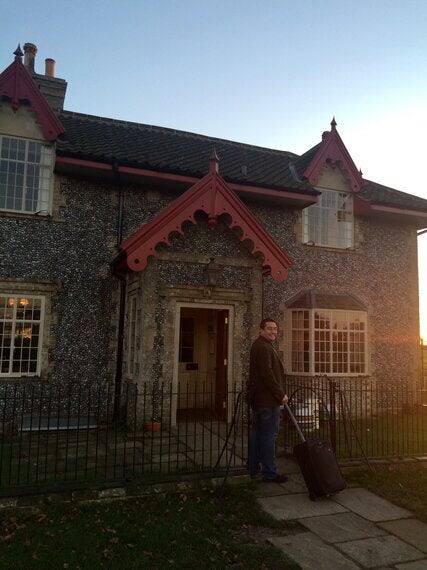 Holt frustrated as Tony Fell was out - even though his shop said otherwise. We repaired to visit the shop of erstwhile London book dealer Simon Finch. He too was out, on this occasion the shop was open and manned but the boss was not in residence. Daniel rang and we made a date for the following morning. Then accepting defeat as inevitable - but also gleeful for what lay before us - we headed for the Gunton Arms. The background to the pub is that Ivor Braka, the very private contemporary art dealer, owns it. Back in the summer in London he had hosted a dinner for the artist sculptor Philip King. The dealer Thomas Dane had been cajoled, by me, into doing a show alongside and in Masterpiece and before it opened Ivor laid on an amazing feast at which Philip's praises were sung by the great and the good including Nicholas Serota from the Tate. Here in Norfolk the small charming flint clad pub on the edge of the Gunton estate has been freshened up with challenging contemporary art and the discreet luxury of the decorator Robert Kime. We ate in the Elk room cooked for by the large and homely chef who cooked rib eye steak and roast potatoes on a flat plate above a roaring fire. It all felt like a living medieval painting - a living Breughel amid the contemporary art.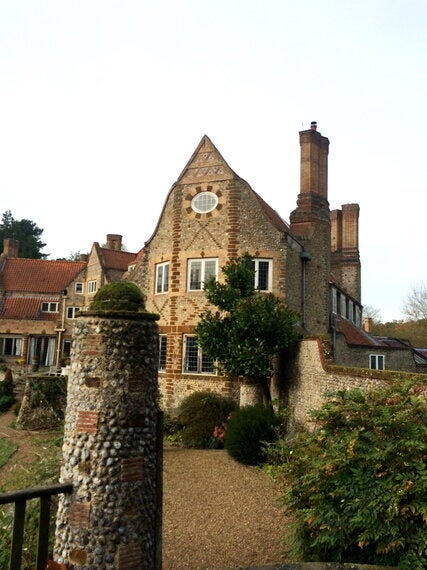 Our Holt friend Tony Fell was our first visit in the morning and like Pearse he failed to lure Daniel into a purchase. But I did come close. From Tony we sped to Voewood, the home of Simon Finch. The house is an extraordinary fantasy of Arts and Crafts; designed and built by the architect E S Prior for the Rev Percy Lloyd between 1903 and 1905, it cost the staggering sum of £60,000 to construct - according to Simon five times the original budget. The building is surrounded by sunken gardens created by offering up their soil to the building construction. Simon is a rock and roll antiquarian book dealer who has gone through a number of business and health vicissitudes. Today he looks tired and a trifle ragged. But as we toured his remarkable home he sprang to life, even his gnarly jumper seemed to perk up. Each room offered up a story and was a work of miniature genius; the imagination and creativity expressed could not fail to both charm and enchant anyone. Though he is currently in a sort of business limbo he is one of the most talented dealers and interior designers of our generation. We found ourselves exploring his cellars, which were choc-a-bloc with ephemera and several thousand books. We unearthed a marvellous bar stool. I could not help buying it and I manoeuvred it into the back of Daniel's swish silver Mercedes. I was sorry to leave. Heading home from my Norfolk sojourn I was once more pleasantly struck that here can be found such an amazing confluence of talented and original people.