I am sitting in La Caleche on the rue de Lille in Paris. The waiter, who is also the owner, hums as he works. There is a bar and a few tables at the lower level. Two steps up and you have a further half dozen. The decor is mainly black painted wood. Rough not chic and slick. I am eating snails. They come in a rustic pottery container with six holes for butter, garlic and herbs. There is a thin crust of Parmesan over the dish. Though quintessentially French, there is an Italian twang about the whole place. I am drinking blood red dark wine from southern Italy and remembering the last time I came here. It was with Willy Rizzo and his beautiful, attentive wife Dominique. We had walked slowly from his eponymous shop around the corner. He was frail and speech was difficult. But Dominique attentively, gently and lovingly coaxed him along. We sat at his normal table at the top of the steps just to the right. He was very excited by a new piece he was developing. A sort of media centre, based around a pod into which all manner of devices could be inserted and from which all manner of things could be managed. Aesthetically, it was a cross between James Bond and space age. Both are very Willy. He drank a glass of the same wine that I am sipping now and toyed with a steak tartare. Though frailer than I had ever known him, he was still brimming with ideas and creativity. I left the lunch inspired. The restaurant was a home from home for Willy, a Parisian from his teens but born in Naples. The touch of Italy in this very French restaurant clearly made him happy.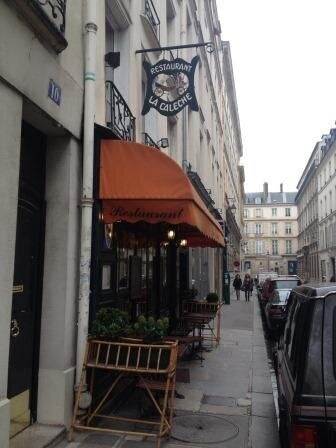 This Monday I learnt that Willy had died at 91, and that his funeral was going to be on Friday at Saint Pierre de Chaillot. A peculiar and ugly Art Deco period Byzantine flavoured church. I cancelled meetings and sped over on Thursday night to be there for Friday at 10.30.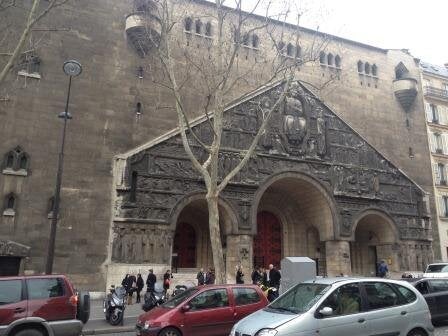 Now as I sit, gradually suffusing my body in garlic and red wine, my mind is roaming over our last few years.
It all began with a purchase - a pair of end tables in polished steel and brass. I had sent them to be cleaned and the restorer had marvelled at the quality of the work. This was an especially rare thing as restorers never give compliments. During cleaning someone had visited the workshop and had been so taken by them that he bought them. I never learnt who the maker was. A year or so later I saw a pair of console dessertes in the Paris Carre. They were clearly by the same hand and I was told they were by Willy Rizzo. I looked him up and found out what a legend he had been.
As a photographer he was close to everyone in LA, Rome and Paris. He had an unprecedented history of over twenty years and countless covers for Paris Match (a French magazine). He was the last to photograph Marilyn Monroe, he charmed Marlene Dietrich into a rare photo shoot and he took the only known picture of Coco Chanel laughing. But he was also an amazing furniture designer. He fashioned a style in the late sixties that straddles both classicism and modernity - a struggle we are all engaged in today. He effortlessly combined the period and the modern in life as well as art. His apartment in Paris was a poem of modern ideas laced with antiques. Or was it the other way around?
But in 2006 when we first met, following months of telephone calls and internet searching, he was rightfully in semi-retirement. He was still taking the occasional intimate portrait in his inimitable style but doing little else.
I sat awkwardly in his flat perched on a massive sofa and with a perfect pair of breasts in brass right in front of me. He could not escape following my gaze and noted that they were modelled from life. In the end I persuaded him to do an exhibition with us and Paul Smith to showcase his photography. He agreed. My only worry I expressed to him was that I was nervous of finding enough furniture to go along with. He then revealed to my amazement and joy that when he had closed his business in the early 1980's he had mothballed a warehouse full of pieces. I jumped up. The event was in the bag. Mallett and Paul Smith were going to have a show of pieces from nearly 30 years earlier all of which would be essentially brand new. It was like finding a garage full of unsold Ferraris. In addition he had agreed to print his photographs in an unfamiliar size of nearly a metre square and he also created a new design of frame for them. Both were big hits.
Needless to say the show was a wow. And Willy was hugely, and rightfully, lionised. We could not wait to do another one.
In 2009 we followed up with a show of new furniture designs and his ballet photography which captures, amongst other things, the end of the Ballet Russes in Paris. One of his images was chosen by the Guardian newspaper as one of the defining images of the 50's. A year later 2010 he opened his own shop in Paris selling his designs and photography. Mallett continue to sell his work and have shown his pieces at Masterpiece and elsewhere. Wherever it goes it gathers plaudits for the magical way it all seems so timeless.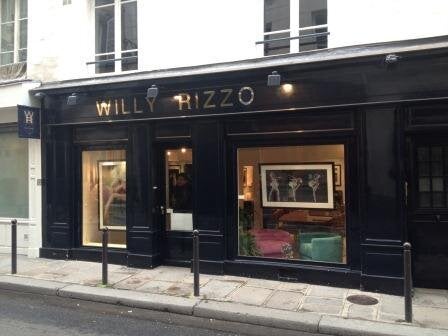 I am very proud of the time Willy and I worked together. We always used to joke about him being 'pere et fils' to himself. His own life offering up two careers but in truth he was not just a creative genius, he was mainly a really lovely man who was full of fun and generosity. I adore the story of his friendship with Jack Nicholson. Dear friends for probably 40 years. Neither had managed to learn the others language and I was told they would make each other weep with laughter making animal noises and drinking late into the night. Dominique would roll her eyes in despair as Willy would make pig noises as Jack collapsed in giggles followed by Willy falling off his chair as Jack pretended to be a donkey.
Jack was there at the church. Sitting behind Dominique, his head bowed. The church was heaving and the young were there in force all looking chic in black; all friends of Willy's children. And there were many old people. Dear friends mourning their lost beloved companion. The recorder and witness of their generation. The glamorous and the once famous in all their crumbling magnificence. We trooped up to the coffin, which was traditional. I was half expecting a coffin in Willy's trade mark lacquer. Red maybe. Everyone said goodbye as we touched the coffin and sprinkled holy water. The man before me was tall but stooped and helped along by a younger relative. He seemed to hesitate before the coffin. Then he bent down, whispered a few words and kissed the coffin. Old friends saying goodbye.
I touched the edge myself as I had held Willy's arm so many times, a gesture of tender support.
I too wish him well and thank him for all he has given me.