How can I admit this? How can I publicly admit to such an emotional betrayal? But I must! I must confess to a venial sin. I have discovered another Sjiek. I am back in Maastricht for the final weekend of TEFAF, and I have strayed.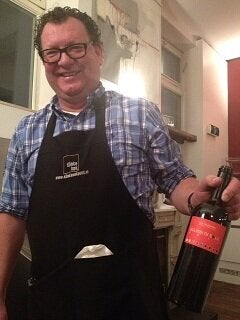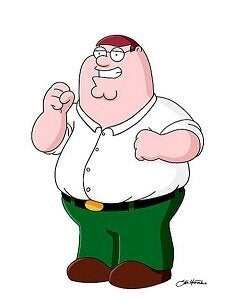 With almost perfect symmetry and by pure coincidence and with no connection Sjiek Kookpunt is on the other side of the river in Hoogbrugstraat. It is run by the lead character in an American cartoon called "Family Guy". He is happy and cheeky and immersed in Italian cuisine. A week ago I ate there as a guest of Helena the super smart and glamorous wife of Ramis - one of our Masterpiece exhibitors. The star turn at dinner was Mira the daughter of the genius craftsman George Nakashima. She is creative herself and was awash with both charm and elegance. But I sat before a plate of pasta with mushrooms laced with truffles which completely bewitched me. There was no cream just a salty dark stock, mushrooms with just a hint of bite and truffles that aromatically entranced me. Yes the conversation was distracting. Yes so many things tried to divert my attention. But in the end the truffle mushroom pasta took me home. Nothing else mattered. Now I am back in Maastricht and with Giles and the rest of the Mallett team. The boss looms before us and the pasta arrives and it is love all over again. This time it is washed down with a delicious wine called Eclissi di sole, by san Valentino, which is intense and full of rich cherry fruit and spicy notes from the Sangiovese grape, just the way I love.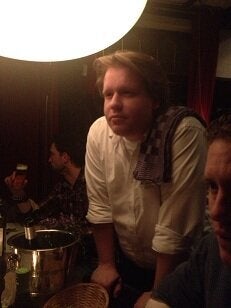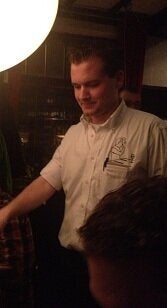 Back across the river to Cafe Sjiek, in Sint Pieterstraat. I met Robin the benign monarch of this perfectly ordered but passionately unruly eatery. He has a deep and intense love for the business of creating a thoroughly professional and delicious fusion of wine, food and friendliness. Somehow you always get into conversations with neighbours and random fellow travellers. It isn't just the other dealers you chat to, it is anyone who happens to be there. He is quite round and has short curly hair but the jovial tone and air should not be mistaken as softness. He definitely carries the air of The Boss. There are others too: Andreas who spins around totally on overdrive all evening, he knows all about the wines and is constantly trying to beguile us with alternatives that are ever more obscure. Andreas has been at Sjiek for 8 years and I cannot imagine him leaving unless he were to start his own place. Then there is Max who has fair hair and is a bit round, like the boss. He moves in a calmer fashion than Andreas but he still gets round the cramped bar with the elegance of a dancer, and he never stops until the last punter crawls out of the door.
I am so torn between my old love and my new one. They are both low key, food and wine centred, disinterested in show or pretence in any way. In the end I think I can cope with two Maastricht Sjieks in my life. It is not a betrayal after all.
At the fair the mood is very complex, some dealers have done well and quite a few have not. I sit at breakfast chatting to a Masterpiece exhibitor who has done every TEFAF, all 26. I ask him what structure does a normal Tefaf take, given that I have only done 18. He replies that he would like to know as he is still trying to work out a pattern. It is true, no two fairs are alike but this year there has been lots of snow and the global economic outlook is far from rosy. However it is not a time of gloom - the energetic dealers make it happen. Through inventive display and a robust attitude to doing deals they create an active market. The stands where sales have been made seem to have a glow or an aura, maybe it is just because the dealers are smiling. I prefer to think though that there is some sort of sympathetic magic, an energy that passes between the dealers and their objects and the clients are drawn to this positivity.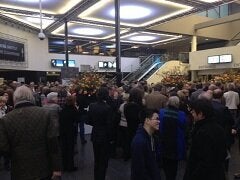 The stands are all so diverse; every time I do a circuit I notice something new. Hamiltons have an amazing collection of Irving Penn photographs of sculls and cigarette butts- a minimalist and elegant reinvention of the concepts of Momento mori. The hang seems strangely appropriate in the home of the Dutch still lives. Turn the next corner and you can see anything from ancient to modern.
On the other side of the fair is the stand of Leslie Smith. He has built a two storey stand housing Aborigine painting upstairs and Impressionist on the ground floor. It is great fun and the work is very strong.
In another corner the Finers, father and two sons have put on a glamorous display of arms and armour. Peter, the father stands proudly beside his boys and his stock - the boys look on eager to make a sale.
Every corner of the fair has an art and a human story to tell - you could walk round for weeks and not hear or see it all.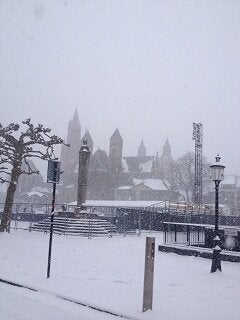 Tonight it will all be over and the Stabilo team in their orange garb and their blaring dance anthems will start taking it all apart. In a few days the dentist show will be installed where Andy Warhol and Van Gogh held sway an echo ago.