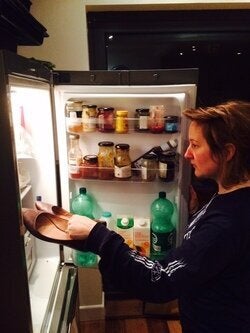 You know that feeling when you're so tired your eyeballs ache, your brain feels like a ball of fuzz and you have absolutely no idea what you did yesterday - needing to resort to the photos on your phone to jog any memories that may be lurking? Extreme tiredness can strike at any time in your life - no matter how many small people you're in charge of, or the number of times you've come home the day after you started work (and no, I'm not referring to any dirty stop-outs).
If four or more of the below have happened to you in the past week then it's high time that you abandon your duties and take a few hours off... to do absolutely nothing. This is one test in which you don't want to score highly.
You put dry shampoo in your hair but forget to brush it, leaving you looking a good 40 years older than your years, or as if you've had a fight with your grandma's talcum powder.
You tip the gloriously pungent 227g bag of ground coffee beans into the cafetiere instead of the coffee jar. Strong coffee, anyone?
You pour washing up liquid on your porridge instead of honey. You realise something's not quite right but can't quite put your finger on what it is.
Your other half catches you putting your shoes in the fridge instead of by the front door.
You pour boiling water into the newly-filled coffee jar instead of the cafetiere.
You can't remember if you cleaned your teeth. Or showered.
You have itchy eyeballs.
You spell your name wrongly when signing up for a new library card - not quite being able to recall how many vowels there are and in what order they fit with the other letters.
You travel four stops on the train before you realise that you're wearing odd shoes (the heel sizes are different and the shoes are different colours).
You pause at a red light whilst driving your car and consider for a fleeting moment how you could just grab a few seconds of restorative sleep whilst you wait for green.
You fall asleep at a red light.
You look in the mirror and realise you've only put make up on one side of your face. It's 5pm and you've been like this all day.
You try to open your front door with your oyster card.
You type your mobile number into the chip-and-pin machine.
You look in the mirror and, for the first time, can see just how you're going to look 35 years from now. It's pretty scary.
This post first appeared on www.thegrassisgreen.org
Follow Tilly @tillywikeley