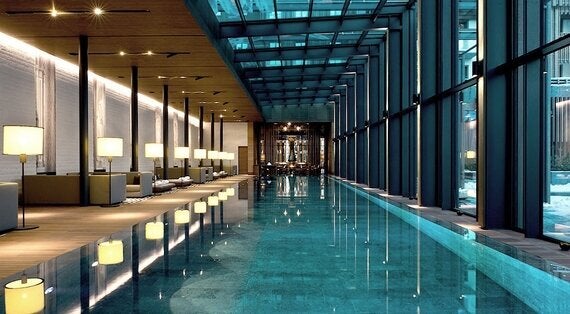 Spa at the Chedi Andermatt, Switzerland
Kicking off a fresh new year has many of us hastily creating lists and blog posts of what we would like to achieve this year, what we want to work on, places we want to go and food we should be cutting down on. For me it's Pepsi Max but that's another story. There will be many a January detox commencing, new gym memberships will probably triple and your local Pilates class will be looking a little fuller for the next few weeks.
I made a few resolutions myself, but one of my major goals is to take more time out for myself to relax. Just simply relax. I'm generally quite a busy person and sometimes I feel I don't stop working on my freelance projects, blog, scheduling social media and then there's family to see, friends to catch up with and a boyfriend to spend time with. In my 'holiday' time I usually plan an extravagant trip with a strict itinerary rather than just a week to chill out. Now, I'm not complaining as I do enjoy my life but sometimes it can feel like a bit of a whirlwind.
Hopefully 2016 will see me take some more downtime, I've been spending a little bit of time (ok a lot but I'm a blogger!) each evening undertaking research for some of the best spas around the world to unwind. Here are my findings I thought I'd share with any fellow busy folk who are looking for somewhere to escape from the everyday rat race....
1. The Spa at Canyon Ranch: Arizona
Based in a 150 acre ranch in the scenic Santa Catalina Mountains you really can escape your everyday life and truly embrace your mountainous surroundings, far away from skyscrapers, tubes and crowds. The appealing factor for me here is also the focus the spa has on your overall health, with an optional choice of over 40 fitness classes a day, or you could make use of the underwater treadmills. Pretty cool right? It's quite a long flight compared to the others that made this list but I can imagine it's definitely worth it.
2. Hotel Cap d'Orso Thalasso & Spa: Sardinia
Set in one of my favourite parts of Italy, this hotel and spa has relaxation at its heart. You can switch between spa treatments, a walk around your beautiful surroundings and even a spot of golf. Situated just 10 minutes from Porto Cervo, there is plenty to see if you wish to feed your explorative side. Or why not just spend a few days in the Jacuzzi rock pool with a good book? Sounds like heaven to me.
3. Bedford Lodge Hotel Spa: Newmarket
Don't fancy the stress of booking flights? This is the perfect retreat for those wanting to stay with their feet firmly on the ground. The Bedford Lodge Spa is a luxurious spa getaway based in the heart of the Suffolk countryside. This award winning spa is housed in a stunning Georgian built building and is renowned for its stylish interiors. Yep, perfect for Instagram. In the summertime you can kick back on the spa terrace with a glass of bubbly and enjoy a bite to eat from the spa menu. Want to stay the night? You're in luck as the spa is part of a grand 4 star hotel.
4. Les Sources De Caudalie: France
If looks are anything to go by then the Caudalie spa is a strong contender for a worthy New Year's break. Based in a tranquil and luxury setting, the spa is set in a landscape of impressive vineyards (are you thinking what I'm thinking?) and has every design detail down to a tee. The honey and wine moisturising wrap is calling my name, now to book those Eurostar tickets!
5. Spa at the Chedi Andermatt: Switzerland
If slick minimalism is your thing then this is definitely a winner. Set in a landscape that looks as good as a postcard, the alpine views are to die for and I'm almost certain you'll feel refreshed before you even enter the spa. The unique oriental spa rituals sound just heavenly, with an indulgent combination of massage, facials and steam baths, I feel like I would float back to the airport on clouds. You can enjoy the spa's outdoor plunge pool whilst breathing in the fresh alpine air, it all sounds quite dreamy, doesn't it?
6. Las Arenas Balneario Resort: Valencia
I thought I'd add this into the mix for you city dwellers that enjoy being around the buzz of crowds, bright lights and all that jazz. This spa has glamorous written all over it and is hailed as one of the best spas in Valencia. The spa and hotel boast their own pool and gardens but even better, it overlooks the beach. If you like a bit of salt water in those locks and sand between your toes then this one is for you beach babes. There's also plenty to see and do in Valencia if there's only *so* much relaxing you can do.
Is it just me or do you feel a spa break is definitely on the cards now...