The Eat My Goal Euro campaign by the London Fire Brigade (LFB) wants fans to get a takeaway and not to cook after the pub during Euro 2012, but how is social media helping it reach audiences?
The London Fire Brigade's (LFB) 'Eat My Goal Euro 2012' campaign asks football fans to get a takeaway and not to cook after the pub, but how is social media playing its part delivering the message to audiences?
In an interview with the Social Media Portal (SMP), LFB explains the thinking behind the campaign and why social media plays an essential role in communicating with football fans.
To raise and sustain awareness, football fans are being asked to tweet using the hashtag #EatMyGoal, with a football related takeaway team e.g. Chipswich Town. The best tweet will win a voucher of £100 from Takeaway.com, and prizes are given for second and third place.
Although the campaign has a tongue-in-cheek flavour, there's a very serious message behind the activity. With an extra 2.2 billion pints sold during the last World Cup there's a concern that there will be an increase in alcohol related cooking fires during the European Championships. In 2011 there were 5,903 accidental house fires of which 850 involved a person who had been drinking alcohol. The LFB is asking football fans that have been drinking to tuck into a takeaway rather than cooking when they get home to prevent fires. Activity was initially to run between the 11th and 19th of June, with the initial focus on the first three England games however it continued to run with England's progression until this Sunday, with digital environments offering the potential to extend activity.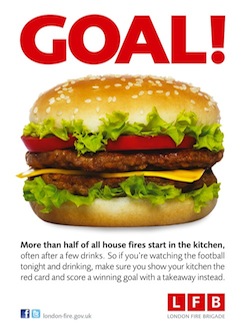 LFB's integrated approach saw adverts in free newspapers (such as the Metro), social networking sites and ads featuring the slogan 'GOAL!' appear on a picture of a burger in over 200 pub toilets across central London alongside additional ads on vending machines - which will stay up until the end of the June. For the first time ads were translated (English, French, German, Polish, Portuguese, Russian, Spanish and Ukrainian) and sent to different nationality newspapers in London. Ads were also broadcast on Absolute Radio and Talk Sport tapping into their coverage of the Euros 2012. Print, PR, radio and social activity is supported by an online video on YouTube aiming to hammer home the message of the campaign and how house fires caused when people are drunk can kill. Although a London-focused campaign, it's a message that could really be adopted nationwide and even beyond Euro 2012.
Even though the campaign targets pub drinking and the journey home, it also shares how it's equally important for fans that may be drinking at home and may have the urge to cook.
Sometimes opportunities can slip through the cracks with integrated campaigns and in this instance LFB could have added its social assets and competition URLs to its print ads. However, this is where social media can pick up a little bit of the slack as well with LFB continuing to maximise its social media assets, making sure it's visible online.
Tori Allerston, marketing manager at LFB sings the praises of social media, but is also cautiously indentifies its challenges. "We love it because we can closely manage it in house, and once you've established an audience you can generate quite unexpected results in the matter of an afternoon with a global impact," she explains.
"The main drawback has to be establishing the right audience in the first place - if people think we're going to tell them to test their smoke alarm every five minutes or make them cringe by trying to be too 'down with the kids' they'll never give us a chance," adds Allerston.
England may be out of the Euros now, but football fans will still be watching the games at home or in the pub, danger still lurks so there're still lives to protect. Not forgetting of course that London is an internationally diverse city, home to many football fans from across Europe - who's teams are still in the running of taking home the championship. With fans celebrating the love of football, the multi-language pub ads (for those nations that still have a shot a wining) and social activity will still be of use. As early adopters of social media in comparison to similar services, the in-house activity by LFB is a great example of how this channel can be managed, maximising a campaign by integrating communication channels effectively.
But where to next? How can LFB move forward with its use of social media for activity? Rob McTaggart, senior communications officer at LFB, explains, "The next step is to find whether this is working in reducing the number of fires, injuries and deaths in our target audience. Having the largest combined Twitter and Facebook following (33,000) for any UK regional or local authority is a fantastic achievement, but cutting the number of fires is much more important than the number of followers."
Reaching out to LFB:
London Fire Brigade on Twitter @LondonFire
London Fire Brigade EatMyGoal hash tag #EatmyGoal
London Fire Brigade on Facebook.
Tim Gibbon is a Director of Elemental http://www.elementalcomms.co.uk, the communications consultancy that created and manages the Social Media Portal (SMP). Gibbon interviewed the London Fire Brigade (LFB) in a recent article published on and for SMP.