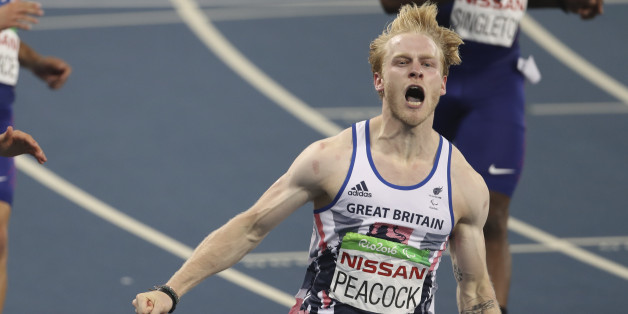 Pacific Press via Getty Images
The World Para-Athletics Championships begin today and Britain's inspirational athletes will be back at the stadium where they first captivated the public with their brilliance at the London 2012 Paralympic Games.
London 2012 was a landmark moment for the Paralympic movement providing its greatest ever opportunity to highlight incredible sports and athletes but also to promote sport as a catalyst for change in society. There is no doubt London 2012 shifted the way people view disability in this country forever.
Sprint sensation Jonnie Peacock is one of the poster boys of the World Championships and his story is a wonderful example of the inspirational power of Paralympic Sport.
Jonnie was discovered at a talent day organised by ParalympicsGB following the Beijing 2008 games - a shy teenager who didn't really want to wear short trousers because of his prosthetic.
Fast forward to the night of his 100m at London 2012 and he was the true showman. I sat enthralled as this young athlete urged the 80,000 capacity crowd to hushed silence before storming to a gold medal that etched his name in the hearts of the British public. Such was his new-found celebrity and confidence after winning that he even appeared on the cover of a magazine wearing just his medal... and his pants.
This is a story that illustrates how emboldening the Paralympics since London 2012 have been for disabled people. The Games showed just what was possible and the fact ParalympicsGB excelled, winning 120 medals, demonstrated how powerful that success can be with these inspirational athletes now proudly splashed across the media.
Today, the Paralympics is quite rightly recognised as high performance sport and our athletes have actively craved this recognition. This media coverage is a crucial element of our vision for the movement. When people watch the performance of athletes at the highest level at the Paralympic Games, we know it helps shape and change attitudes. The Paralympic Games provides inspirational images and stories which demonstrate what is possible, and provides an incredible opportunity to shift thinking and ultimately enhance the lives of disabled people.
This is where the true transformation that London 2012 started lies, not in direct impact on disabled people, but on the perceptions held by non-disabled people and how they subsequently think feel and behave.
If London was empowering in its effect for disabled people, it was also "civilising" on the wider population in society. There was recognition, among many for the first time, of the incredible talent of the athletes but more the challenges they overcome and what that can teach us about ourselves and what we view to be possible.
This matters because ultimately it is the non-disabled majority that shape how society engages with disabled people. It is a positive shift in attitudes - rather than say, the building of ramps - that is the manifestation of real change and the best hope we have for better equality and inclusivity. What is sometimes described as social as well as physical accessibility.
There is no room for complacency, however. London 2012 cannot be seen as having done the job. It merely started the long journey - we are still in the foothills not the summit. Sadly, the evidence around us shows how far there is still to go. At its worst, we still see disability hate crime or the demonising of disabled people reliant on welfare. At best the simple, unthinking prejudice around access that still exists in train stations, sports clubs and restaurants up and down the land.
But we are make significant progress: the response to the Rio 2016 Paralympic Games, where ParalympicsGB surpassed its achievements at London 2012, proved that. Research we commissioned from ComRes showed the Paralympic Games is now seen as the most inspirational sporting event in the world by the British public. It also proved there is abiding interest in our athletes and their abilities - especially among the young. The national consciousness has undoubtedly shifted thanks to London.
Our vision for London 2012 remains: "Through sport, inspire a better world for disabled people". We haven't achieved it yet - but we are helping it on its way. Let's hope the incredible athletes competing in London next week can help us continue that journey.
HuffPost UK Lifestyle has launched EveryBody, a new section calling for better equality and inclusivity for people living with disability and invisible illness. The aim is to empower those whose voices are not always heard and redefine attitudes to identity, lifestyle and ability in 2017. We'll be covering all manner of lifestyle topics - from health and fitness to dating, sex and relationships.
We'd love to hear your stories. To blog for the section, please email ukblogteam@huffingtonpost.com with the subject line 'EveryBody'. To flag any issues that are close to your heart, please email natasha.hinde@huffingtonpost.com, again with the subject line 'EveryBody'.
Join in the conversation with #HPEveryBody on Twitter and Instagram.