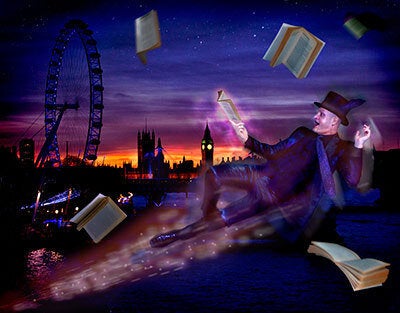 (image courtesy of Justin David)
There was cause for celebration at Polari, London's award-winning LGBT literary salon, at the Southbank Centre last Friday. Dressed in top hat and tails, Paul Burston, author and journalist who curates and hosts the monthly literary event, announced on stage that not only was it Polari's ninth birthday but that it was also the end of a third national tour funded by The Arts Council England.
This year's Polari National Tour began in July, and included cities across England, Scotland and Wales and readings by writers from across the LGBT+ community. Playwright Jonathan Harvey, perhaps more well-known for his seminal gay play Beautiful Thing and the hit TV series Gimme Gimme Gimme, headlined at The Grand Theatre in Blackpool. Poet John McCullough, who won the Polari First Book Prize in 2011 for his collection of poems The Frost Fairs, was included in the star-studded line-up for Polari in Hove whereas Ursula Martinez, Anglo-Spanish writer and cult cabaret diva, gave a sterling performance at a venue in Cardiff.
Hailed by The New York Times as 'London's most theatrical salon' and by The Huffington Post as '..the most exciting literary movement in London, crackling with energy, ideas and excitement', Polari is a real success story. Each event I have attended has always been packed out and the Polari audience is always appreciative and welcoming. Just as importantly, Polari also provides a platform for showcasing established and emerging LGBT+ authors, poets and spoken-word performers. The Polari First Book Prize, held each year and awarded to a writer whose first book explores the LGBT experience, also helps to give new writers who show promise and talent a higher profile.
Last Friday's Polari was also part of the Southbank Centre's Being A Man (BAM) festival which celebrates boys and men and addresses the pressures of masculine identity in the twenty first century. To the backdrop of The Houses of Parliament and The London Eye, and accompanied by Paul Michaels sign language interpretation, each writer who took to the stage had their own very unique take on queer masculinity. Stuart Feather kicked off the proceedings with an extract from Blowing The Lid: Gay Liberation, Sexual Revolution and Radical Queens, a political memoir set in the 1970's about The Gay Liberation Front. Feather gave a witty and insightful account of a radical and, at times anarchic, political organisation and, in doing so, documented an important part of gay history. Matthew Todd, former editor of Attitude magazine and author of the play Blowing Whistles, read from Straight Jacket: How To Be Gay And Happy. This timely and meticulously researched book published this year, explores how the trauma and shame of growing up gay in a homophobic society can set the conditions for poor mental and emotional health later in life. V G Lee, sporting a black feathered hat, was on top form as a consummate storyteller as she read an extract from her new novel Mr Oliver's Object of Desire, a very funny and tender portrayal of a middle-aged man adrift in the mid-seventies. And Jake Arnott, whose work includes The Long Firm, which was adapted as a BAFTA-winning drama for BBC2, treated us to an extract from his new novel The Fatal Tree. But for me it was Dean Atta's poems about love and identity from his debut poetry collection I Am Nobody's Nigger that stole the show. In the words of Benjamin Zephaniah, 'Dean Atta's poetry is as honest as truth itself.' (See the link to one of my favourite poems below)
The next Polari event will take place at The Royal Festival Hall, Southbank Centre on 27th January 2017. The line-up will include award-winning author and playwright, Stella Duffy.
How To Love Yourself by Dean Atta