"You can be the ripest juiciest peach in the world and there's still going to be somebody who hates peaches."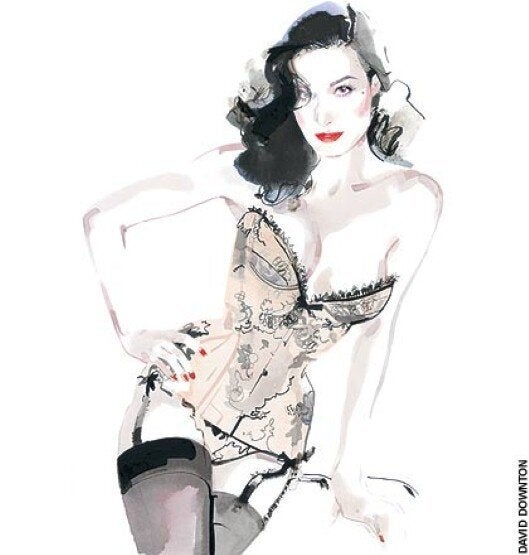 Chatting with the 'Queen of Burlesque', Dita Von Teese was most refreshing and uplifting. She is an honest, open book with nothing to hide. She knows herself well and is comfortable in her skin. She's hard-working, hands-on and multi-talented. Her creations range from perfume to lingerie to press-on nails. She is the brand ambassador for Cointreau, their latest creation being the Cointreau Corset cocktail. Admittedly not exactly perfect, she advises that sexy has nothing to do with perfection.
tt: Your shows in NYC recently were a hit! How was your stay in NYC?
dvt: It was a great trip. I spent a full two weeks there, instead of the normal in and out. The shows and the audiences were wonderful. I also got to visit my favorite spot, Minetta Tavern.
tt: Your partnership with Cointreau has lasted quite some time. Do you enjoy working with them?
dvt: Oh yes! Cointreau is a French brand, it's elegant and classic which I love. Everyone I work with there is great and they just get me.
tt: I'm sure your burlesque performances keep you in amazing shape. Is there any other type of workout you do additionally?
dvt: I like Pilates best. I prefer a classroom or studio situation, because I do better in a competitive environment.
tt: You mention you like to discover great drugstore products. What is your latest find?
tt: What is one of your favorite daytime activities?
dvt: I really enjoy going to the flea market and finding little gems. I look for beauty product containers, perfume bottles and unique knick-knacks. I'm the opposite of minimal!
tt: I'm sure its inspiring as well for your many business endeavors. Do you oversee all your product designs and creations?
dvt: Definitely. I'm very hands on with all my designs and products. I believe very firmly that you can do it all. I preach that and I live it. I put my heart and soul into everything I do.
tt: Is it also true that it's important to you to make the most of what you have in every way?
dvt: For sure. Some people try to be the best they can be, and others don't. I do. I am very conscientious and particular when it comes to my shows, my look and all my work. But of course no matter what you do someone will always find something wrong or negative to say. With every negative there is a positive, it balances. I don't let what anyone says sway me from where I am happiest. I wouldn't let anyone change me or sanitize what I do or how I look.
tt: As a performer you are so much more than meets the eye. Do you feel that's what has given you such success and longevity?
dvt: I received a great compliment recently after a show from a friend. He said people enjoy watching me up on stage because of the way I connect with them and how open and revealing I am. I feel it's important to have be comfortable and have fun up there and also let Heather Sweet from Michigan come out as well. I believe, besides the superficial, these qualities are why I am still performing.
tt: So you would agree that looks aren't everything?
dvt: There are gorgeous women everywhere. I am up on stage with gorgeous, young 20-year-olds who are taller and kick higher. So much more goes into being good. Just being a good singer, just being a good dancer, or just being pretty... doesn't cut it.
tt: In some ways maybe it's better to be born not so perfectly pretty. Do you agree?
dvt: I do feel like it has its benefits and can be a blessing in disguise. If you don't let it get you down and you work with your positives, downplay the negatives... If you're born with everything you don't have to work for anything, and that can leave you feeling empty. I think it's good to have to fight harder for what you want.
tt: What do you think are the qualities that make up true sex appeal?
dvt: I learned both on and off-stage that sensuality and sexual appeal have very little to do with perfection. Being free, confident, not being self-concious makes a woman sexy. It's a mix of being strong yet vulnerable at the same time.
tt: You realize early on you had a specific look that worked for you, mostly based on beauties from the past. Do you usually create your look yourself for most of your work?
dvt: I do all my styling, makeup and hair for shoots, stage and everyday. I know exactly what I need and what works best for me. Basically I create my beauty, or paint my way to beauty. I'm not and never will be that freshly-scrubbed, natural beauty. I would disappear without my makeup and clothes. It's all about creating an illusion.
tt: Your eyeliner is so striking--that cat eye! Do you have a tip for getting it so perfect?
dvt: I apply it looking down into a hand-held mirror; I have more control and can follow the shape of my eye more effectively. My favorite liner right now is Black Track eyeliner by MAC. But keep in mind, there is no need for it to be exactly perfect.
"Ignore the critics... only mediocrity is safe from ridicule. Dare to be different."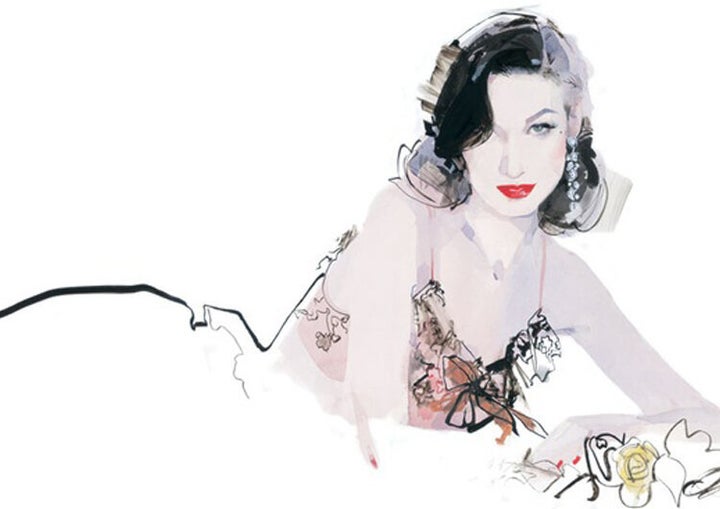 Illustrations by David Downton
Related