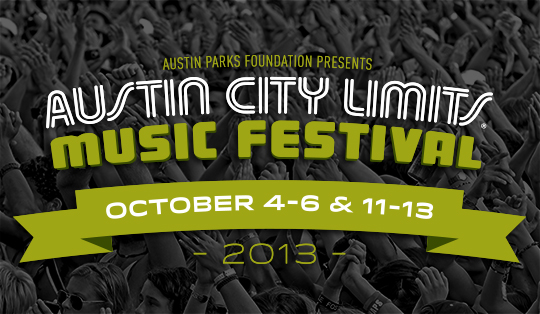 The 2013 edition of the Austin City Limits Festival finds the event shifting direction in a way that makes it one of the most compelling of the fall festivals in America. The three-day, eight stage music extravaganza will feature over 130 bands including bill-toppers Depeche Mode, The Cure, Muse, Kings of Leon, Atoms for Peace, Lionel Richie and Phoenix. For the first time, ACL is expanding to two weekends, beginning this Friday. Named after the PBS concert series, the festival is produced by Austin-based C3 Presents, who also produce Lollapalooza as well as other music festivals across the country. This year, the organizers of the event have brought its' best mix in years of new and old acts in an effort to fit Austin's (home of South By Southwest, Austin Psych Fest and the Fun Fun Fun Festival) forward-thinking atmosphere.
Roughly 75,000 fans attend the festival each day, with a total of 225,000 people expected over the three-day event which prides itself on being a "green" event, with no on-site parking. Instead fans are encouraged to take shuttle buses or us the abundance of bicycle parking that is available.
The second weekend of the concert will be available for viewing via webcast. With approximately fifty bands included, there are a multitude of options for attendees and viewers. Picking the ten most intriguing acts is no small matter, but here are the ten that seem most compelling.
Who: Fidlar
Why we want to see them: Fidlar are the most compelling argument of our time that punk is not dead. This is a band that took the stage at a Pitchfork showcase in April and slagged the site when lead singer Zac Carper said, "Pitchfork: old people trying to tell young people who to listen to". What would be critical suicide for some bands, just endeared their fans to them even more. Having conquered the Reading Festival and drawing rave reviews proved that the band is able to translate their show to a large setting. Expect nothing less in Austin.
Who: Savages
Why we want to see them: Clearly this is one of the most hyped new bands of 2013. Their ability to mix the obvious influences of Joy Divison, Siouxsie and the Banshees and Gang of Four, while still seeming original and progressive, make them a band to watch for many years to come. They dazzled audiences at South By Southwest during their daytime showcases, so there's no reason to expect that their early slot on Friday will disappoint.
Who: Parquet Courts
Why we want to see them: Never saw Pavement? Parquet Courts is as close as your going to get to the indie slacker genius of Steve Malkmus and company. Their new EP, "Tally All The Things The You Broke" sees them to continue to mesh lo-fi noise with melodies that'll give you goosebumps. Live the band takes the seemingly shambolic mess come across as tight and fun.
Who: Arctic Monkeys
Why we want to see them: Everyone knows Arctic Monkeys and their history of captivating crowds at large festivals in England. Strangely, they haven't reached the same heights with the always fickle American audience. ACL is a great opportunity for them to win the hearts of the masses. Will their anthemic performance put them over the top in the U.S.?
Who: Jon Spencer Blues Explosion
Why we want to see them: Seriously, the best live band that I've ever seen. The Blues Explosion influence on bands like The White Stripes and The Black Keys is undeniable. Live, they exude sweat and energy that make the bands that follow in their footsteps look on in envy. The Blues in number one.
Who: The Joy Formidable
Why we want to see them: When I first interviewed them in 2009, I thought they were a charming band with the ability to write great melodies. I had no idea that their live performances were so remarkable that they would charm large audiences at festivals in the UK and America, vaulting them to great heights. Ritzy and crew are made for festivals like ACL. Their charm is genuine and their passion is able to fill the hearts of the thousands that crowd the stage at these large venue performances.
Who: The Black Angels
Why we want to see them: It's fair to say that The Black Angels have become the leader of the Psych Rock movement, curating the Austin Psych Fest and seemingly having their hands in most of the great psych rock projects that abound. Their most recent album, "Indigo Meadow" is one of the best albums of 2013 and translate well live.
Who: Atoms For Peace
Why we want to see them: Um, it's Flea and Thom Yorke on stage together. Is there anything else you need to make you want to see this? Frankly, I find this to be one of the strangest collaborations in existence. While some find this album too eccentric, I think it fits with his passion for Flying Lotus and the experimental electronic music that he's been spinning at DJ gigs. By the way, I'll buy drinks for the first person who tips me off on a Thom Yorke DJ gig at ACL....
Who: Grimes
Why we want to see them: It's been almost two years since Claire released Visions, so the clock is ticking on our attention span. Honestly Grimes live is a bit spotty, but perhaps we'll hear new material and a desire to connect with a large enthusiastic audience in Austin. Hold your breath and hope that this is the rebirth of a once promising act.
Who: The Cure
Why we want to see them: The 17-year old goth version of myself, who wore eyeliner and new all the words to Faith, desperately wants to see them. The slightly older and more cynical version of myself is leery. The setlists for their most recent shows at Lollapalooza and in Montreal are heavy on their later material and lacking on what I consider to be their most important work: Fatih, Seventeen Seconds and Pornography. In fact, the set of encores they played in Montreal is literally a list of my least favorite Cure songs ever. Further, nobody from the original version of the band plays with them anymore other than Robert Smith, who has clearly seen better days. The Cure are an iconic band and a much better choice as an ACL headliner than say, The Eagles (who somehow headlined in 2010). Which version of me will win the tussle to watch The Cure and will the band bring back the songs that earned them their reputation? We shall see.