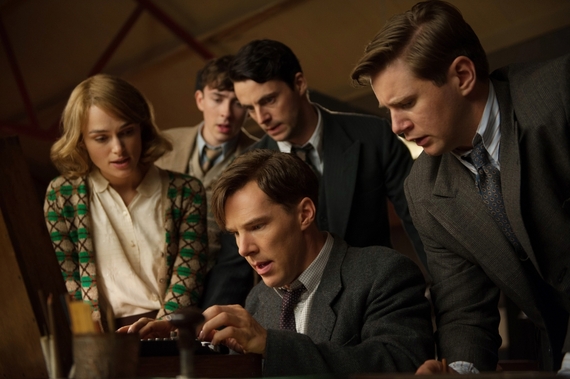 Summer is over, just look outside for proof, but right around the corner to help combat those post-summer blues is the UK's premier film extravaganza, the 58th BFI London Film Festival. The programme was announced at Odeon Leicester Square on Wednesday and includes a huge 245 feature films and 148 shorts. To save you the time of trawling through the comprehensive brochure, I've picked out a few of the key highlights so you can be first in the queue when the tickets go on sale on 18 September.
The festival is bookended, unsurprisingly, by the opening and closing night galas and this year there's a distinctive WWII feel. Opening proceedings is The Imitation Game. Benedict Cumberbatch stars as genius mathematician, Alan Turing, who helped crack the Enigma code, which was instrumental in the allies winning the war. It's directed by Norwegian, Morten Tyldum, who if you saw 2012's Headhunters, you'll know can tell a pacy yarn with twists and turns with ease and after its premiere at the Telluride Film Festival, Cumberbatch is being talked up as a serious awards contender.
Closing the festival is the European premiere of David Ayer's Fury. Brad Pitt stars as Wardaddy, the battle-hardened sergeant of a tank command in World War II, who leads an incursion behind enemy lines. Ayer proved himself expert at capturing the camaraderie of men forced to spend much of their time together under intense pressure in End of Watch and the action sequences look to be some of the most exciting and visceral we've seen since Saving Private Ryan.
Of the other headline galas the stand-out titles are Bennett Miller's, Foxcatcher, Damien Chazelle's Whiplash. I saw both films at this year's Cannes Film Festival and they're both certain to be very high up the lists of the best films of 2015. Foxcatcher tells the true story of champion wrestling brothers, Dave and Mark Schultz and their relationship with multi-millionaire benefactor, John du Pont. The performance of Steve Carell, playing drastically against type as Du Pont, is garnering huge Oscar buzz but either one of the three main performers, including Channing Tatum and Mark Ruffalo, is awards worthy. It's an eerie, captivating thriller that confirms Miller as one of the America's premier directors.
Whiplash is an action film about jazz. That may sound like an odd combination but I can think of no better way to describe it. Miles Teller plays Andrew Neyman, an ambitious jazz drummer, who joins a New York conservatory group lead by sociopathic instructor, Terence Fletcher (JK Simmons). The friction caused by Neyman's ambition and Fletcher's decidedly unorthodox methods is more thrilling than a hundred big budget action films. The final twenty minutes alone are a breathtakingly arresting piece of cinema.
The official competition consists of 12 from around the world, with the UK, China, France, USA, Germany, Australia and Mauritania represented, with the best film award handed out on the final weekend of the festival. The films are not as high profile as the headline gala selection but are equally deserving of your attention. Highlights include Russian drama Leviathan, which picked up the best screenplay award at Cannes, Peter Strickland's follow-up to Berberian Sound Studio, The Duke of Burgundy, and French teen-drama, Girlhood, which reportedly features a star-making performance from newcomer, Karidja Touré.
The Sutherland Award is given to the most original and imaginative directorial debut. There are some startling nominees including, Jack O'Connell in Yann Demange's '71. Set in Belfast, O'Connell plays a young British soldier who is accidentally abandoned by his unit during a riot in 1971 (hence the title). O'Connell was electric earlier this year in Starred Up and this is set to send his star even higher. Another notable British debut title is the Wolfe brothers' Catch Me Daddy, an atmospheric thriller about young love and honour killings in North Yorkshire. It's beautifully shot by DP Robbie Ryan and marks the Wolfe brothers out as talents to keep an eye on.
The documentary competition features a new film on David Hockney and new documentaries from Frederick Wiseman and Debra Granik (Winter's Bone). The rest of the programme is split into manageable strands with slightly arbitrary titles, such as Love, Dare, Debate and Journey. There are fascinating titles throughout the programme, which is as broad and detailed as ever. Other titles to look out for include David Robert Mitchell's It Follows, a seemingly straight-forward teen-horror with a sexual paranoia subtext. Italian director, Alice Rohrwacher's family drama, The Wonders, Sundance sensation, Dear White People and Michael Winterbottom's (24 Hour Party People, The Trip) new drama, The Face Of An Angel.
I've name-checked 15 titles above but in truth, I could have easily have made a list of 15 other titles that are equally as distinctive. It's the best 12 days of the year for cinema in the capital and ticket prices are competitive. Even if you miss out on your most sought after films, take a chance on a smaller title and the chances are the director or lead actor will be present to say a few words about the film. It's an opportunity not to be missed.