The Rover features a number of elements I love in a film, outback Australia, a brooding Guy Pearce, a post-apocalyptic setting and the thinking person's weasely character actor, Scoot McNairy. It's also directed by David Michod, whose previous film, Animal Kingdom was a dark and complex crime saga about a dysfunctional Melbourne family that made for a quite sensational début. So I should be reporting that The Rover, which screens out of competition, is a runaway success, right? Sadly, while the film is by no means bad, with all the elements I listed, it should be a contender for film of the year but due to elevated expectations, it has to go down as a minor disappointment.
The opening preamble states that it's set in Australia, '10 years after the collapse'. It's a bleak and desolate place but one that doesn't look that much different to the outback that has been portrayed on film for decades, except there's even fewer women and a lot more people shooting at each other. The recent BFI re-release of Wake In Fright would appear to be a key influence.
Pearce plays an unnamed man who is one moment away from his resolve breaking and going on a vengeance filled rampage. That moment occurs when Henry, a wounded American (McNairy) and his two cohorts crash their pickup and steal Pearce's car. In an attempt to get it back, Pearce locates Henry's injured brother, Rey (Robert Pattinson), gets him patched up and forces him to travel with him to retrieve the stolen vehicle.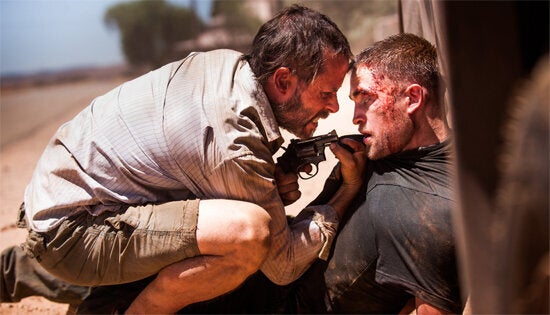 On the way, the pair encounter a range of bizarre characters, almost all of whom resort to violent means. It's an unrelentingly bleak setting that throws up a lot more questions than it answers. There's minimal dialogue and we get no sense of what caused the 'collapse' or why a pair of American brothers are in the Australian outback. There's also a moment when Pearce first sets off after the thieves that doesn't make a whole lot of sense but had it played out in a logical fashion The Rover would be playing in the short film section.
Despite these issues, it's still a handsomely made film with much to admire. Pearce is as captivating as ever, his intense stare reveals more than a hundred words, making the lack of dialogue less of a problem. Pattinson is good too, once you settle in to his tics and southern drawl. Michod again proves himself extremely adept at constructing moments of shocking violence that frequently surprise and the score, recalling Jonny Greenwood's work for Paul Thomas Anderson, assists in creating a doom laden but off kilter atmosphere. The Australian outback often makes for a fascinating locale and here is no different. I suppose I should cut Michod some slack for making a merely good second film but when he set the bar so high with his first it's hard not to feel a twinge of disappointment.