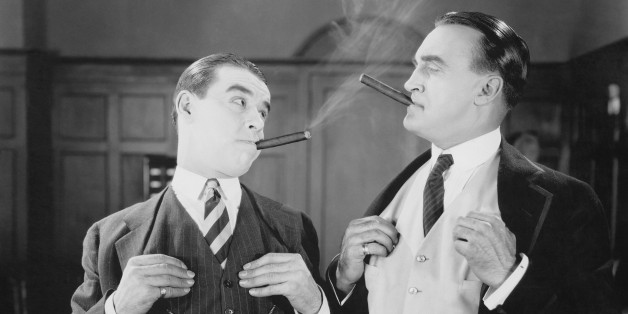 shutterstock
I find male company stiflingly awkward and unpleasant. I think beer tastes of coins, my knowledge of football is sketchy, and banter gives me acid reflux. Over the last couple of years, though, I've had to spend more and more time in the company of men because as my kids have picked up friends, just like colds, lice and conjunctivitis, whatever they get so do I.
Generally when it came to friendships, male or female, I was absolutely no longer in the market. Since about 2008 I'd been operating a strict one-in one-out policy. I'd de-cluttered my contacts and it felt great. I binned off birthday drinks for box sets, weddings for weekends at home and dinner parties for ... well, just dinners without the conversation. Like many men I'm socially very bovine (it's always bothered me that women got the cow label - it fits men much better: we'll gladly stand in a field chewing and doing enormous dumps).
In 2012 we had our first child and slowly but surely we started hanging out with other people who also had young children. We just sort of gravitated towards each other like copies of 50 Shades of Grey in an Oxfam, identical and musty. We frequently found ourselves all at the park, congregating inside the gated areas. Other people would drift past and blankly stare over the railings at us, like Groupons at a crap zoo.
Initially I imagined we were the gorilla enclosure, and these kid-less people were impressed and awed by us nurturing our young. Then over time it became apparent it wasn't a zoo. It wasn't a zoo at all. It was more of an open prison, and we were Jeffrey Archer or Tim Yeo and the kid-free general public are just schadenfreudering their tits off.
As we made friends with these people there was a huge problem, semantically. What do you call them? There is no instant phrase. You can't use 'friends of my son' because that sounds like you're hanging out with your son's friends. And you definitely can't say 'parent-friends' because people will think you're spending time with your parents' friends. And no offence Judy, but that ain't gonna happen.
So for now I've gone with "breeders".
And the thing about breeders is some of them are men. Dads, let's call them. And while you watch your kids play together, you have to hang out with them. And as anyone who has ever got stuck in a conversation with a man will know, it can be a tricky experience.
Here, then, are some useful guidance points to help you navigate these treacherous chat waters with the male breeders.
SILENCE IS BETTER THAN SAYING THE FIRST THING THAT COMES INTO YOUR HEAD
Men love silence. If at any point you are struggling to make conversation with a man, try making sweet silence instead. They absolutely thrive off it. That's why they develop hair in their ears. It's nature's cotton wool. Go into any pub and you'll see a lot of men sitting in silence. Once you've got over the impossible agony and awkwardness, you'll actually relax into it and really quite enjoy it. (Or so I'm told. I'm incapable of it, though - I can usually take about 40 seconds before blurting out 'I HAVE A BLUE CARDIGAN TOO' or something. God I'm a prick.)
FIND COMMON GROUND
If their kid is the same age as yours then straight away you've got some common ground. You must keep it emotionally neutral though. Be neither pleased to have children, nor too obviously devastated. But - and this is crucial - do not overshare about your experiences. I made the mistake once of telling another dad that last December I looked after both my sons for a whole day and it was so awful I cried twice. He glared at me and repeated his initial question about the Lions rugby tour of New Zealand.
TALK ABOUT THE LIONS RUGBY TOUR OF NEW ZEALAND
The great thing about this particular bit of sport is that a British team of 15 players will be selected from a pool of Irish, Welsh, English and Scottish players. This year in particular there is a huge amount of debate over who will 'start' (play) which means you can cover topics such as who's already 'on the plane' (certain to be going) and who 'didn't do enough during the six nations' (didn't play well enough during the six nations). If in doubt, just say "but is Gatland the right choice of coach" (full disclosure: I'm Welsh and he is) and then sit back and relax for you have just purchased at least 8-10 sold minutes of dad-chat. Well done soldier.
IF A DAD IS A DICK, STARE AT YOUR PHONE
If you really don't like a dad, just glare at your phone. It's the social equivalent of showing your teeth to an ape. They'll read the body language and leave you alone. It's unfortunate but sometimes you do have to avoid tedious dads, even if your kids like each other. There can be a plethora of reasons. For example they could be really into running and bike rides which they do 'for charity'. I don't want to get too Rod Liddle here but these chancers are just collecting you as a Facebook friend to leverage their next campaign to selflessly get away from the kids for a good cause. Show me a dad on a sponsored doing-absolutely-everything-at-home for a year and I'll gladly sponsor that hero. I'm not, however, coughing up so they can bog off on a long weekend to cycle over a mountain in Borneo.
IF YOU LIKE SOMEONE DON'T BE TOO KEEN
There's a chance you might actually really like another dad. It's unlikely, but it can happen. Whatever you do don't let on. Men are very easily scared by two things: keeping bodily gases in, and commitment. So keep your feelings of like well hidden. If you start texting on a Tuesday about plans for the weekend, they'll run a mile. If you suggest a camping trip together, they'll almost certainly change their phone number. Play it cool. I can't emphasise this enough. Be cold. Maybe decline a few playdates because you've got other plans. Make it clear you're still seeing other dads and going on other playdates. Frequently mention how much you miss another dad who had to move away because of work or to get a bigger house. You simply cannot let him know you enjoy his tremendous anecdotes and find his style of parenting admirable. You'll just end up sad and alone and having to play with your children yourself. And nobody wants that.
Look I'm probably over-thinking this. If all else fails just stand with your arms folded and make it clear you're not having much fun and you don't really like your kids. You'll be fine. And if that doesn't work, learn this:
LIONS XV TO FACE NEW ZEALAND (Saturday June 24th 2017)
Leigh Halfpenny, George North, Jonathan Davies, George North; Dan Biggar, Rhys Webb; Samson Lee, Ken Owens, Rob Evans, Alun Wyn Jones, Sam Warburton, George North, Justin Tipuric, Ross Moriarty.
Replacements: Shane Williams, Shane Williams, Shane Williams, Shane Williams, Shane Williams, Shane Williams, Shane Williams.