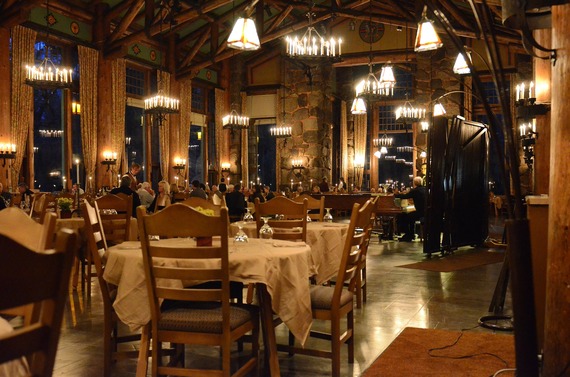 As you may know, three-star Michelin restaurant owner Heston Blumenthal has been in the news this year for giving customers food poisoning (not the most encouraging thing to hear if you've made a reservation), but don't let that put you off! There are so many delectable Michelin menus out there just waiting to be sampled. Although Bib Gourmand restaurants are the more affordable younger sibling of Michelin-rated restaurants, sometimes it feels fantastic to splurge on an experience with all the finer trimmings. As we are gradually moving out of the recession, spending on luxury items and days out is increasing, so let's look at what's on offer for the discerning palette!
Three Stars: The Waterside Inn, Bray
One of two three-star restaurants in Bray, The Waterside Inn isn't trying to fool you with its name - it is right on the river, so it's a lovely location to enjoy some world-class cuisine or a few glasses of wine. Like most Michelin restaurants, you're not going to pick up a meal here for a song and a dance, but you'll be guaranteed immaculate service with your delicious French food. Whether you're looking to celebrate a wedding anniversary or a decadent breakfast of Parisian pastries, The Waterside Inn is a great place to splurge.
Two Stars: Sketch, Mayfair
This London-based restaurant is nothing if not eccentric. The toilets are modelled after futuristic egg cryogenic pods, the uniform was unconventionally created by a fashion designer (grey boiler suits for men), the décor is out of this world, and the food is delicious. If you like your Michelin meals with a funky twist, this hot spot in Mayfair is perfect for you.
Two Stars: Le Champignon Sauvage, Cheltenham
Run by a husband and wife dup, Le Champignon Sauvage has attracted many awards since it opened in the late 1980s. As with many Michelin star restaurants, the cuisine is French, but the restaurant itself is fairly relaxed and humble in terms of set-up. With many Michelin establishments, you can expect to pay hundreds of pounds, but Le Champignon Sauvage is comparatively inexpensive with three courses for under £60.
Two Stars: Hélène Darroze at The Connaught - Mayfair
This artfully designed, but not snobbish, restaurant features a variety of French dishes. Even the lunch menu comes with three courses! It's perfect for a show-stopping business meal or for celebrating a special event with friends.
One Star: The Park - Bath/Colerne
Set in a 17th-century mansion house, Luckham Park Hotel & Spa not only delivers high quality accommodation, but Michelin star-worthy food too. In a stunning setting, you will be invited to partake in cocktails and canapés in the dining room or library. Finally, you will be able to choose from a fine dining or a gourmet menu. The Park uses organic ingredients to ensure fullness of flavour, and they source their food locally when they can. Herbs are taken fresh from the hotel grounds.
One Star: Ockenden Manor - Cuckfield/West Sussex
With picturesque views across the gardens and South Downs National Park, this beautiful Elizabethan Manor House serves up locally-sourced, fresh cuisine. Just one hour outside of London and 20 minutes from Gatwick, it's a great place to escape from the city and still experience the best of fine dining.
One Star: Ocean at the Atlantic, Jersey
Delicious food beautifully presented, Ocean at the Atlantic provides wonderful views over St Ouen's Bay. When it comes to the service, you'll receive the attention to detail that you'd expect from a Michelin star restaurant. Ocean at the Atlantic even caters for children, who get their own nursery menu - this is a real positive, as many highbrow Michelin restaurants aren't always welcoming of youngsters.
One Star: Inverlochy Castle, Fort William
You really feel as if you're a part of history at Inverlochy Castle Hotel, surrounded by period furniture given to the hotel by the King of Norway. Queen Victoria visited this baronial mansion in the 19th century and was quoted saying how romantic the spot is. Due to its proximity to Ben Nevis, you can always work up a large appetite before you go in for a decadent variety of meals. Just make sure to scrub up before you go in!
One Star: Black Swan, Oldstead/North Yorks
Tucked away down country roads close to Byland Abbey, this inn and restaurant is a real hidden gem. Although the dining is first class, you will enjoy your meal in a quaint, relaxed environment with impeccable service. Due to how filling the portions are, you shouldn't leave with an empty stomach.