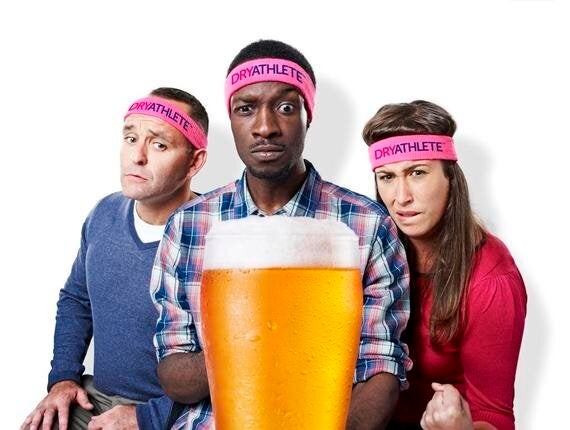 Getting a date. Not so hard, right? It's just a case of walking up to someone you fancy in a bar and asking them if they'd like to go for a drink sometime. They either say yes, or no, and if you get rejected you try someone else.
What I've found is that doesn't apply during periods of sobriety. When you're out with your drinking buddies you're achingly self-conscious. Everyone seems to be wearing better clothes, their hair looks crisp and clean, and the fear of approaching someone and getting rejected is akin to jumping out of a plane without a parachute.
So I find myself sitting here, wanting to write a post about my first 'dry dating' challenge for Cancer Research'sDryathlon campaign, but unfortunately with no date to speak of (sob). Instead, I'll report on some of my other experiences since my last post.
I spent last week working at a four-day client event in Manchester. These events are commonplace in media, you work hard, get drunk and on the odd occasion end up copping off with an Italian ledger clerk.
I spent the first couple of days genuinely enjoying my sobriety. Stress levels were lower and I slept like a baby, even rising early doors to hit the hotel gym while my colleagues slept off their hangovers. However, on the third night, our group decided to go out to sample of Manchester's famed nightlife.
After visiting a number of bars and consuming seven litres of Diet Coke I thought I'd push the boat out a bit and invited the next bartender to mix me something 'sweet, fruity, and non-alcoholic'.
What followed was the most disgusting, pink, sickly monstrosity I've ever had the pleasure of experiencing. I realised at this moment that not only did I miss the effects of alcohol, I missed the taste of alcohol. There's a bitterness and harshness to booze which no other drink replicates, and it's only when you go without that you realise how much you cherish it.
The night inevitably descended into chaos, rounded off by being forced to give a piggy back to a lovely brand ambassador called Lucy the mile and a half back to the hotel and her then vomiting on my jacket because I ran too fast (note: abstaining from alcohol doesn't improves your athleticism). It's okay, because (in her words) 'it was only a small sick'.
It was really tough seeing people having a lot of fun, and I decided at that moment that I'd abstain from going out for the rest of the month, and spend my free time doing more productive and less dangerous activities. Activities like tiddlywinks and cross-stitching.
The final day, Saturday, arrived and I began making plans for my arrival back in London. I texted all of my friends, getting more and more frustrated as it became apparent that every single one of them was out on the lash. I hopped on the train at Manchester Piccadilly and began one of the most hellish journeys of my entire life, which panned out as follows:
Manchester - Man sits down on seat opposite me and starts tucking into four cans of Special Brew with the vigour of someone half his age
Stockport - Man starts singing loudly, either Westlife or Barry Manilow, couldn't tell which
Stoke-on-Trent - SUBSTITUTION: Drunk man, off, local yobs, on. Get heckled for wearing a 'poncy jacket' (Translation: Zara blazer)
Milton Keynes Central - Yobs get off, I seriously contemplate grabbing a drink from the beautiful, sexy, enticing train bar
Euston - My mind is made up. I'm going to get drunk tonight and be really amazing and witty and pull lots of girls
So there we have it. I caught a cab from Euston to Brixton and stopped at the off licence, purchasing two bottles of wine with scant regard for the challenge I'd undertaken just 11 days previously.
The two bottles of wine are still in my fridge.
I had a moment of clarity. And boy, am I pleased I managed to pull through. I went straight to bed when I got in and contrived to spend the Sunday finally trying to get a dry date. More on that next week.
You can join Tom and take part in Dryathlon by signing up at Dryathlon.org
Related