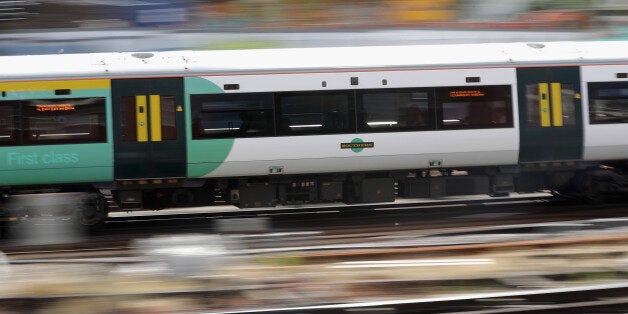 It's a whole month since I wrote for this very website about Southern Rail. At that point, six weeks in, Southern Rail had cancelled, delayed and mocked its way towards serving up a grade A commuter hell. Things couldn't get any worse. Could they?
Eleven weeks have now passed and the delays, cancellations and severe overcrowding have continued. Commuters rocking forwards and backwards at the prospect of being late for work, missing client meetings or not making it back on time to put kids to bed.
11 weeks. It has been miserable. A process of emotions that started with frustration, built to anger, then pounded us enough - like Winston Smith in Room 101 - that we've been left, as individuals, a hollow shell of a person, virtually writing off weekdays as an exercise in the futility of modern life. It has been, every single way, a summer of massive discontent.
So where do we go from here? Well, as of today, Southern have introduced a 'remedial plan'. You may of heard of it. Its purpose is to strip the network of 341 trains per day in the faint and desperate hope that passengers will be able to plan their journeys better if they aren't waiting for a cancelled train. Train staff levels - essentially the reason for most of this mess - would, they say, remain consistent enough that all services should be able to run. Should.
The cynic in us sees this differently. Southern and parent company Govia have to protect their bottom line. It's the reason they are here and frustratingly will be the reason they stay - backed by Government collusion. Compensation claims - the many thousands they receive a day - dramatically affect this. So, in reaction, they have effectively taken away many passengers' ability to claim a single penny. If the train doesn't exist, it can't be claimed for. I'm sure the Southern PR machine will click into gear here but at this point it becomes quite easy to see through the fog.
Still, in the scheme of things, compensation means very little. For most on the worst affected routes - such as London Victoria - Brighton - receiving a few quid is like a big, fat slap across the face as parents miss seeing their children or disabled passengers are unable to fit onto a packed train. Personally I couldn't give a damn about compensation. They can keep their £5.41, I just want my life back.
Still, as very ordinary people we at least try to do something about it. Back on June 14th we 'organised' a protest at Brighton station with the sole intention of bringing those who are angry at Southern together in a show of dissatisfaction. It worked. We organised it on the Friday and by Tuesday approximately 250 and camera crews had turned up. People were angry - pushed into spending their evening with strangers on a scruffy train station rather than seeing their families.
Since then, through the power of social media, people have come together. Strangers exchanging ideas and emails, new friends sharing resources and expertise. Being British, we might only ever muster up enough energy to tut and grumble but in the face of adversity we can and we do give many thousand shits.
About three weeks ago we set up the snazzily titled Association of British Commuters. There are many commuter groups around but we needed something to bring people affected by this unprecedented issue together and try to push for real change. We needed a central place for angry commuters to share stories, talk to each other and campaign for what is fast becoming the worst rail issues this country has ever seen.
On top of all this a second protest has been organised. By the time you read this it may have passed but after protesting in Brighton our eyes inevitably turned towards the capital and the hundreds of thousands of commuters who, on a daily basis, have been met with cancellations, delays and some of the worst conditions - both in the carriages and on the platforms - ever faced. We needed a protest that hit the very heart of the Southern network. London Victoria is set.
But will it make a difference? Since the June 14th protest, some MPs have started to take these issues - mainly because it involves most of their constituents - very seriously. Peter Kyle, Maria Caulfield and Caroline Lucas - amongst others - have taken the fight to Parliament and have been hugely vocal in their anger towards what they see is an unacceptable service, with calls for the franchise to be stripped.
Public meetings have been held.
Both Caroline Lucas and Jeremy Quin have hosted their own with senior representatives of Southern. In both cases, with the public demanding answers to quite basic questions, Southern have found themselves to be clearly out of their depth with finding the required solutions to these issues. In Brighton, one audience member, Greg Madison noted:
"Southern management started the evening looking arrogant and bureaucratic, finished looking chastened if not a bit scared. Their excuses did not wash."
It is something that has been played out across the region. In Horsham, where MP Jeremy Quinn hosted anther public meeting, Ross Pudney attended where he saw Alex Foulds, Passenger Services Director answering questions. He noted:
"Based on this meeting, I've come to the conclusion that Mr Foulds is a significant part of the problem. He was dismissive, unwilling to concede ground and failed to answer any questions. He should be considering his position."
Across the board, straddling every political party from Peter Kyle (Labour) to Maria Cauldfield (Conservatives) anger is running high. It cannot go on.
Think of any other walk of life, a school for example. Would that school be allowed to cancel lessons without just reason? Would a hospital be allowed to fundamentally change the role of their front line staff without consultation, putting patient safety at risk? But these are frontline services I hear you shout. True. But a mass disruption of lives on this scale is arguably a bigger threat to public health than sugary drinks.
As an ordinary passenger it is difficult to decipher between what is quite obviously a complicated industrial dispute. However, what is clear, from talking to Southern employees across the region, is the punitive and Victorian management style that Southern that has exacerbated the dispute with the RMT has destroyed any good will from their employees.
Over the past few weeks I have amassed over 20 separate emails from Southern employees - mostly Conductors but some drivers - all praising the action we are taking and giving their own horrific accounts of the line being taken from the Southern management. It has and continues to be a truly sickening set of circumstances.
So here we are. Petitions defied, resignation calls ignored with passenger protests the last in a small pool of legitimate routes we can take towards change.
In fact the last petition to be defied ended with this lonely paragraph:
"Whilst we understand the frustration felt by passengers affected by disruption, we would like to assure you that the Department for Transport is determined to see further improvements and for GTR to provide the service that passengers expect."
In one sentence providing the public everything we need to know about this ongoing battle. That Southern and Govia continue to drown in a pool of desperate measures and public outrage whilst at the top Claire Perry and the Department of Transport continue to wring their hands of the issue at hand.
It's hard not to think of the wider picture during this battle. There are, as you know, much worse things happening in the world right now. But as a country we seem to face these issues - which are being seen for the exploitative and unjust issues that they are - with apathy and laziness, preferring to tut and grumble than make a stand; at worst, looking on at protestors with derision. Well to that I would say this: we aren't politicised, we straddle the economic and class spectrum and if you define us, we would be some of the most normal people you could ever meet. We just want to get home.
Personally, as a new father, I couldn't look my eight-month-old baby boy in the face if I felt I didn't do something about it. We are living in unprecedented times - right now we need unprecedented action.