A journey to Burma is something of a surreal experience. Scenic mountains, endless forests, enchanted temple ruins and a captivating culture with a distressing past running through the veins of the sovereign state. This once politically repressed land is now unravelling its beauty to curious outsiders and the most intrepid of travellers. Now is the time to visit this incredible country. Here are three jaw droppingly beautiful places to include during your trip to Burma.
The ancient city of Bagan is one of the most extraordinary places on earth. Every step, every view will leave visitors in a dreamlike trance. Most people simply cannot believe that this ancient city is real but Bagan has been around since 849 CE, and was the capital of the Pagan Empire from 1044 to 1287.
Made up of 19 ancient villages, Bagan is without a doubt one of our planet's most outstanding archaeological sites. With a hot climate all year round and a handful of hotels dotted around the city, it's a wonderful destination to explore with secret spots around every turn. Internal flights are available from Yangon, Mandalay and Heho. The city can also be reached by boat, bus or train from Burma's major cities.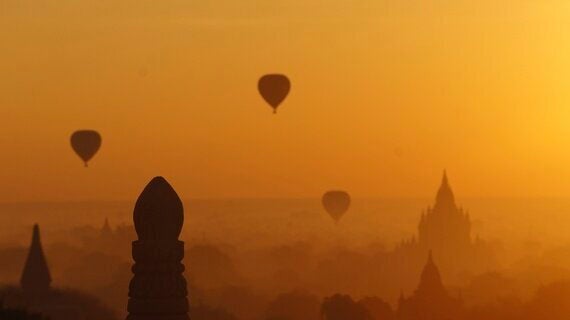 'Bagan Sunrise' by Tom McLoughlin
Inle Lake is a beautiful freshwater lake in the Nyaungshwe Township of Taunggyi District of Shan State. This tranquil lake is over 13 miles long and it's known to travellers for its reflective waters, breath-taking sunset views and wonderfully primitive surroundings. Decorated with pagodas, stilt houses and traditional fishing boats, Inle Lake is a charming vision of South East Asian landscapes.
For nature lovers, the lake is a must for your bucket list. The Inle Bird Sanctuary and the surrounding areas of this body of water are ideal for spotting herons, warblers, cormorants and wild ducks. There's also a huge catalogue of water based animals and fishlife, including 20 snail species and nine fish species which are exclusive to Inle Lake; these species can't be found anywhere else in the world. Then there are its beautiful inhabitants, who are worthy of watching all day as they go about their daily lives on the lake, with it not proving a hurdle but an aid in going about life's daily chores.
Inle's bordering cities create the home to more than 70,000 people, known as the Intha people; this translates as "sons of the lake" and once you meet them, you'll quickly understand their beautiful connection with the water. If you want the perfect combination of nature and culture, be sure to visit Inle Lake. The sights are epic in every way possible.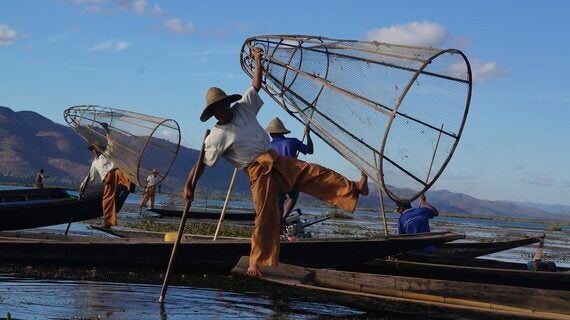 'Inle Lake Fishermen' by Tom McLoughlin
Over 4 miles of perfect beach and all year round sunshine, Ngapali is the epitome of a beach lover's paradise. For the jaded traveller, this is the spot to get away from it all and it remains relatively quiet. The palm tree lined shore and vista blue waters are two of the main reasons why tourists travel to this unspoiled beach destination, though there are other options too. And the sleepy atmosphere makes it the ideal place to recharge after a long week of sightseeing around Burma.
On Ngapali Beach you can enjoy freshly caught seafood every day and take part in activities such as line fishing or game fishing, snorkelling, golfing or cycling. Other than that, it's pretty much a kick-back-and-enjoy-the-sunset kind of place. Ngapali can be easily reached by bus from Thandwe Airport - and it's a jaw dropping destination not to be miss.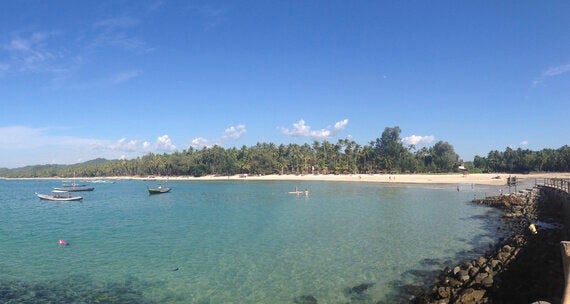 'Ngapali Beach' by Tom McLoughlin
Related