While the recent and terrible devastation of the 2015 earthquake in Nepal badly affected tourism and caused many trips to be cancelled, now is the perfect time to start planning a trip to this fascinating nation.
Whilst worst-hit Kathmandu is still in the process of rebuilding, it is important to note that not all areas of Nepal were affected by the disaster and it is possible to visit the majority of the top attractions of the country without being surrounded by hordes of visitors. Even Kathmandu is getting back on its feet and there aresigns showing that it is now fine to visit again following the earthquake's impact. The following are some of the best destinations in Nepal for you to enjoy and also contribute to the rebuilding of this fascinating land.
1. Chitwan National Park
Nestled at the foot of the Himalayas, Chitwan National Park was designated a UNESCO World Heritage site back in November 1984. Well worth a visit, Chitwan is one of the last refuges of the fascinating Bengal tiger. It is also home to some of the last populations of single-horned rhinoceros, as well as leopards and sloth bears. There are 544 species of birds in residence, along with a rich variety of other fauna and flora. Besides its fascinating residents, the scenery is simply astounding.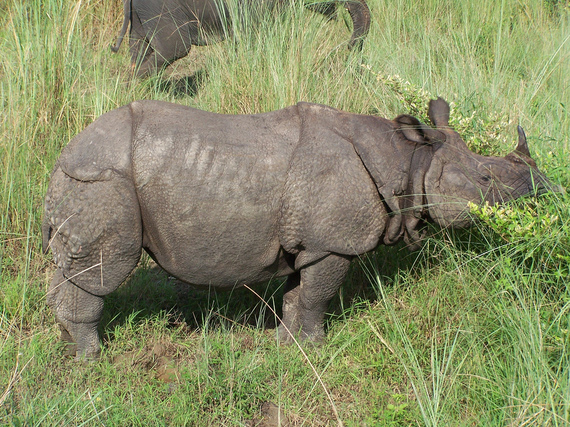 "100_7112" by Fernando Hidalgo Marchione is licensed under CC BY 2.0
2. Narayani River
While visiting Chitwan, the Narayani River is a worthwhile visit. This is one of the major rivers of Nepal and runs along a deep gorge through the Himalayas. Boat and canoe tours on the river offer spectacular views of the wildlife in the area, including elephants, rhinoceros, crocodiles, deer and monkeys as well as many bird species. One sight popular with tourists is the magnificent sunsets, reflecting in the water.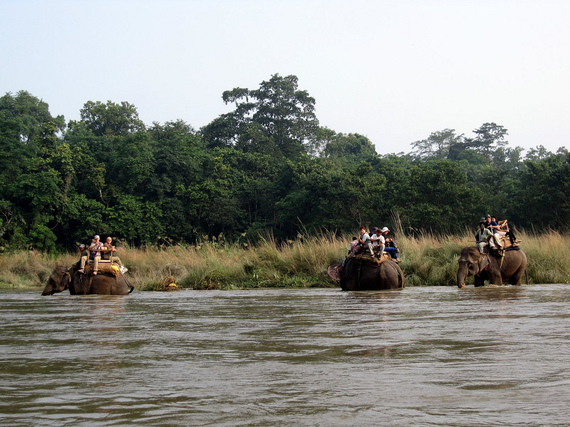 "South Asia 130" by Stefan Krasowski is licensed under CC BY 2.0
3. Bhaktapur
While much of this fascinating and historic city was damaged during the earthquake, many of the ancient buildings and the temple still stand, making it a must-see visit on a tour of Nepal. This ancient Newar city is located in the east corner of the Kathmandu Valley, approximately 8 miles from the capital. Besides the fascination of the historic buildings, the city offers homely accommodations and a true experience of Nepalese culture, now akin to what it was like prior to becoming such a popular tourist attraction.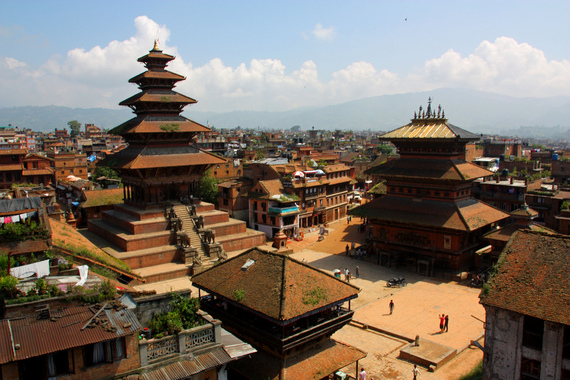 "Bhaktapur Nepal" by neiljs is licensed under CC BY 2.0
4. Pokhara
The second largest city in Nepal after Kathmandu, Pokhara is known as the city of lakes. Phewa Tal (Fewa Lake) is an especially popular spot to visit while in Pokhara and it is possible to take a boat ride out on the water. The Taal Barahi Temple is situated on an island in the middle of the lake.
A scenic city, Pokhara is framed by the stunning mountain peaks of Dhaulagiri, Manaslu and Annapurna and has long been a popular backpacking spot. In the surrounding Pokhara valley, many temples and gumbas can be seen. On a clear day, the best views can be obtained from the Shanti Stupa in Pokhara, one of several peace pagodas in Nepal.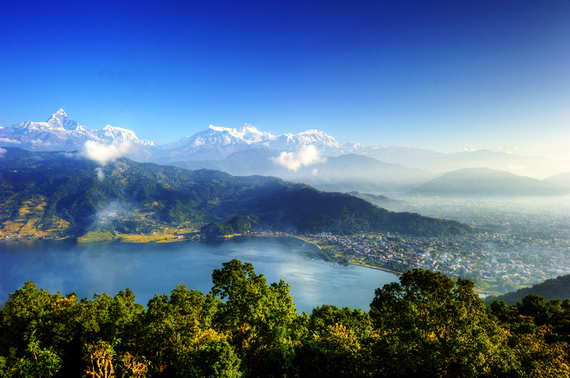 "The City of Pokhara" by Mike Behnken is licensed under CC BY 2.0
5. Muktinath Temple
Located up at 3,710 metres in the Muktinath Valley of the Himalayas, Muktinath Temple is a sacred place and pilgrimage site for both Buddhists and Hindus. Besides its religious attractions, it is a popular destination for fit people of all ages and with new roads recently introduced it is possible to access the site on motor bike from Jomsom. It is not recommended to travel to Muktinath Temple in the rainy season from June to the beginning of September. While cold, the best time to visit is between November and February.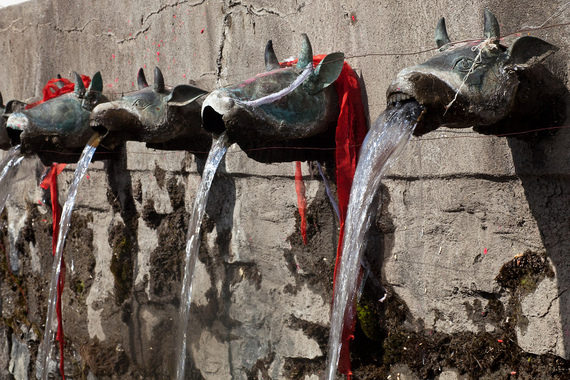 "Brass watespouts (108 total)at Chumig Gyatsa, Muktinath" by Greg Willis is licensed under CC BY 2.0
6. Nagarkot
Located at 2,195 metres in elevation, Nagarkot is a quiet retreat and is thought to be one of the most scenic locations in Bhaktapur District. This beautiful destination is best known for its magnificent sunrise view of Mount Everest and the Himalayas, often with the clouds beneath your feet. Nagarkot also offers a panoramic view of the Kathmandu valley and is a popular hiking route for visitors. Situated 28km from Kathmandu International Airport, some of the hotels were damaged during the Nepal earthquake. However most have now been repaired and Nagarkot is once again a beautifully scenic spot to stay over and enjoy.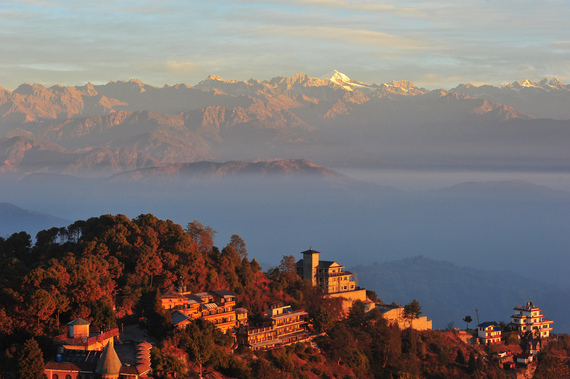 "View Of Nagarkot "by Neil Young is licensed under CC BY 2.0
7. Langtang National Park
Langtang National Park was first established in 1976 as the first Himalayan national park. Situated in the central Himalayan region, the stunning sacred lake of Gosainkunda can be found within the park, which is a popular destination for both religious visitors and tourists. The lake remains frozen in the winter months from October to June, offering beautiful and icy scenery and the area surrounding it is popular with hikers on the Dhunche-Helambu trekking route. The area offers basic accommodation along with tea houses selling a range of food and snacks.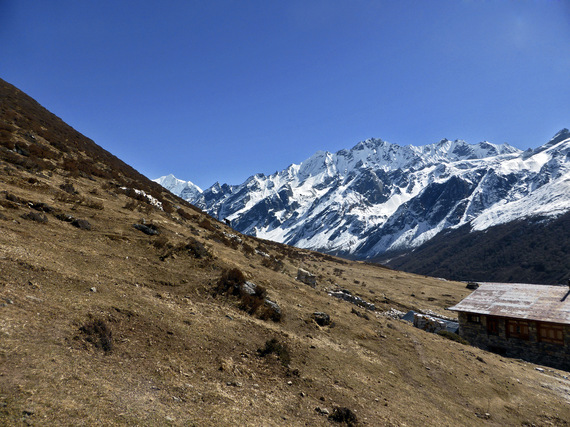 "Langtang village" by Raini Svensson is licensed under CC BY 2.0
Nepal may be on its back foot since the terrible earthquake struck, but it is on the road to recovery and tourists returning to the country will help this incredible region return to its former glory sooner rather than later. As it is undergoing this process it is a great time to get a feel for the real Nepal and experience its stunning scenery and wonderful inhabitants whilst it is not overrun by foreign visitors. So you'll be helping Nepal and its people, as well as getting a unique experience that you might not be able to enjoy for much longer as the crowds descend again.