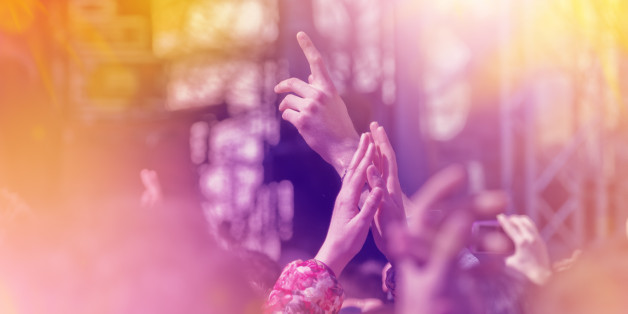 stevanovicigor via Getty Images
Festivals - we love them! There is nothing quite like the feeling of being outside, warmer weather, lighter evenings, and being away from everyday life. I went to my first festival aged 18, and there's barely been a year since that you wouldn't find me at one, having the best time imaginable, in a field, with my mates. And for Safe Gigs for Women, we're working away preparing for festival season, which for us starts next week in Camden with One Fest for Frank Turner's Lost Evenings, that promises to be four days of music, friends and support - one big community, as music should be.
But in the many years I have been at festivals, there have been some less happy moments. And I'm not talking about the state of my welly feet after some very wet Glastonbury's.
Unfortunately, along the way, I have experienced sexual harassment and abuse. On more than one occasion, the last one being the incident that led to the formation of Safe Gigs for Women. Victim blaming in sexual assault is so inherent in how we talk about it that it even influenced this feminist in how I immediately processed what happened. And it's devastating. There's the mix of emotions.
The confusion - did I do something to provoke this? Was it what I was wearing? But I had a coat on. Was it that I had a drink? But I only had one. Was it because I was on my own? But I've gone to see bands at gigs and festivals alone a heap of times. Why did no one help me? This was the internal dialogue I had after the last time. The shame and embarrassment that this happened to you. Then there's the promises you make yourself - I am never going to a gig alone again. No more dresses at gigs. No more having a drink at gigs alone. And the anger. The anger at yourself that you did nothing to stop this man doing the same again. And this is the hardest bit for me - to add insult to injury, when music is your passion, when music is your everything, - to of assaulted me at such a huge event for me, something so key in my life - that hurts. Not only have you stolen my dignity, my consent, but you have tainted something so special to me. And I will never get that back.
Waking up the next morning in a strange town, trying to make sense of what had happened, and the hurt, shame and anger shifts. Putting my feelings into written words, into something tangible makes me realise that all those promises I made myself would come to nothing. How could they?
Music is my life, how could I ever let that go? And if there's one thing I know, it's going to gigs and festivals. So why not put that to use? Why not challenge the mentality that has allowed people to think that this is acceptable behaviour, not just in society, but in something as amazing as a festival? Let's reject the victim blaming that is so ingrained in how we treat those experiencing sexual assault, have the conversation that people can meet people at festivals, form friendships and relationships but that consent underpins this. And also, that we don't go to festivals and be a bystander to someone in any sort of distress.
Music matters because it helps offer a refuge, an understanding that we are not alone in how we feel, it allows people to remember lost experiences, life events and people. And as such, music should surely transcend something so base as sexual assault and harassment.
The Association of Independent Festivals blackout on 8th May reinforces the good that music can and should be doing. Music brings people together, so let's make festivals our community center.