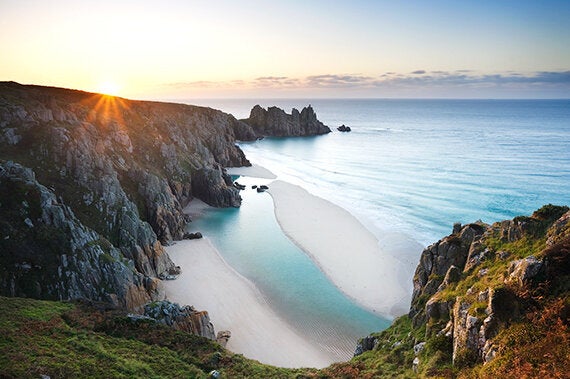 Buckets and spades at the ready, suncream on standby... here's our region-by-region guide to the top coastal spots in the UK
Compton Bay, Isle of Wight
With 56 miles of coastline, the Isle of Wight isn't short of scenic spots, but Compton Bay on the western shore is one of the finest. This sandy stretch, backed by sheer white cliffs, is a favourite with fossil hunters -- you can even see dinosaur footprints in the rocks at low tide.
Camber Sands, East Sussex
At seven miles long and up to half a mile wide (at low tide), this beach has plenty of space on even the busiest of days. You could learn to kitesurf, fly a kite, paddle in the surf or just get lost in the sprawling dunes that run down to the beach itself. And at just under two hours' driving time, it's one of the best beaches within day-trip distance of London.
Rhossili Bay, Gower Peninsula
Not just one of the UK's finest beaches, but the best according to a 2014 survey by TripAdvisor. This pristine 3-mile curve of golden sand is interrupted only by the remains of a Norwegian ship that was wrecked here in 1887. The waves that did for Helvetia now attract surfers, and the area is popular with walkers.
Getting to Pedn Vounder (pictured above) requires some effort -- not only is it secreted away on Cornwall's extreme southwestern tip, but when you get there you'll find it's still only accessible by either boat or a long walk and a cliffside scramble. It's worth it to spend time on this near-perfect sandy crescent. At low tide, sand bars are often exposed, creating shallow pools that warm quickly in the sun -- you could be forgiven for thinking you were in the Med.
This misleadingly named 3-mile shingle bar near Dartmouth on the south Devon coast is a great alternative to some of the county's more crowded spots. In fact, it's hard to believe that it was the scene of tragedy during World War II, when US troops practising for the D-Day landings came under surprise attack from the German navy, resulting in the loss of nearly 1000 lives.
South Bay, Scarborough, North Yorkshire
If you're looking for the quintessential English beach experience, look no further. Amusement arcades, donkey rides and souvenir stalls make this sandy beach as popular with families today as ever before, the whole scene watched over by the ruins of the 11th-century Scarborough Castle.
Wild, windswept and overlooked by the still-occupied Bamburgh Castle (it's a private home now), this golden sweep of dune-fringed sand has something of the dramatic about it. There are (thankfully) no shops or souvenir stalls, so be sure to bring your own picnic.
Scotland & Northern Ireland
St Andrews West Sands, Fife
This is where the opening scenes for "Chariots of Fire" were shot, and it's easy to see why - this 2-mile beach is just a 15-minute walk from the town itself, and is bordered by what might be the most famous golf course in the world -- the Old Course of St Andrews, or the "Home of Golf" as it's known. Bonus points for ease of access, too -- West Sands is roughly an hour's drive from Edinburgh and two from Glasgow.
Portstewart Strand, Co Londonderry
Known locally simply as "The Strand", this beach on County Londonderry's north coast is bounded at one end by Portstewart Golf Club and at the other by the River Bann estuary. The two miles of golden sand in between are perfect for long walks and picnics, and the towering dunes that back onto the beach are a haven for wild flowers and butterflies.
One of the most remote beaches in Britain, and all the better for it. Getting to Sandwood Bay, tucked away on Scotland's northwestern tip, requires a 4-mile walk from Blairmore, across rough moorland. You have to really want to go there -- if you do, you'll discover a wilderness setting of almost unrivalled quality, with steep cliffs, undulating sand dunes, glittering sands and some of the country's cleanest, clearest water.
Rory Batho is the senior copy editor at Travelzoo UK, and is based in the London office.