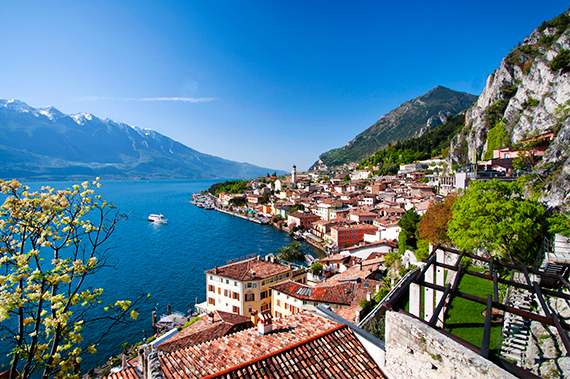 Our readers recently voted Italy as the short-haul destination they'd most like to visit in 2014. With that in mind, we've rounded up five top destinations for an Italian getaway this summer.
Sicily: Easier than Ever
A few years ago, roughly 89% of what people knew about Sicily came directly from "The Godfather" - as a result, it was hardly likely to feature on the average holidaymaker's list of possible destinations. Not so any more. New flight routes have sprung up (most recently, easyJet launched a Manchester-Catania route) and the island is now easier to reach than ever. That means more competition and better prices for tourists.
Our top tip: There's more to this island than the (admittedly beautiful) beaches. The capital Palermo is home to the country's greatest concentration of historical sites outside of Rome - we recommend taking a stroll along the Via Vittorio Emanuele and checking out the 12th-century mosaics in the church of La Martorana. If you're hungry and feeling brave, you could try the local snack pani ca meusa (a fried spleen sandwich).
Summer in the City
"When in Rome, do as the Romans do," goes the saying. That's all very well, but when the Romans flee the city in the summer, we recommend you do just the opposite. While it's true that Italy's capital does get pretty toasty in the summer months, it's certainly a lot quieter, and a lot cheaper, as a result. If you can tolerate the extra couple of degrees, you'll be rewarded with pedestrian-friendly streets, mercifully quiet museums and discounted hotel rooms.
Our top tip: While many of the cheapest deals are available in the summer months, you can often travel for a small supplement in the shoulder season that bridges summer and autumn. If you're there in July and August, be sure to get a Roma Pass - for 36€, not only do you get entry to two museums or archaeological sites of your choice and unlimited public transport, but you'll also be able to skip the queues at the likes of the Colosseum.
Head for the Hills
Chances are you've heard of "agriturismo", even if you don't know exactly what it means. It's essentially a catch-all term to describe farmhouse stays, frequently with some kind of wine-based component thrown in. It's often a cheaper way to visit pricey areas such as Tuscany, too - one of our favourite deals from earlier this year was a 2-night stay at farmhouse near Florence, with free wine and extras, for £79.50 per person.
Our top tip: If you're heading to somewhere like Tuscany, chances are food is somewhere near the top of your priorities. Make the most of it by getting yourself a copy of Osterie & Locande D'Italia. This book, written by Italians for Italians, is a guide to the country's best - and frequently little-known - trattorias. The focus is on traditional venues serving honest home cooking; consider it your gateway to the authentic Italian dining experience.
Look to the Lakes for a Beach Alternative
Italy is hardly short of beaches, but if you're looking for an alternative to the Amalfi Coast (without sacrificing any of the glamour), the lakes are a good bet. The likes of Como, Garda (pictured), Lugano and Maggiore are home to elegant waterfront architecture, world-renowned natural beauty and some stellar restaurants.
Our top tip: If you want to keep costs down, check out hotels in the city of Como itself. It's less glamorous and cheaper than resorts in the Central Lago area, but regular ferries link all the top spots on the lake, so nothing will be out of reach. If money's no issue, head to Bellagio, the quintessentially chic Como town.
Sardinia: Cheaper than you Might Think
With a reputation as one of Italy's more expensive destinations, Sardinia often gets overlooked by those in search of a bargain break. OK, so the glitzy resorts on the Costa Smeralda won't be competing with the Costa del Sol any time soon, but it's wrong to assume that bargains don't exist. The island is now served by more flights than ever before, meaning more options for would-be visitors.
Our top tip: We recommend looking beyond the Costa Smeralda, at destinations on the less fashionable but equally beautiful west coast. For example, we recently ran a deal for an early-summer getaway in Castelsardo, with half board and a room upgrade, for £299 per person.
Bonus Tip
Wherever you go, whatever you're doing, make sure you dedicate at least half an hour of every day to eating gelato. It's the law.
Check out the Travelzoo website to see our top Italy deals.