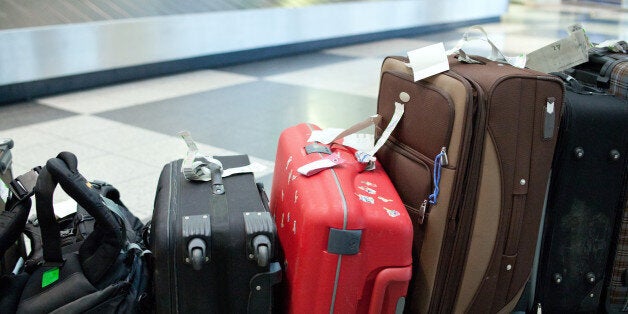 According to SITA (the company that tracks lost baggage performance) an estimated 21.8 million bags were mishandled in 2013 - that's almost seven items for every 1,000 passengers. It could be worse though - in 2007, the airline industry's worst year for misplaced baggage, 46.9 million bags went missing.
Of those bags that go missing, 81% get repatriated, 16% are reported as damaged or pilfered and 3% are never seen again.
Passengers in transit are most at risk; roughly half of all delayed bags are misplaced during transfer from one aircraft to another.
It costs the airline an average of $100 to repatriate a delayed bag. The carrier is also obliged to refund fees paid for checked bags.
A bag will not officially be classified as lost until 21 days after it was first reported missing.
If a bag is not reunited with its owner after three months, it will be sold at auction. British Airways' lost luggage ends up at Greasby's Auctioneers in Tooting, South London. Wellers in Guildford, Surrey, sells lost bags from Gatwick and Hertfordshire Auctions sells Luton Airport's lost bags.
In Alabama, US, the Unclaimed Baggage Center (where items are sold in a 40,000-square-foot store) boldly claims to be one of the state's top tourist attractions. Unusual items to have been found in bags there include a live rattlesnake, a suit of armour and Egyptian artefacts dating back to 1500 BC.
Some people earn a living through buying lost luggage at auction and selling the contents. It's a lottery though - you're not allowed to inspect the contents before you bid.
If your bag fails to turn up at your destination, the airline is obliged to cover the cost of "essential items" you might purchase while waiting for it to materialise. They're quite particular about the "essential" bit, so stick to toiletries and underwear rather than splashing out on a new designer wardrobe.
Most airlines offer a stipend in the region of $50 a day when your bag is lost. Some airlines will give you an upfront cash payment, some will reimburse you on submission of receipts.
Under the rules of the Montreal Convention, airlines' liability is limited to roughly £1000 per bag. In reality, few people ever get that much, so you'll need to make sure your travel insurance provides adequate cover.
If an airline loses your bag, they may suggest you file a claim with your insurance provider. Be careful though - some policies do not provide cover while your bag is in the care of an airline. Read the small print to see where you stand.
Top tips for safeguarding your stuff
If you have a business card, put one inside your bag. That way, if the tag gets ripped off, your contact details will still be accessible. If you're reluctant to display your address on a baggage tag, at least include an email address or mobile number.
Keep a photo of your luggage on your phone. Bags tend to look alike these days (black, wheels, etc.), but having a photo to hand will help you describe it, should you need to file a report.
And if you're really worried about losing your bag, you could buy a mobile tracking device. Bluetrack's Prime 1300, for example, slips discreetly into your bag, and makes use of GPS technology, allowing you to pinpoint its location anywhere in the world.