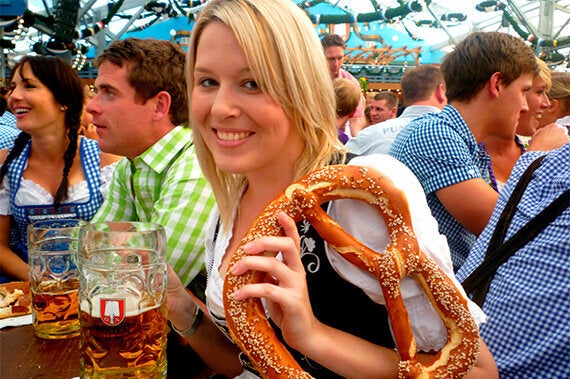 Heading to the Bavarian beer-a-thon? Amaze your friends with this Teutonic trivia...
It might be called Oktoberfest, but most of the festival takes place in September. Locals don't even call it Oktoberfest anyway, they prefer "Wiesn".
The first Oktoberfest took place in 1810, to celebrate of the wedding of Crown Prince Ludwig of Bavaria and Princess Therese of Saxony-Hildburghausen.
Entry to the festival grounds is free. The drink most certainly is not, however - in 2014, the price of a litre of beer is expected to rise above 10€ in some tents.
The grounds contain 14 enormous beer tents spread across a 42-acre area. That's somewhere in the region of 32 football fields to you and me.
In 2013, 6.4 million people attended, consuming 6.7 million litres of beer.
A serious amount of beer calls for a serious sanitation effort - 965 toilets and 1km of urinal troughs to be precise.
It's a bad time to be a Bavarian chicken - roughly 500,000 of our feathered friends will be consumed during the course of Oktoberfest.
Oktoberfest beer is stronger than the average brew - typically around the 7% mark. Predictably, plenty of people overestimate their drinking ability. The ultra-inebriated are often referred to as "Bierleichen" (beer corpses).
In November, 2008, Anita Schwarz set the world record for the largest number of beer steins carried (spillage-free) over a 40-metre distance. She managed 19 full steins weighing a total of 45kg - five in each hand and nine across the top.
As you might expect, the lost property office sees plenty of action. In 2013, 4,000 items were handed in - among them were a Segway, 320 mobile phones, 440 keys and nearly a thousand bits of clothing. Previous years have seen everything from dogs to dentures handed in.
In the US, the city of Cincinnati holds its own version of the festival called Oktoberfest Zinzinnati, drawing in roughly 500,000 people.
Picture © Emma Clegg/Alamy