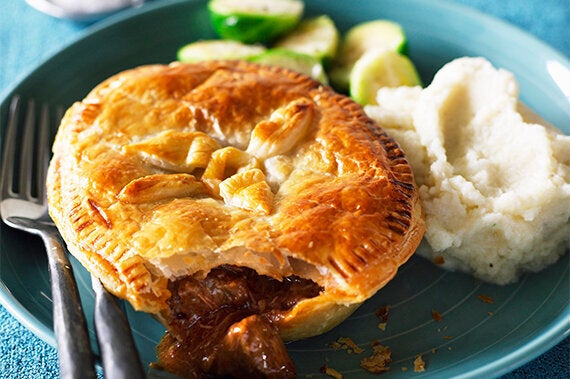 Winter's on the way and seeing as hibernation isn't really an option, we've come up with the next best thing - the finest comfort foods from around the world. A crackling fire is optional (but preferable) in all instances.
Steak & Guinness pie: Ireland
Hours spent exploring Ireland's rolling hills and dramatic coastline will leave you craving something warm and filling, which is why we thoroughly recommend finding the nearest pub to while away the evening eating a steak and Guinness pie. Bringing together two of the country's most famous products and wrapping them in buttery pastry, this is a must-try dish when visiting the Emerald Isle. Eat with fluffy mash, root vegetables and, of course, a pint of the black stuff itself.
The king of Korean comfort food, bibimbap (which literally translates as "mixed rice") is a one-bowl dish that's served cold in the summer and hot in the winter. Traditionally a way to use up leftovers, it usually features at least five differently coloured toppings over the rice, as well as a raw egg and a dollop of deep-red chilli paste. The meal comes in a "dolsot" (a hot stone bowl) and once served, is left for a few minutes to ensure the rice forms a crunchy crust at the bottom, before you mix it all together (the egg will cook as it is dispersed through the rice) and dive in.
Quebec's signature dish, poutine - fries smothered in cheese curds and gravy - may not look pretty, but it is Canada's answer to late-night fast food. Ignore the inventive twists that have started to pop up as its popularity has grown; if you're a first timer, you need to stick to the basics and sample the original recipe. And don't worry about etiquette with this meal - there's a reason poutine translates as "hot mess".
Although goulash originally hails from Hungary (where it takes the form of a rich soup), the meaty stew that is now more commonly eaten is quintessentially Czech. This spicy winter warmer has many variations, but all feature slow-cooked meat and a generous amount of brick-red paprika to form a hearty gravy. Try it with suet dumplings, a dollop of sour cream, thick bread to dip and a glass of Czech beer.
After a day skiing in the Alps, it's customary in Switzerland to come back to chunks of crusty bread dipped in a gooey cheese sauce (usually a combination of Gruyère and either Emmental or Vacherin). Fondue is traditionally served with tea to stop the cheese from solidifying in your stomach, as well as white wine and a shot of kirsch (cherry brandy) to aid digestion. At the end of the meal, when the cheese at the bottom of the pan has solidified into a cracker-like crust, peel it off and share among the group.
And some warming winter drinks...
We're not going to wade into the debate about which country serves the best hot chocolate, but in our opinion, the cobbled streets and canals of Bruges seem like the perfect setting for tasting a cup of the molten stuff. Or for a thicker, almost custard-like drink, the Italians and Spanish have perfected the art.
You'll find red mulled wine at just about any market stall across Europe this winter, but for those in search of something a little different, a cup of white glögg (made with cider and/or white wine) is a delicious alternative. Spices vary, but any combination of cinnamon, cloves, ginger and orange will conjure up those rich Christmas smells everyone knows and loves.
Click here to see our latest recommendations for gourmet getaways.
Laura Summers is an associate producer at Travelzoo UK, based in the London office.
Related