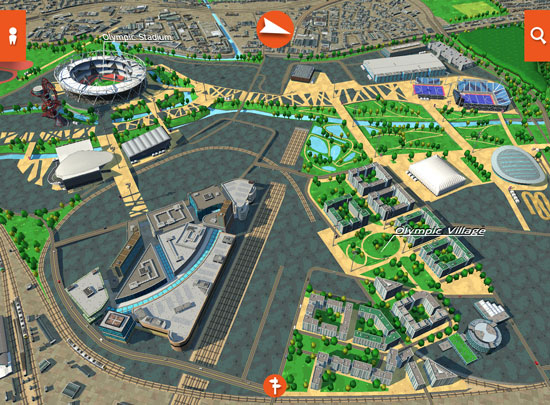 Be sure to explore the free map app Recce which is released today at the app store - the makers just might have located a gold mine.
Recce takes mobile maps to the next level by combining video gaming and search engines to produce a unique view of London.
The first stage of the roll-out for ipad and iPhones offers an excellent guide to the Olympic city.
But more importantly, the geniuses behind it have managed to turn an online map into a web browser, allowing visitors to research their trip and navigate on the ground as never before.
You can search information on the web by simply touching a location on the map. This makes it easier than ever before to navigate using a smartphone simply by touching your thumb on a screen and scrolling to a destination.
There's no need to stop in the street and start typing into a search engine.
But what pushes the innovation further is that the 3D map takes the form of an accurate animation, doing away with two huge flaws on maps using street-level photographs.
As CEO Ian Hetherington and COO Rian Liebenberg of eeGeo realise, a map layered with photography is obsolete seconds after it is taken, not to mention privacy issues when people are captured on it.
But curators of their animated map can respond to changes on the ground in minute detail. And nobody will be captured forever at a location where they might not want to be seen.
It will be possible to register a temporary stall that has sprung up or a new business, or a change in transport routes.
The animated map incorporates accurate illustrations of landmarks and uses generic, stock depictions of buildings in between.
This means that your house, office or shop is represented by a shape that renders height, area and location accurately, but dispenses with reality when it comes to architecture.
As Liebenberg points out, this is how we naturally navigate, from one memorable landmark to the next. Think of a street and which buildings you remember on it.
The app can show traffic movement based on real-time flow, as well as trains and even planes taking off from airports.
Watching them move through the city is compelling.
Hetherington, who was co-founder of Liverpool games studio Psygnosis which produced Lemmings, is confident that Recce has infinite gaming potential.
"Developers are excited about the possibility for location-based gaming in this real-world browser," he said.
Just think, there's no reason why you couldn't play your own hyper-real version of Sim City, with you as the mayor, ripping the city apart in a redesign.
"But there is equally huge possibilities for businesses like estate agents and job agencies who want local digital relevance," he adds.
Recce's real-world browser is based on the company's own search tool. The expertise for this comes from Liebenberg and his background in Google's Ad Sense, Chrome and lastminute.com.
"We are visually aggregating real-time data," he says. "We'll be able to feed in social media and filter out tweets from the location.
"So you'll be able to see sentiment about a restaurant, for example, from the location.
"And you'll only see the most recent and relevant tweets."
So eeGeo Ltd has managed to produce what is potentially the most accurate, versatile and useful virtual mapping system to date.
The company aims to make money through advertising using a freemium and premium dual-core model like Spotify.
And the coverage will roll out to many other cities over the next year.
So look out for Recce, if it doesn't find you first!