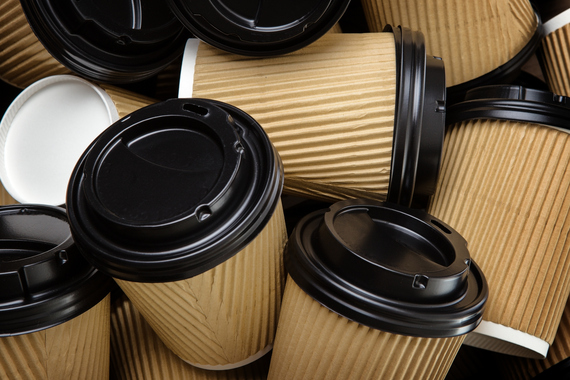 Image: Getty.
What happens when a celebrity chef with a prime-time BBC programme shines a spotlight on a business practice that some companies would prefer remained hidden? Last year the chef Hugh Fearnley-Whittingstall drove a bus covered with discarded coffee cups around London with a mega phone, shouting that of the seven million coffee cups thrown away every day across the UK less than 1% are recycled.
The disclosure hit home and was front page news in some of the UK's most influential papers. The public felt conned. Surely those innocuous paper cups must be recycled? Social media lit up with outrage, questions were raised in the House of Commons and industry was on the back foot.
Panic meetings ensued as companies sought to understand and address why most of their cups were either being dumped or burnt. A hastily created manifesto contained pledges, but little substance. Companies knew they had to do more, and quickly.
Coffee cups are a relatively small part of a retailer's environmental impact - which is partly why the industry was off-guard. Indeed, it can legitimately be argued that Hugh's campaign has distracted efforts from addressing more important matters such as sustainably sourcing coffee or milk.
There is no doubt though that Hugh's campaign has had some positive outcomes. The first is that it has forced companies across the coffee industry to collaborate. It is impossible for one company to create a solution across the whole high street. They need to work with their competitors, the supply chain, local authorities and transport hubs to create the infrastructure needed to provide a solution that works for the public.
This collaboration needs to go further. For instance what would be the impact if all the retailers launched a concerted effort, backed by financial incentives, to encourage more people to use re-fillable cups?
Secondly, it has forced retailers to question whether the existing cups are the best environmental option. The problem with the disposable cup is that the plastic lining is heat-moulded onto the paper making it difficult and expensive to separate.
Companies are now having detailed conversations with suppliers and the recycling industry about finding solutions or alternatives. This change will not happen overnight due to the scale of the industry, but for the first time positive steps are being taken.
Thirdly, companies are now casting nervous glances across all their practices trying to second guess what might be the next issue. Hugh's campaign has demonstrated how quickly a story can hit the news and how rapidly reputations can be tarnished. No retailer can afford to be on the receiving end of a negative high profile social media.
On a practical level, Hugh's campaign has led to what will be the UK's biggest push to date to tackle the issue of disposable coffee cup recycling. The Square Mile Challenge initiative led by environmental charity Hubbub in partnership with recycling company Simply Cups, launches in April backed by The City of London, Network Rail, national coffee retailers and some of the Square Mile's biggest employers, including Lloyd's and Eversheds.
The campaign aims to make it easy for people to recycle their cups. Recycling bins will be placed in major offices, transport hubs and other public spaces. High street retailers will offer recycling facilities and street cleaners will be able to separate cups for recycling. Alongside this infrastructure will be a major communication campaign urging people to do their bit and throw their coffee cups in the right bins, just as is now the norm with paper or card.
The collected cups will be recycled in a number of ways. Some will be shredded, mixed with other recycled plastic and a resin so that they can be remoulded into products that will be donated back to the City of London. Other cups will go through a process that separates the paper enabling it to be turned into cardboard packaging.
The ambition is to recycle five million cups by the end of 2017 and to create a model that can be replicated in other cities. It demonstrates what can be achieved through collaboration. Hopefully this will just be the start and the industry will continue to work together to find more long-term sustainable solutions to all the packaging they create - without the need for a celebrity chef to use a mega phone on the top of a bus to get companies to listen.