I've been shooting London Fashion Week for over a decade. I love it. The showmanship and the glamour make it one of the highlights of my year. It's always been so theatrical. Take Vivienne Westwood's most recent Men's London Fashion Week: it was all acrobats - even clowns - and energy.
It's more visually stimulating than ever; and as Getty Images is the newly appointed Official Supplier of the British Fashion Council and London Fashion Week, our access is unparalleled. Our team will shoot over 45,000 images during the four-day event, to ensure every moment is captured; a few thousand of which will be mine.
More recently, I've been focusing on capturing those secret, backstage moments that you don't usually get to see, as well as looking to capture an alternative view of the theatre of the catwalk.
Behind the scenes of runway shows, it's extremely hectic. There's hairspray, music pumping from the catwalk, hairdryers blasting, stylists and make-up artists rushing around to get everything ready in time, models full of energy and excitement, and it's up to me to capture moments that give a glimpse of life behind the curtain.
Here's a selection of images from the first two days of London Fashion Week, with an alternative view.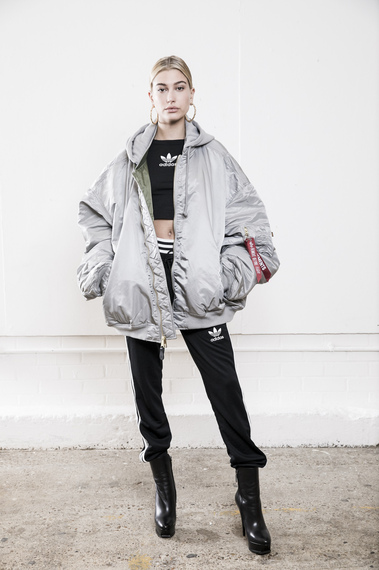 I started this season's London Fashion Week on assignment for adidas covering the Hailey Baldwin Presents: Streets of EQT show at the Truman Brewery in Brick Lane, East London. I work directly with a lot of major brands at Getty Images and this particular assignment had a lot of creative elements to it, from backstage shoots, to the runway show and portraits of Hailey. I arrived early to scout the location and set up my lighting kit for this shot, luckily I had JC my Getty Images field editor with me to edit and handle the image processing as we shot. We had to get this image out urgently for early press, speed is of the essence and at Getty Images we can deliver images in less than a minute from capture to the client's screen. With the portraits shot and approved I moved on to covering the backstage, models in hair and make up and final looks, then shot the runway show, it was a very busy start to the day but made for great images.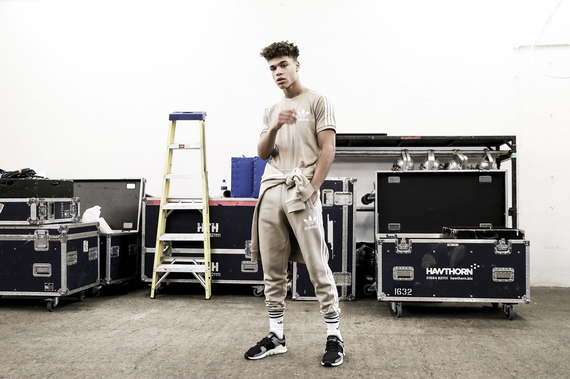 I cover a lot of fashion shows from backstage and as part of a long term project called Backstage Portraits I like to isolate the model in the wider space of the backstage area to give the context of this environment. I like to find an area that is very obviously backstage with crew equipment and then work with the model to create a portrait image that is very different from my usual backstage coverage. I lishoot these images wide on a 24mm lens and have the model fairly small in the frame; it can be a bit of a challenge to find the right spot and exclude the hectic nature that usually prevails! I hope to exhibit and publish this project as a book in the future. This is model Brian Whittaker at the Hailey Baldwin Presents: Streets of EQT show shot for adidas at the Truman Brewery in Brick Lane, East London.
This is an alternative view of a model walking the runway at the Ashley Williams show held at the Swiss Church near Covent Garden. This season Getty Images is the Official Supplier of the British Fashion Council and London Fashion Week, so as well as covering the runway from the photographers' riser (an area directly in front of the runway) to get each look, we need to shoot from other angles to capture the atmosphere and energy of the shows. I found a small area to the side of the runway from where I could shoot the models from a different angle. Ashley Williams featured striking hats. To create this image I shot on a slow shutter speed and panned my camera slightly as the model passed me.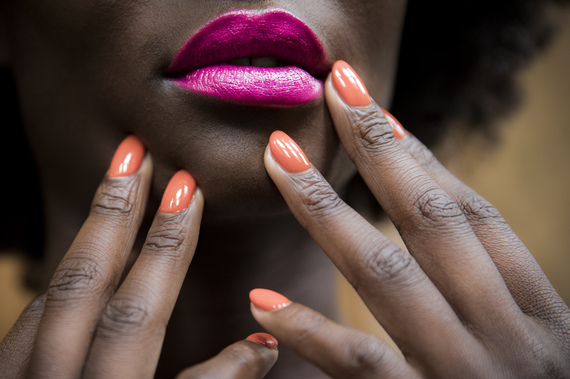 I was immediately struck by the fantastic colours of the makeup at the Alice Archer show as I arrived backstage. I quickly grabbed a camera from my bag and asked this model to stand by a big window to get strong light onto her face and show off the vibrant makeup. I shot a few frames of just her bright pink lips, and then asked her to bring her hands up to her chin to show off her orange fingernails, to make the colours pop. I like to get in very close and crop down to just a few elements when I'm shooting makeup, abstracting the image.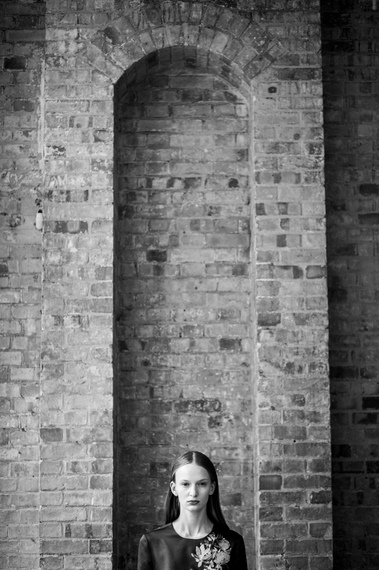 As well as runway shows, some designers do presentations, which are normally in amazing locations around London. I love shooting these as quite often you can utilise the architecture of the building as backdrops when working backstage. The Alice Archer presentation was at the Mary Ward House, which had lovely exposed brickwork, I framed the model up in this brick archway to make a different looking composition.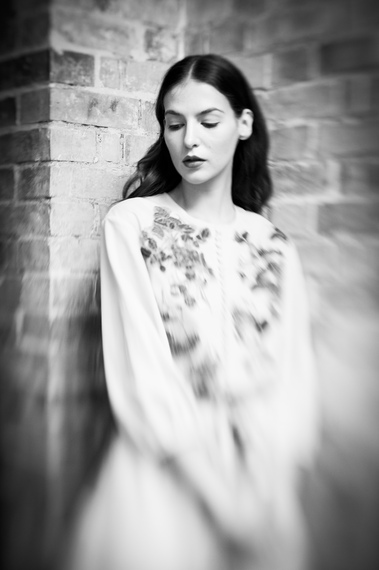 I shot this model using a Lensbaby Composer Pro lens which allows you to tilt the lens in different directions to the axis of the focal plane, and produces a lovely dreamlike quality to the image. This perfectly suited the look of the beautiful clothes at the Alice Archer presentation. I like experimenting with different pieces of camera kit to get unique looking images.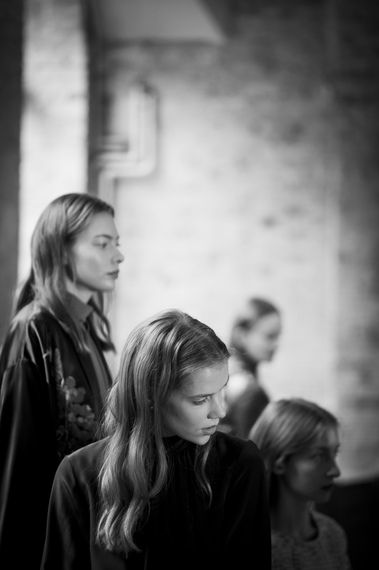 This image was shot during the rehearsal at the Alice Archer presentation. I like shooting rehearsals because you can get an idea of what final looks and light will be like, and you can move around a lot more freely and shoot from different vantage points. I moved to the side of this group of models and was drawn to the composition they made.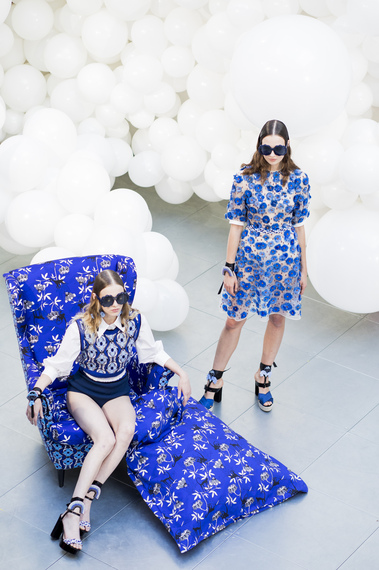 One of the main things I shoot when backstage is first-looks. This is when the models are in the clothes and the hair and make up is pretty much finished. Shooting first-looks can often be pretty hectic; it's just before the show begins and there's a hive of activity with hair and make up artists, stylists and crew, as well as photographers quite often in a small space! It made for a refreshing change at the Markus Lupfer show that the models were in a great space. Some were sat down in chairs, and there was a top floor balcony, which made for a great vantage point to shoot from to create a different looking image.