Following the release of Wes Anderson's comedy-drama, The Grand Budapest Hotel, hotel comparison website trivago.co.uk has compiled a round-up of Budapest's finest grand hotels.
The film follows the story of a concierge of the fictional Grand Budapest Hotel, who teams up with one of his employees to prove his innocence after he is framed for murder. Although filmed entirely on set in Germany using a scale model for the hotel's exterior shots, the film imagines a former grand hotel typical of Budapest. It bears many resemblances to some of Budapest's most impressive hotels, which are renowned for their value for money - some of these five-star luxuries can be booked from just £66 a night! From majestic indoor swimming pools to luxurious suites, look no further for Budapest's best accommodation options.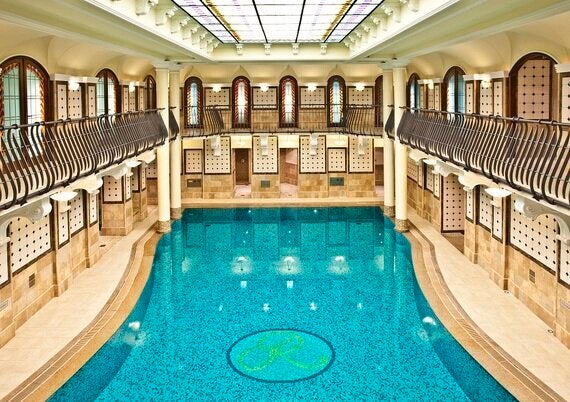 Source: Corinthia Budapest
Although unconfirmed that the Corinthia Budapest provided inspiration for the Grand Budapest Hotel depicted in the film, there are undeniable similarities between the two. The façade of the fictional Grand Budapest Hotel, which is in fact a nine-foot tall scale model, bears a striking resemblance to the historic Corinthia Budapest. Originally opened in 1896 as "The Grand Hotel Royal", this establishment was renovated and re-opened in 2002 as the five-star Corinthia Budapest. Guests can enjoy luxurious suites, a choice of four restaurants, the leading Royal Spa and an elegant indoor swimming pool. For a limited time, film enthusiasts can book a three-night "Behind the Scenes" package, learning about the history of the Hungarian film industry and former film star guests.
2) Four Seasons Gresham Palace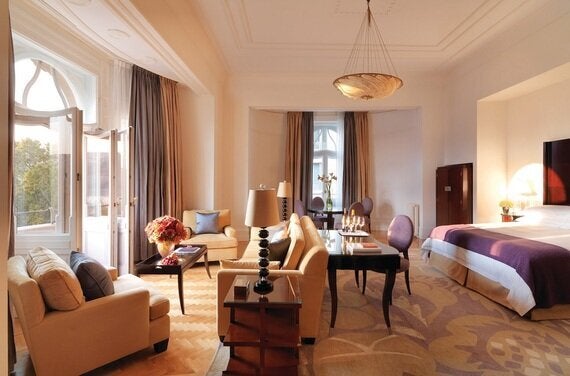 Source: Four Seasons Gresham Palace
At the Four Seasons Gresham Palace, guests can enjoy views of the famous Danube River and historic Budapest from the comfort of their private balcony, attached to each of the 179 rooms and suites. This grand Art Nouveau hotel recently underwent a five-year, £66 million restoration project and now includes unique features such as a two million-piece mosaic tile floor, a sweeping staircase and a wrought iron lift. Guests can also enjoy an indoor pool, spa, heath club and landscaped private courtyards. The Gresham Restaurant is renowned throughout Budapest for its cakes, pastries and Italian and Hungarian specialities.
3) Iberostar Grand Hotel Budapest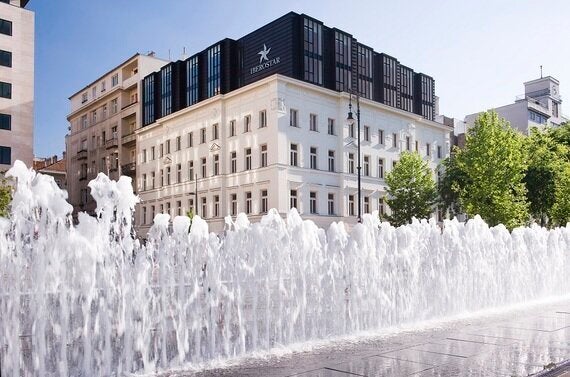 Source: Iberostar Grand Hotel Budapest
Sparkling wine and warm towels greet guests at the Iberostar Grand Hotel Budapest, which is conveniently located opposite Liberty Square in the city centre. The hotel has a modern, boutique style, with 50 spacious rooms decorated with white and red contemporary furnishings. Spanish cuisine is at its prime here, with the La Plaza restaurant offering gourmet Spanish delicacies and the more informal IBEROSTAR Café serving fresh tapas. The Iberostar Grand Hotel Budapest prides itself for its state-of-the-art amenities and services, including leading spa treatments, satellite televisions, iPod docking stations and pillow menus.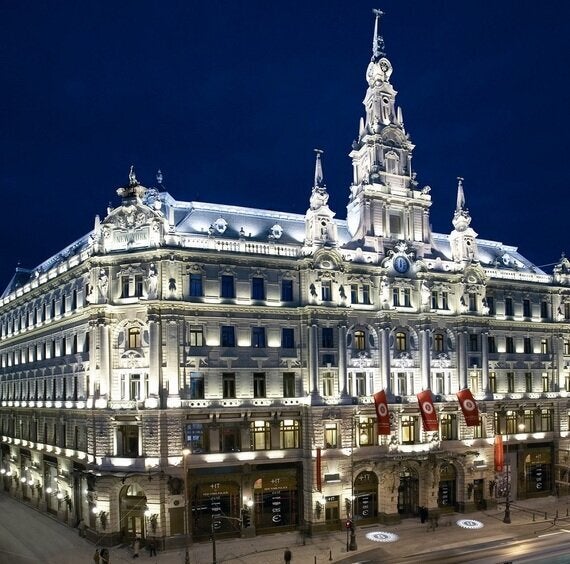 Originally opened as the New York Café in 1894, this regal building now hosts the Boscolo Budapest, a five-star Autograph Collection hotel. The Boscolo prides itself for its elegant interior design, featuring skylights, marble floors, high ceilings, Venetian chandeliers and bronze and brocade period frescoes. The restaurant is still called the Boscolo New York Café and evokes the Belle Époque period with original artwork and traditional cuisine. Guests should not miss the hotel's spa, designed by Italian architect Simone Micheli and inspired by natural elements to create a relaxing environment.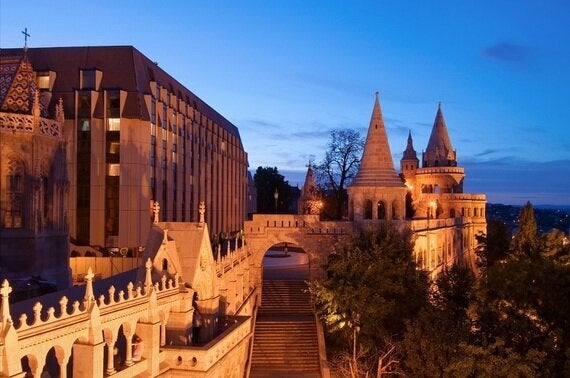 Uniquely situated within the grounds of a 13th Century Dominican Church, the Hilton Budapest allows guests to feel as if they are sleeping in a castle. Located in a UNESCO World Heritage Site and overlooking the skyline of Budapest, this hotel is perfectly positioned to explore the Royal Castle District. The hotel features 350 spacious rooms and suites, a fitness centre, jogging track, barber shop and beauty salon. 250-seat restaurant The Icon boasts fine à la carte dining and city views through its 16 panoramic windows.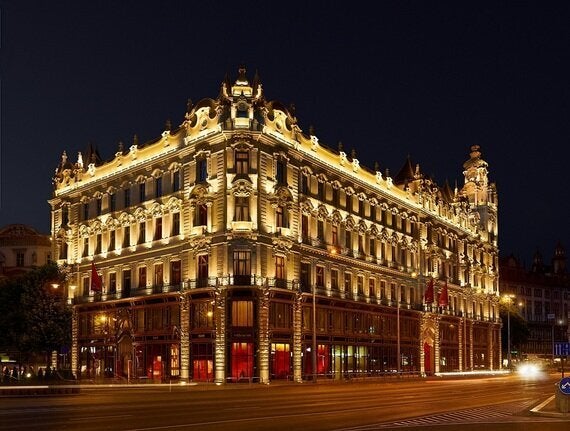 The Buddha-Bar Hotel Budapest uniquely combines European architecture with Asian design in its award-winning interior of red and gold surfaces, luxurious fabrics, dimmed lighting and atmospheric music. Located in the former Klotild Palace, this historical building has housed everything from royalty to a post office before being reinvented as the five-star Buddha-Bar in 2012. Each of the 102 rooms and suites showcase the Asian-Colonial interior design and provide guests with contemporary amenities such as Nespresso machines and complimentary Wi-Fi. Guests can choose between five bars and restaurants, including the world-famous Buddha-Bar Restaurant with fusion cuisine influenced by Japan, China, Thailand and India.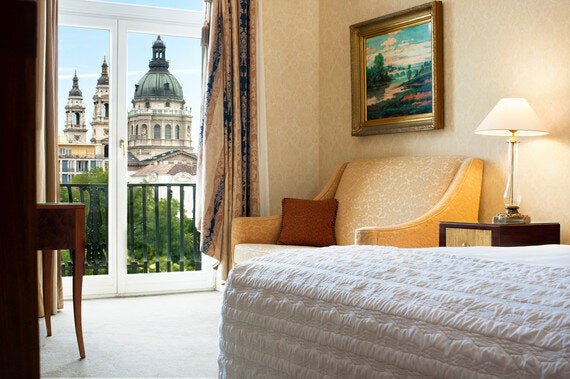 Source: Le Meridien Budapest
Another five-star masterpiece, Le Meridien, lays close to the Danube River just a few minutes' walk from the historic Buda centre. French cuisine enthusiasts will love the Atrium, renowned for its French pastries and stained-glass domed ceiling, and Le Bourbon, an award-winning French restaurant famed for its brunches. In-keeping with the Budapest spa tradition, the hotel offers an indoor swimming pool, Jacuzzi, sauna and steam bath. Guests can expect LCD flat screen televisions, films on demand, bath robes and slippers in their rooms.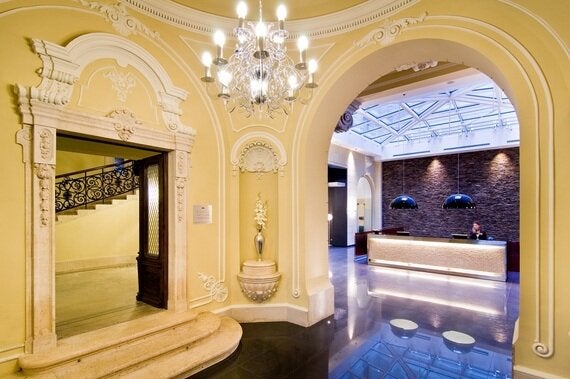 Appropriately located in the Palace quarter of Budapest, Palazzo Zichy is the former residence of famous Hungarian noble Count Nándor Zichy. The baroque-style building dates back to the 19th Century, but has been fully modernized to offer guest flat screen televisions and complimentary Wi-Fi in both guest rooms and public areas. Palazzo Zichy prides itself for its inclusive full buffet breakfast, served in the unique and elegant glass-roofed restaurant.
9) Kempinski Corvinus Budapest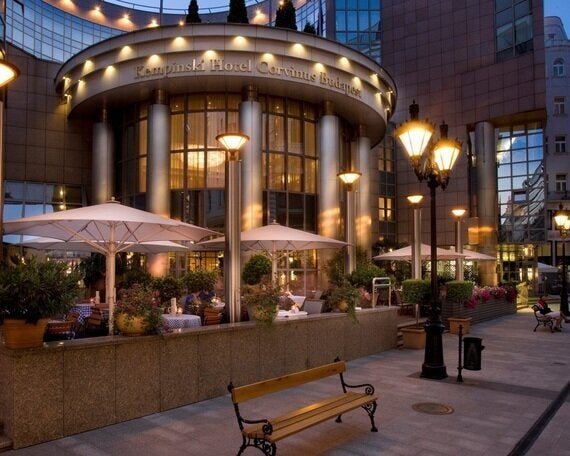 Source: Kempinski Corvinus Budapest
No luxury hotel round-up would be complete without an entry from Kempinski, which prides itself for its individually tailored around-the-clock service. Kempinski Hotel Corvinus Budapest is no exception, with concierge services, laundry, valet parking and even limousine services. Appropriately located on Budapest's Fashion Street, Corvinus is just a short walk from the Danube. The hotel boasts an onsite art gallery, showcasing both permanent pieces and temporary exhibitions. Guests can expect complimentary WiFi, LCD televisions, in-room dining, individually controlled air-conditioning and pillow menus.
10) Queen's Court & Residence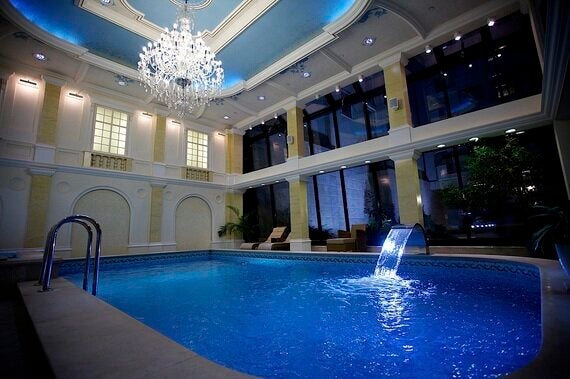 Source: Queen's Court & Residence
The Queen's Court Hotel and Residence is a five star all-suite hotel in Budapest's city centre. Designed for those wishing to stay in a luxurious home environment, the hotel features a total of 74 suites and serviced apartments. Suites range in size from 28 to 80 square metres and feature unique retro-classical furnishings and kitchenettes. The Chess Restaurant boasts French-Italian-Hungarian fusion cuisine in a unique setting: the interior is designed to look like a chessboard. However, the pride of this hotel is undoubtedly the indoor swimming pool and Spa, where guests can swim under a crystal chandelier whilst gazing through the two-storey windows at pristine landscaped gardens.