The World Cup 2014 in Brazil is around the corner and for me a good moment to talk about an epic match in the World Cup history. The story goes 20 years back to the World Cup 1994 in the USA and especially to one amazing game, the quarter final Sweden - Romania. This match is an incredible fairy tale. Everything that can happen in a match happened there. The most incredible thing is that this game added a whole nation in euphoria and still continues. Nearly everybody in Sweden knows the heroes of 1994 and I am very pleased to talk with one of the team-members - Thomas Ravelli.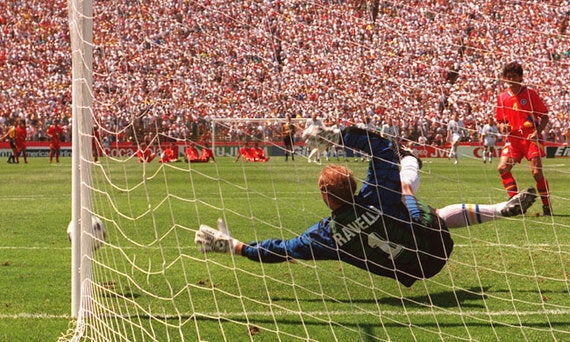 UG: First of all congratulation to this wonderful and impressive anniversary!
UG: You have played 143 cups for the Swedish National Team during the period from 1981 to 1997. You have also played a World Cup and you won the Swedish League several times. You were already a successful goalkeeper with a lot of experience. But at the World Cup 1994 you were lifted up to heaven. Can you tell me how it came about?
TR: Before the world cup I was questioned as a goal keeper because I didn't play as good as I could. I played in IFK Gothenburg and the whole team made a bad performance during the spring. From our team played eight or nine players for the national team and I think it had to do that our thought were already at the World Cup. Therefore a lot of us players didn't concentrate on the Swedish league.

However, I practiced a lot to be in top form at the world cup.

We had a good team for the tournament and a lot of players were playing in international teams as Roma, Parma and Borussia Mönchengladbach, just to mention few. This was one of the reasons for our good performance at the cup.
UG: What were the expectations of the team by the press and fans?
TR: The expectations where very low. We Swedes are a lot like that, we don't want have high expectations from the press and fans. We always want to be underdogs then we're good. But when they think that we are going to make a good performance we always loose.
UG: This means a better performance because of lower pressure of expectations?
TR: Yes, we are much better to do that. I think other nations, Germany or the United States, are completely different in that case.

But for me as a goal keeper I wanted the pressure. When I had a lot of pressure from my manager, the press and the fans, when I had to play with a knife on my throat, then I played the best matches.

I need that pressure!
UG: A higher expectation also increases the risk of failure. As an underdog you have nothing to lose.
TR: Probably, but when we just look at Zlatan Ibrahimović. He says that he is the best player ever and he makes a good performance. He can live up to that.

At my time no one believed in me. Everyone thought that I wasn't a good goalkeeper. I was already 34 years and during that time they said the goal keeper is too old. So I knew if I didn't play good during the world cup I had to stop playing.

But I had confidence in my performance, I knew I am good and the higher pressure, the better I play.

The most important thing is also that the manager Tommy Svensson believed in me. He gave me the opportunity to be the first goal keeper and you need the manager behind you.
UG: Then Sweden started a great run which highlighted in the quarter final Sweden - Romania, the 10th of July 1994 in San Francisco. How was the game from your point of view?
TR: We were the better team during that game. Thomas Brolin scored on the third free kick against them to the 1:0 and only 10 minutes left. During that time we didn't think because instead of holding in the team we made a lot of strange decisions. We played a cross and we made shots on the goal instead to hold the ball in the team. Romania scored at the end of the second half. I was very angry because I thought we should win the game with 1:0.

Then we had extra time and Romania scored once again so suddenly it was 1:2. Additional we got a red card and we only played with 10 players. It was exasperating, and at that moment I thought it was impossible to change the game. But during the half time in the extra time, Tommy Svensson told us to believe in that and that we can score.

And then in the 115th minute, Kennet Andersson made a great goal. He jumped higher than Michael Jordan.

We scored a goal and I felt immediately now it's my turn to show that I am good.
UG: The match was open again but it didn't start that good?!
TR: That's right, we opened the penalty shootout and our first shot went straight over the goal. But believe it or not I wasn't worry about that. I was completely sure that we going to win this. I played so many times and for so long for the Swedish National Team that I knew I will do it. Sometimes it is like that. If you work really hard, you practice, you prepare yourself and then comes the moment you get the result.

This time it was my turn!
UG: And indeed, you saved two penalties. How was the feeling after that?
TR: Yes and it was an unbelievable, an epic game. It could be like a Buster Magazine Cartoon (sport comic magazine), a little bit unreal. For a moment the world stood still and there were neither past nor future. You just live in that moment. I compare it with getting your first child. My whole life changed, thanks for saved penalties.
UG: Only few days until the world cup 2014 and unfortunately without Sweden. I had been looking forward to a Swedish - German encounter but I am sure next time you are in again. Your tip, who will win the World Cup 2014?
TR: That's very difficult to say because there are many very good teams at the start. For me Belgium is a very interesting team with high potential. I don't think they will win but hoping to see them in the semi-final. My tip for the final is Brazil and Germany with Brazil as winner.
UG: This sounds really interesting and we will see. I think it will be an exciting summer with hopefully many new stories and surprises. Thank you very much for the interview. Thanks for all firsthand information and now I understand the phenomenon Thomas Ravelli.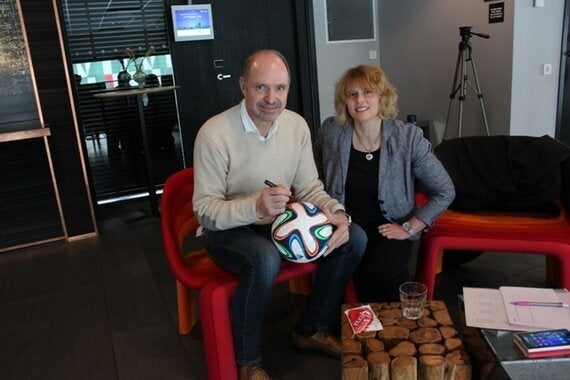 http://youtu.be/lQ91VWH1_cg