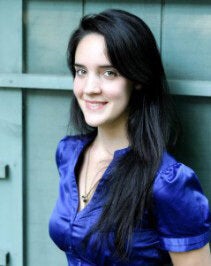 University of Toronto alumna Rachel Mahon is the first woman to hold any organist post at St Paul's Cathedral in London, U.K.
When University of Toronto alumna Rachel Mahon takes up the position of William and Irene Miller Organ Scholar at St Paul's Cathedral in London, U.K. for the 2014/15 academic year, she will be the first woman to hold any organist post at the Cathedral.
"We all are so proud of her," said Patricia Wright, adjunct professor of organ at the Faculty of Music and director of music and organist at the Metropolitan United Church in Toronto. "This is a wonderful and well-deserved opportunity for Rachel."
At St Paul's, Mahon will join Organist Simon Johnson and Sub-Organist Timothy Wakerell, in the music department which is led by Director of Music Andrew Carwood.
"I am thrilled to have been appointed organ scholar at St Paul's Cathedral," said Mahon. "It will be a privilege to work with such experienced musicians as Andrew, Simon and Timothy, in so magnificent and historical a setting.
"It is with great excitement that I look forward to joining them and the Cathedral Choir in September."
The organ scholar of St Paul's plays a full role in the musical life of the Cathedral. As well as playing for services and in recitals, duties include taking choir rehearsals, conducting and helping with departmental administration, including being the assistant choir librarian.
"We are delighted to welcome Rachel to the team at St Paul's, where she will join a long line of fine organists associated with the musical tradition at the Cathedral and its outstanding collection of pipe organs," Carwood said. "Her organ playing at audition was superbly poised and elegant and her considerable experiences and talents as a musician will be richly valued throughout the Cathedral."
For more than one thousand four hundred years, St. Paul's Cathedral has stood at the highest point in the City of London. The present Cathedral was built between 1675 and 1710 after its predecessor was destroyed in the Great Fire of London. It is currently the Cathedral of the Diocese of London.
A native of Toronto, Mahon (pictured right) began studying the organ in 2005. She was organ scholar at St James' Cathedral from 2007 and in 2011 became principal organist at Timothy Eaton Memorial Church.
Having completed her Bachelor of Music degree at the University of Toronto with John Tuttle, Organist of U of T, Rachel was awarded one of five major graduating scholarships from the Faculty of Music.
"Rachel is a natural musician," said Tuttle, "she has a wonderful technique at the organ, but she also has wonderful intuition about phrasing and interpretation."
Currently organ scholar at Truro Cathedral in Cornwall, U.K., the 24-year-old Mahon can already boast an impressive number of achievements such as winning both the Royal Canadian College of Organists' 2012 young organists' competition and the 2013 Howard Fairclough Organ Competition. In the same year she took second place in the Canadian National Organ Playing Competition, and won the Paul Westermeyer Service and Hymn Playing Award and the Gerald Bales Award at the Kiwanis Music Festival.
At U of T, Mahon was the Bevan Organ Scholar at Trinity College. She has accompanied several choirs, either on a regular basis or as a guest artist, including the Oratory Children's Choir, Windago, the Tallis Choir, the Mendelssohn Singers, the Elora Festival Singers and the Larkin Singers.
Last year, Mahon and fellow organist Sarah Svendsen formed Organized Crime, a duo that plays traditional and non-traditional repertoire (often in stilettos), with a focus on fun.
"What a thrilling accomplishment for a beautifully sensitive and dedicated artist," said Assistant Professor of Organ and Harpsichord Kevin Komisaruk.
"She has so much to offer the liturgy and musical life at St Paul's in this role," said Komisaruk. "We are rejoicing for her here!"
Aaron Wong is a writer with the Faculty of Music at the University of Toronto.
Popular in the Community