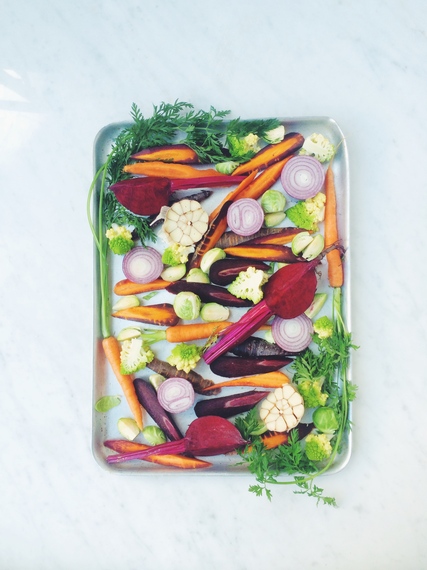 "Eat food. Not too much. Mostly plants."*
There isn't much need for me to drone on about how vegetables are so good for us - everyone else has already said it! My mum has bought me up with 70% vegetables on the table and 30% meat or fish because that is the way its traditionally done in Vietnam. Perhaps not because its just good for you but mainly because its also cheaper and also good for you. But loving my veg has never been an easy feat in Western cooking because it is done so differently to the Vietnamese way - which is high heat, cook fast and eat.
Vegetables are flash fried quickly so that it retains texture, shape and taste or blanched right before serving to flavour broth, keeping all the essential flavours and nutrients within the dish, then eaten. Broth from most vegetables that has been boiled is kept as a drink. Nothing is wasted.
My favourite ways of cooking vegetables:
1. Roast or Grill Tips:
Wash and cut vegetables to bite sized pieces and place on a baking tray. Using a pastry brush, paint the surfaces of the vegetables with coconut oil, left over fat from a roast or duck/ goose fat. Season with salt and pepper or any spices you fancy then roast in the conventional oven or grill. Times will vary according to what you are cooking and how much of it so keep an eye out.
Soft vegetables like aubergines, tomatoes, beans, broccoli, tenderstem will take less time and root vegetables like carrots, parsnip, beetroot will take a little longer.You can always make a dressing for them, from your favourite pesto to a simple soy sauce dressing.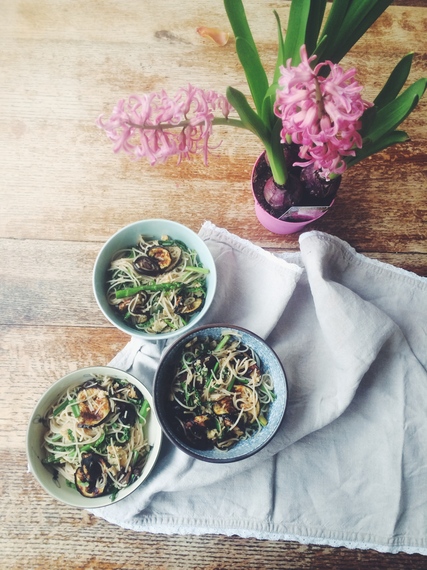 Serve with a roast, with steamed or fried rice, in a noodle soup with broth, mixed in a stir-fry.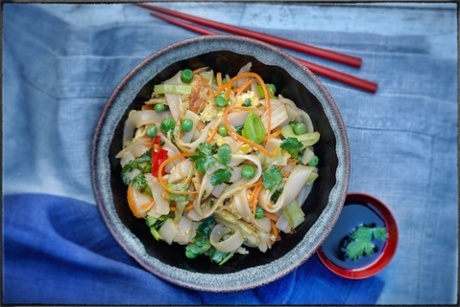 Picture above: Stir- Fried Flat Rice Noodles With Omlette, Leeks, Peas, Carrot & Chilli as featured in The Observer Food Monthly
2. Stir-Fry Tips:
Prep vegetables to bite sized pieces. Make a sauce, for example, soy, mirin, sake and maple. Or just just soy sauce, oyster sauce or fish sauce.Make sure your wok or frying pan is hot, add coconut oil, butter or cooking oil then fry the hard vegetables first, moving the pan vigourously with the sauce for about a minute before adding soft vegetables and continue to fry until the vegetables are tender, still with a little bite.Here is a fast and ultra delicious quick recipe for a stir fry, using a premium quality fish sauce. It is great with home made pasta - click here for my recipe
Stir Fried Kale & Leek Pasta/ Noodles Recipe
Ingredients
120g leek (which is equal to about 1 small leek or half a large leek)
250g kale (half a bunch)
2 tbsp cooking oil
1/4 tsp dried chilli
11/3 tbsp butter
11/2 tbsp fish sauce
150g dried noodles/homemade pasta
Method
Finely slice the leek into 5mm rings and wash under running water to remove any grit.Destem the kale, and cut into 1cm strips.
Place a frying pan on a medium heat and add the oil.
Sweat the leeks with the dried chilli for 3 1/2 minutes.
Add half the kale and 1 tbsp of fish sauce and fry for a minute stirring regularly.
Add in the rest of the kale and continue to move it around the pan to stop it from sticking and burning, for another 3 1/2 minutes.
Cook the noodles according to the packet instructions, and drain.
Tip the noodles into the pan of kale and leeks, add 1/2 tbsp of butter and mix until the noodles are well coated.
3. Raw Salad Tips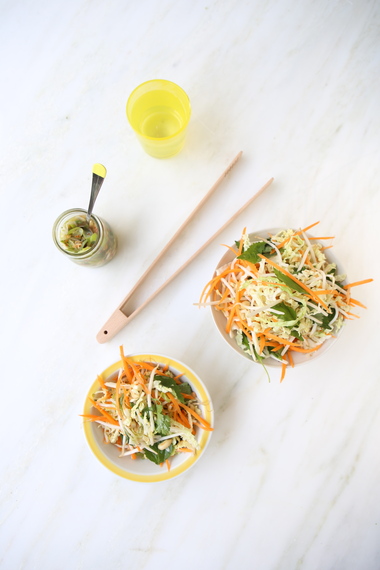 Wash and dry hard fruit and vegetables such as carrot, kohl rabi, beans, cabbage, apples and pears and finely slice or julienne with a knife or julienner to retain freshness, crunch, texture.
Avoid using a food processor because the vegetables will become limp and wet.
Always soak apples and pears in lemon water to keep them from oxidising.
Vegetables can be prepped way ahead and dressed when ready to serve.
Serve with or without chicken or seafood.
Use a pair of kitchen scissors to coarsely cut herbs before serving to prevent them from bruising.
Vietnamese Salad Dressing Recipe
Mix together in a jar (keeps for about a week in the fridge), mug or bowl and then massage into the salad. Avoid making too much which will drench the salad. Pour a little at a time.
Serves 4
2 birds-eye chillies (de-seeded and finely chopped)
1 clove garlic (finely chopped)
1.5 tbs sugar
2 tbs cider vinegar
2 tbs premium quality fish sauce (Three Crabs)
3 tbs crushed/ blended salted roasted peanuts
Vietnamese Chicken Salad Recipe here
4. Poach With Broth Tips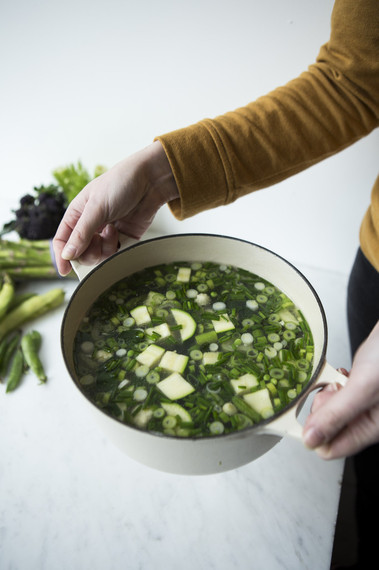 For a delicious and healthy soup, it is important to master poaching them by making a good broth to start with. Use seasoned vegetable, chicken, pork or fish stock (sometimes combining stocks is very tasty). If you don't have time, it is ok to use a stock cube too.
Most vegetables will flavour the broth in addition to being cooked in it.
Add premium fish sauce or soy sauce to season.
Add ginger or lemongrass to build depth, heat and zest.
Add hard vegetables to the broth first, then softer leafy vegetables and finally when the heat is turned off and you're ready to serve, mix in chopped spring onions and/or desired herbs.
Serve with ramen, rice noodles or steamed rice. Usually vegetables soups are palate cleansers and a major part of family meals with lots of other sharing plates.
You can also create a hot pot in the middle and add vegetables as you go, drinking up the broth that is ladled into your bowl whenever it is desired.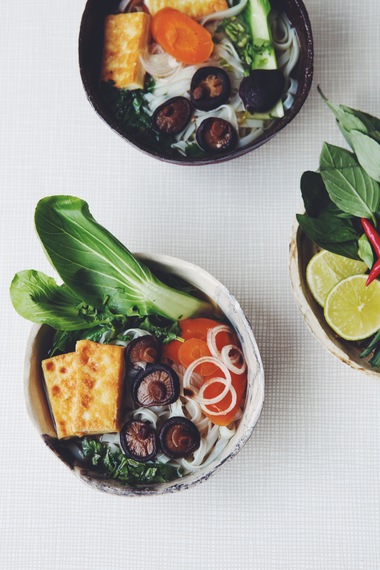 Vegetarian Pho Recipe as featured in The Saturday Telegraph, April 2015.
5. Steaming Tips: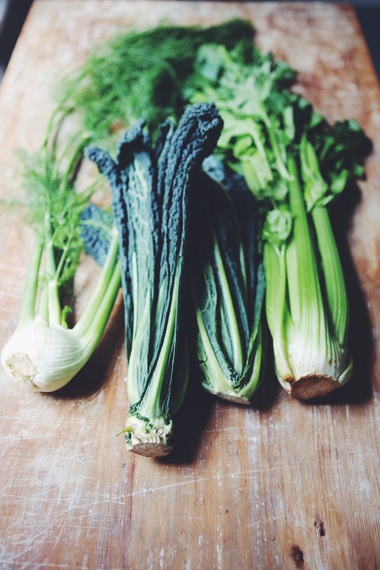 Its always good to have a steamer in the kitchen, one of my essentials. I have a metal one but bamboo ones in different sizes are also great!It is probably faster and easier to steam something rather than boiling it.
Add the vegetables (at different stages if you have a selection) when the water has come to the boil. It takes minutes and you don't have to drain it.
Serve with a dressing, extra virgin olive oil, butter or serve plain because sometimes you just fancy plain!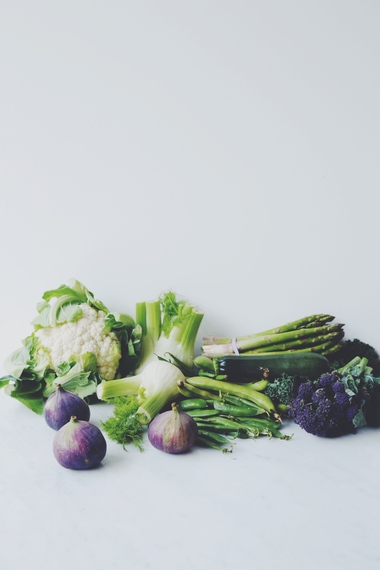 *Michael Pollan. "In Defence Of Food: An Eater's Manifesto"
All photography and styling by Uyen Luu apart from The Observer photograph.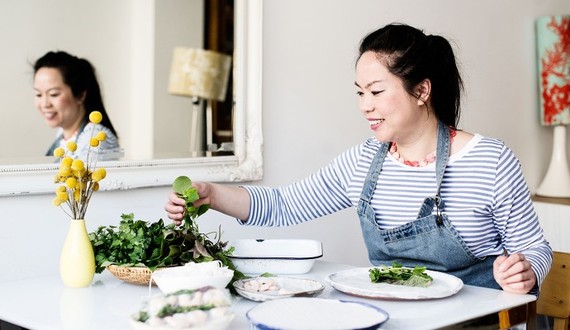 This photograph by Issy Croker for Suitcase Magazine