Want chicken soup for the soul? Give congee to your soul!
Congee is all about well-being and vitality. When eaten, it really feels like it heals all that is bad in the world. It is comfort food like being in bed on a miserable day with a warm, soft cosy blanket and your favourite TV show. Its like something you get from your grandmother or your mother.
Anyone at any level in the kitchen can achieve a congee. Everyone should learn about congee, cook it, enjoy it as often as possible and tell one and all how great it is.
We always make too much rice, don't waste it! Add a small bowl of left over rice, perhaps scraps from a roast, forage a fridge and use up any herbs and vegetables going to about 6 cups of chicken stock and you've got one quick, healthy and delicious meal under 15 mins.
Light, delicate, easy to digest and soothing, congee is a rice based soup, similar to porridge or risotto. It is a favourite among many Asian countries ranging from Japan (okayu) to China (jook), Vietnam (cháo) to Myanmar (hsan byok), India (kanji) to Indonesia (bubur). Every country, region or person will make congee according to how they like it. There are no rules, it is hard to go wrong and you decide how simple or extravagant you want to go.
Simmer cooked rice in water or seasoned broth until the rice grains have expanded to your liking. It can be consumed thick or watery. Its up to you! To make a utterly delicious congee, it is important to use a good quality stock- using free range meat and bones from poultry, pork or good quality fresh fish and seafood. A good broth is the secret to an excellent congee.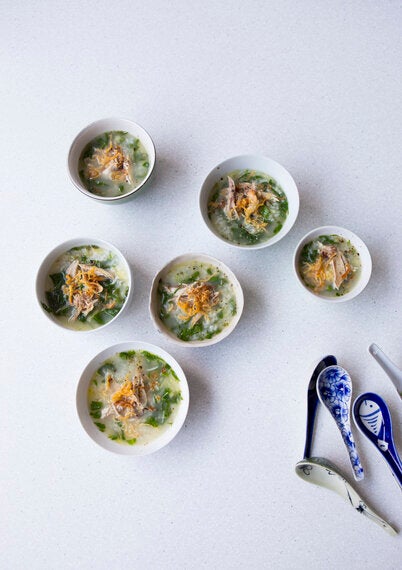 Season with a little bit of rock sugar, premium fish sauce or soy sauce and depending on how you're feeling, garnish with an abundance of fresh herbs and a pinch of black or white pepper. Add a little minced pork or chicken, slices of cold cut ham, pork floss, caramelised shallots, fish cakes,eggs, green leaves, root vegetables or pickles. The congee is your blank canvas, your oyster.
Tally up favourite ingredients like crunchy pickles, fried onions, crispy fried ham or wontons. I love mine with fish fingers too.
An exquisite congee, rich with fresh and vibrant flavours is great for breakfast or a late night supper. But when you're feeling under the weather, a plain and simple congee is the thing most South East Asians will whip up without a doubt because its much better to endure something warm, gentle and merciful on the stomach.
The body needs to be recovering, not digesting. Congee helps with all the fortifying goodness of chicken, fish or vegetable stock. Adding finely chopped ginger helps cleanse and aids digestion. Gifting someone a bowl of congee is one of the best things you can do to help someone get better. In many countries, hospitals will serve patients congee, like your mother would.
After breastfeeding, babies are brought up on congee because of its soft, oozy texture. It is a platform to slowly introduce flavours, meat and vegetables into their diet before they can eat solid foods. Adding bone broth and mashed vegetables provides babies with all the nutrients like calcium for strong growth.
Congee is considered a poor man's meal (and never eaten in times of celebration like at the start of lunar new year because it symbolises poverty and hardship). Those who can not afford to buy a lot of rice have to make do with only a little - expands one portion of rice to serve at least four. Any additions to the congee, like ground pork configures to a small modest amount. It is a frugal and un-wasteful way of eating without much sacrifice on the palate.
However, congee is such a loved peasant dish because of its many health benefits as well as its flavoursome qualities, congee can also be be luxurious, for example, duck congee or lobster and scallop congee which are favourites at a Vietnamese table with invited guests.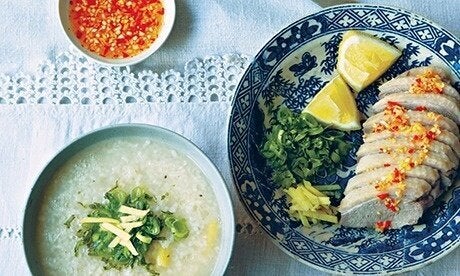 Photography by Clare Winfield
Congee is great for you. Taste the healthiness. This is what eating well is all about.