In a few days, we plan to close our DatePlay crowdfunding campaign on Seedrs and we are excited that we overfunded in just three days and that we have, to date, raised over £210,00 from 360 investors. We have had valuable support and feedback from both investors and the public and thought it would be worthwhile to compile some 'top tips' for creating a successful crowdfunding campaign.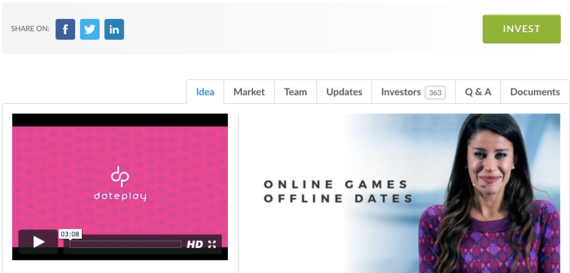 These are my top tips, which I explain in greater detail below:
1. Give your self three full months to plan your campaign
2. Explore different funding platforms
3. Create a compelling story
4. Make a great video that is 2 to 3 minutes long
5. Plan all social media posts in advance
6. Use email marketing to reach potential investors
In my opinion, the paramount tip is to give yourself three solid months to plan your campaign sufficiently and strategically. Take this time to map out your timeline and strategy - you need to know exactly how you are going to pitch your company, how much investment you are looking for, and how you will communicate with your investors to convince them to get involved.
Explore Different Funding Platforms
I highly recommend that you look into the different crowdfunding options and choose the platform that best suits your needs. Make sure to read the fine print and understand what the fees are and what your relationship will be with the crowdfunding site going forward. We decided to choose an equity crowdfunding option, Seedrs, but that is a personal decision that depends on your company's needs.
Create a Compelling Story
Once you have decided on your plans, timeline and strategy, make sure you set aside time to craft a compelling and attractive brand story. People tend to invest in people, so you need to clearly and concisely explain who's behind your company.
Crowdfunding platforms are a great place for you to tell the story of your product - but it needs to be clear. People tend to remember only 20% of information they read, so make sure to repeat the key points several times throughout your campaign. It's also important to use high resolution, colourful photos in all your communications. Ideally, you should come across as both professional and personable, so investors can trust and believe in you.
The best way to tell your story is via video. I recommend hiring a professional team to handle this process for you. It is key to have the most comprehensive and high quality video that you can. This is your opportunity to tell your story to the crowd. Include as much info as possible - what the product is, its unique selling points, who it will appeal to, what you need the investment for, what they can receive in return for their investment and any statistics you have to back up your claims.
I highly recommend writing a script for your video and practicing it out loud several times before recording the video. You need to appear confident, clear and concise, so it's important to rehearse your performance beforehand. Ideally, you should try to have a third party endorsement in your video. This could be someone recognisable within the industry you're targeting to endorse the product or service you are pitching.
Social media is a powerful tool to reach investors on a personal level. I advise that you preplan all your social media posts prior to launching your campaign. This is a good way to minimize your stress during your campaign launch and also to ensure that all your brand messaging is clear, concise and correct.
Make sure you keep the communication channels open with regular updates and key information. Every few days, you need to update the public on your journey and share any key information that could keep people interested in your campaign. It is imperative to do this throughout the campaign to encourage more investment and also to show your gratitude to those already invested.
We got great traction from social media advertising - across key channels, especially Twitter and LinkedIn. This helps you to reach an even larger audience mass, through targeting specific interests, age groups and locations.
Contact Potential Investors via Email
Email marketing is another great way to reach targeted people that you want to invest in you. Build up a database either from active users of your product, export your LinkedIn contacts, and capture contact details via social media questionnaires, surveys or competitions.
All of my tips can help make your campaign a success but of course they are just a starting point! I have learnt so much through my crowdfunding experience and DatePlay's crowdfunding success, so I hope that my insights are helpful to entrepreneurs embarking on this exciting, stressful experience.
Crowdfunding is on the up and I encourage those seeking investment to seriously consider this option. Feel free to Tweet me if you have any other questions @vana_cristina.