When was the last time you took time to meet someone for lunch outside the office? According to research in the UK, it probably wasn't recently. It is a real shame that the business lunch has been dying out because I am a firm believer in taking the time to get to know someone out of the office environment. If you want to seal a deal, or make a business partnership, I believe it is best to do so over lunch.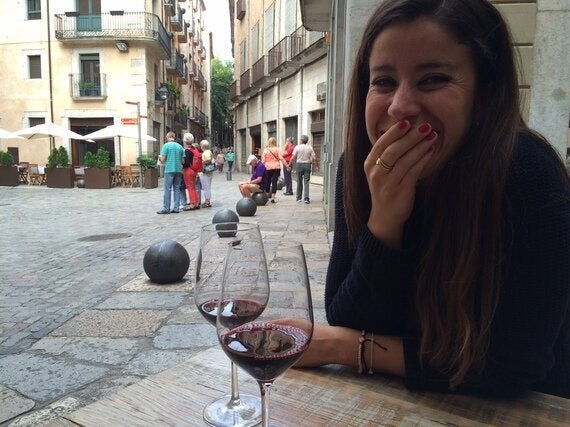 Last year, I spent three months living in Barcelona and I learned the importance of leaving the office for a sit-down lunch. Here in London, we tend to eat at our desks or get takeaway lunches. Not only is it healthier to take a break from work, due to the fact that you eat in front of a screen and it impacts your digestion, but it is also much more social. In Barcelona, they have mastered the art of a 30-minute business lunch.
In the past couple of months, I have made a concerted effort to follow the "Barcelona rule" of eating outside the office as much as possible. Any time I have a meeting with a potential client or investors, I suggest that we meet at a restaurant. Most people choose to go to restaurants in the evenings or for celebrations. What they don't realize is that there are amazing lunch specials during the day.
Some of the most exclusive restaurants offer special deals for their lunch hours. The chic dining venue, Aqua Shard, for example, is the most booked restaurant in London over lunchtime. Menus in restaurants across the country are evolving to meet the demands of diners so a lunch out does not have to cost an exorbitant amount or keep you away from your desk for too long.
Another great benefit of taking time out of your day to have lunch is that your meeting will probably go much better. Bookatable, the website for restaurant bookings, has found that 40% of workers say bonding with clients or consultants over lunch is the key driver to signing on the dotted line. Additionally, more than one in five (22%) people say that business lunches help them to retain clients. I totally agree with these facts; people are always happier when they are eating or drinking, so if you want to seal a deal or make a business partnership, it is best to do so over lunch.
Financial pressures (41%) and a lack of time (28%) are both factors in the decline of business lunches, with 17% of workers blaming the "credit crunch" for ditching dining outside the office. Workplace pressures also play a role, with a fifth of Brits (19%) saying staff shortages mean they cannot take time out of the office to attend business lunches.
These are valuable points, but when you consider that taking a client out for lunch makes them feel valued and more likely to renew contracts, the practice should be seen as an investment.
Overall, what are the key benefits of visiting restaurants during the day versus during the evening?
1) It's healthier. It is much better to eat heavy foods at lunch, rather than at dinner. If you are looking to indulge in a large plate of spaghetti, it's much better to do so during the day! Additionally, you are better off eating in a peaceful environment, as opposed to eating while you work. Your body will absorb the food better.
2) It's cheaper. Lunch specials make eating out during the day much more affordable than eating out at night.
3) You're more likely to seal a business deal. Meeting in the office is not as pleasurable as eating out. And people tend to be happier when they are eating. It releases endorphins in the brain!
4) You get to bed earlier but still have the pleasurable restaurant experience. Client events often take place during the evenings but that can be difficult for people who have families to go home to. In my opinion, it's much more effective to plan the client lunches during the day if possible, so you have more time with your family and get to bed earlier!