News of the upcoming newbie on the Royal block is exciting indeed for the Cambridges and fans of the Royal Family. But whilst the thought of a third child has some parents rejoicing, it leaves others reeling. Today, only 15% of families appear to take the plunge and have three or more dependent children in the UK (ONS, 2016). Do you want to be one of them?
As one of three myself, my mother has always said that going from one to two was a greater shock to the system than going from two to three as "your brother just had to slot in and go with the flow". Although this is a notion which is widely supported by many in her position, it is undoubtedly easier to say than do! Young siblings often have an overwhelming ability to tag-team wakefulness in the night and have meltdowns seemingly interchangeably in the day. Staying calm amidst the mayhem, takes some serious steel. Research tells us that where each pregnancy is deliberately planned, mothers are more protected from developing post-natal depression compared with those who had unintended pregnancies (Mercier et al 2013, Nunes de Oliveira Brito 2015). It makes sense. Being sure of your own personal reasons for expanding your family will undoubtedly help to buffer stress, to some extent, when times are challenging.
And what of the impact on the older children of introducing another new sibling? The initial excitement of a new baby joining the family can often wear thin whilst they process that this baby is here to stay, before they (generally) become buddies again! I've heard all sorts. From the little boy who asked if the bin man will take the baby away in the lorry, to another who suggested the baby could be stamped and sent off at the post office. And then there's the genius 3-year-old who obviously thought his new, much-admired, 5-day old sibling needed taking down a peg or two and came out with:
"Mummy, you should really know, Lenny just said f**k!"
It remains to be seen if the young royals devise any such misdemeanors, although I somehow doubt we'd get to hear about it if they did!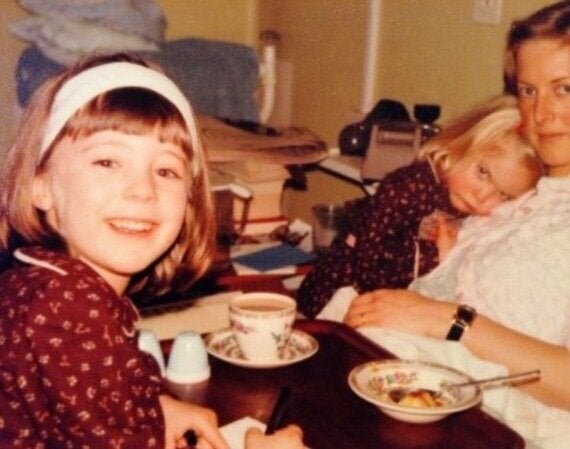 On my mother's shoulder looking particularly unimpressed after the birth of my younger brother!
So, let's presume another new baby is joining your ranks. How best can you approach the first few months to help you and the rest of your family have as smooth a time as possible? Even with all the people around Catherine, no-one is entirely immune from the whirlwind that is early family-life so, your Royal Highness, this is for you as well.
1. Accept offers of help. We Brits tend to find this hard to do but generally people really do want to help and aren't just asking to be polite. If it's taking the kids once in a while to school or nursery, walking the dog, bringing a meal over, or just watching them all so you can actually Have. A. Shower. In. Peace. Say yes.
2. Get organised. Fall in love with your Family Planner calendar. Seeing clearly what everyone is supposed to be doing, where and when, will immediately help to calm any sleep-deprived mind. Maintaining normal activities for the older children as much as possible, will also help to reassure them that life is still familiar and secure and therefore lessen any such lorry bin or post office inclinations.
3. Expect your older kids to sometimes lose the plot. As Hurricane Baby descends, it is normal for older children to lose their patience on occasion. Particularly after the zillionth time of being asked "are you excited"!? Some children find it hard to understand what there is to be excited about, when life as they knew it has changed. Tell them it's OK not to feel excited all the time and that it's OK to feel a bit cross. Feeling understood will help to calm their behaviour, lower the perceived threat of a new baby and ultimately help them to fall in love with their new sibling.
4. Find space for you and your baby. We are often so concerned with still being able to be available for our older children, that it is easy to forget about simply 'being' with your new little one. The sense of (mis-placed) guilt that ensues is commonplace. Since newborn care is very task-orientated with feeding, changing, bathing and so on, it is easy to begin to slip into auto-pilot. Being conscious of slowing down and noticing the little things - the noises she's making as she feeds, the shape of her fingers as she holds your hand, the way she looks at you in the bath - can palpably help you to bond and stave off that pesky guilt.
5. Minimise evening stress. It's the end of the day and everyone's a bit fraught. Don't make life more complicated than it needs to be. On days when cooking is beyond you, the joy of a freezer with batch-cooked meals, some good-quality fish fingers/chicken nuggets and frozen veg will keep everyone happy. Likewise, if bath-time is too much to bear, it is no big deal. Small children and babies do not need a bath every day. As long as they haven't rolled in mud or painted themselves naked, leave it until tomorrow.
6. Remember time is short. However overwhelming life may become, always keep in mind that this phase is a short chapter in a very long book of your lives as a family. Cuddle them tight and apologise when you get things wrong. Because you will. We all do and that is OK.
Vanessa Christie is an independent Lactation Consultant, Health Visitor, Children's Nurse and mother of 2 young daughters, based near Tunbridge Wells, Kent. She is an Expert Speaker for The Baby Show. Find out more at www.vanessachristie.com.