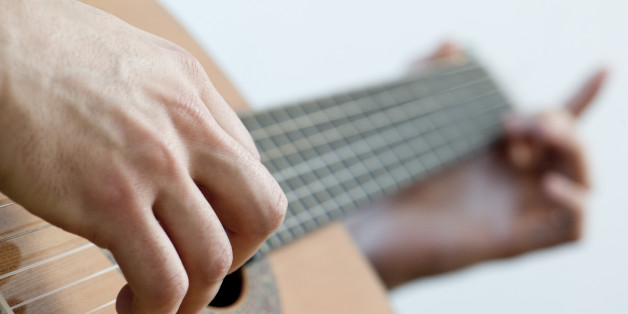 PhotoAlto/Frederic Cirou
Last Friday I was awarded a Fellowship by Leeds College of Music alongside Daniel Miller and Alexis Petridis. We were awarded these fellowships for playing a vital role in supporting and championing artists across the industry and shaping the future of music in the UK. I was asked to give an acceptance speech on behalf of all three of us.
I was a bit apprehensive about this as I'm a big admirer of what Daniel and Alexis have achieved and because we've each followed very different paths in the music industry. Daniel is the legendary founder of Mute Records. Alexis is a brilliant music journalist at The Guardian. I'm the chief executive of a charitable music Foundation and some Leeds College of Music graduates may have met me when seeking funds to help support their next album or tour.
But when I talked to Daniel and Alexis about their fellowships I realised that we do have something very important in common and that's our unconditional passion for music. That might sound fairly obvious but it really is very important. It's that acknowledgement that music was always going to be central to our lives because it's the thing we enjoy more than anything. It's something that we couldn't live without. You might even call it an obsession. It's realising that your first memories all feature music.
This became central to my message to Leeds College of Music graduates last week; if you recognise that passion in yourself then my advice was to go for it. Follow your instinct and don't let anything get in the way of your future career in music. Why shouldn't anyone's job be as close as is humanly possible to the thing you most love in life? And why shouldn't it be the natural follow-up to what you've been lucky enough to study at an exceptional institution like Leeds College of Music?
But what about where to start? When I graduated from the University of Southampton in the late 90s, I didn't know exactly which role I'd end up playing. I didn't know about the foundation I've had the pleasure of leading and transforming over the past nine years for the benefit of thousands of musicians and organisations. So my advice was not to worry if you don't yet have a detailed masterplan. The industry is changing so rapidly that we don't necessarily know about some of the jobs that will exist when students graduating now reach my age. The most important preparation, I suggested, is to be clear about a few key elements which will play to your strengths and keep you inspired; some core values that are fundamental to your DNA as a passionate and determined music lover. For me two things were important:
I knew I wanted to work with composers because I wanted to somehow play a role in supporting the creation of new work by the people who define the future of music
I also knew I would enjoy and be good at working internationally, as I studied a joint degree in French and Music, I've lived overseas and I've always been curious about how things are done in other countries. That's why I recently set up a European version of PRS Foundation's Women Make Music programme.
So it's not about knowing all of the specifics as soon as you finish college - it's about working out what makes you tick and not being afraid to be open; being curious and putting yourself forward; listening, taking risks and trying things out and perhaps most importantly, making your world as big and visionary as it possibly can be regardless of any political frameworks that could make us feel more isolated.
Of course things will get in the way. The music industry is not easy for anyone and you don't often get the kind of recognition the three of us, as Fellows were enjoying at the graduation ceremony last week.
If you're a woman or if you're from anything other than a white, middle class background, you'll also have specific challenges: you'll find less people who look like you than you might expect; fewer role models to inspire your own particular journey perhaps and yes there'll be other obstacles to confront along the way like the gender pay gap which is rightly being debated following the publication of BBC salaries recently. As Government is now asking all large companies to report on gender and pay, this is an issue that our industry will need to embrace. Particularly when women make up only 16% of the UK's registered songwriters and composers and c.30% of the industry's Senior Executives.
I mentioned these challenges not to discourage all but the toughest Graduates of Leeds College of Music, No, as things begin to change for the better, I hope that all young music professionals will tackle these challenges head-on and overcome them by believing in themselves and knowing what they stand for; protecting their rights and negotiating hard; forging their own path whilst helping others along the way. It's the next generation - whether graduates or not - who will ensure that the way we create, produce, promote & write about music in the future is more distinctive and powerful than its ever been. They will want the industry to involve a broader cross-section of talented people from across the UK who each have something unique to contribute because this will result in better business and music which will gives us an even greater reputation on the global stage.
Receiving a fellowship from Leeds College of Music was a rare privilege to reflect on the direction that my own life and career has taken whilst considering how the many music students graduating across the UK this summer will help shape our future. I hope every one of them will contribute to the change that our rapidly evolving music industry will always need. Now is where it begins for them and I look forward to following their stories.
This article is an adaptation of the speech Vanessa gave at Leeds College of Music on Friday 29 July.