Photography: Keiko Oikawa & Noel Murphy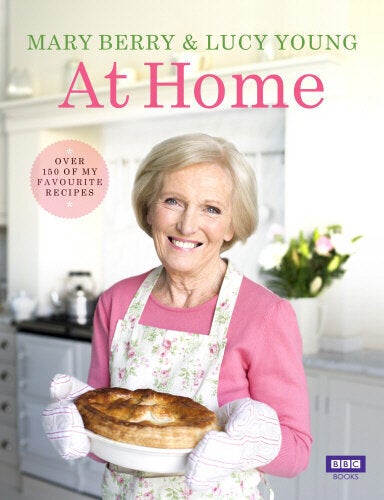 At Home by Mary Berry and Lucy Young is an updated version of Mary Berry At Home from 2001 with tweaks and new recipes. The introduction is mostly about the book itself and how it is organised. The index is very difficult to use (Paprika Chicken is only listed under chicken, and Velvet Chocolate Cake is only under chocolate) until you know your way around the book; this combined with rather jumbled sections makes the book harder to navigate than usual.
As expected from the title this is not a ground-breaking selection of recipes - these are family styled dishes mostly, with a few exceptions. Quite a lot of the recipes are too simple to really need instruction. It's a nice touch that Berry and Young include menu plans from within the book itself - matching main courses with side dishes. Another lovely addition are the Aga adaptations for recipes and the myriad of hints and tips about preparing meals in advance.
There are definitely not enough photographs in At Home and the images used are badly styled so it is often hard to see the food. Almost all of the recipes have very easy to source ingredients and generally the recipes are economical, but with a few treats too! For those most familiar with Mary Berry through her baking books there aren't actually a lot of sweets in At Home, it is heavily weighted towards savoury dishes.
The best recipes are the vegetarian ones in here, lots of strong flavours and easily adaptable recipes. The most disappointing sections were the first courses and the drinks sections which were very old-fashioned. They have managed a great balance between fast and simple recipes that could be made after a long day and more involved meals that would need a lot of preparation.
My favourite recipes are the Spinach and Three Cheese Bake; the Chicken, Sausage and Bacon bundles; the Classic Apple Cinnamon Crumble and the Apricot and Almond Torte.
Overall this is a jolly cookbook with some recipes that would definitely become weekday favourites although it doesn't have a lot of unique recipes that make me want to get cooking. The notes on how to prepare dishes in advance are fantastic and really lift the cookbook making more complex dishes easier to enjoy frequently. A good update of a Mary Berry staple, simple but still good.
Disclaimer: I received a copy of 'At Home' from BBC Books.