Photography: Laura Edwards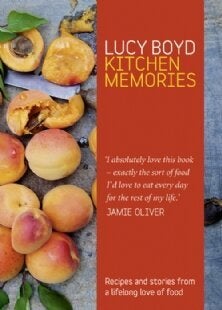 As you would expect with 'memories' written right into the title this is part cookbook and part memoir. Lucy Boyd was brought up around food as the daughter of Rose Gray, lived in Italy and works in the gardens at the amazing Petersham Nurseries, quite a stunning résumé!
The recipes run into each other with notes in between about where the idea came from, when to eat it or what to serve it with. Recipes are often split over two pages which can get annoying when you are cooking, having to keep flicking between the pages. There are also longer notes sections about food, cooking, ingredients or biographical highlights dotted around. Most of the recipes are for four people but they are easy to scale up or down.
Overall 'Kitchen Memories' could do with having more pictures in it but the ones that are in there are beautifully shot and styled, it all looks very appetising and makes you want to get cooking straight away. Arranged by season the recipes seem to fit well into their sections and you get a real sense of the changing ingredients, fittingly for a chef/gardener. Many of the recipes have either a British or Italian feel to them but you can see worldwide influences in the book.
Some of the recipes are very simple but still emotive and tempting. There are some fantastically inventive ingredients used, either as a way of highlighting something not used very often or as a way of spicing up a more ordinary dish. There are plenty of fish and veggie dishes, and the meat dishes really stand out however there could be more sweets included.
My favourite recipes were the Hazelnut Tart with Blackberries; the Ricotta Fritters; the Wild Cicoria and Veal Lasagne; and the Spring Minestrone.
It's a very well written cookbook with interesting and engaging observations throughout. Lucy Boyd has used gorgeous and traditional flavour combinations spiced up with innovative touches and a careful attention to ingredients as well as taste. A truly wonderful cookbook that will be used often in my kitchen.
Disclaimer: I received a review copy of 'Kitchen Memories' from HarperCollins