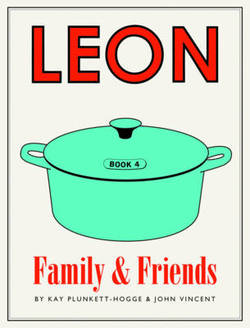 Leon: Family & Friends - Kay Plunkett-Hogge & John Vincent
Photography - Georgia Glynn Smith
Leon is known for tasty fast food that's good for you. The cookbook is split into easy-to-use meal sections. There are a good range of styles and cultures from Southern USA to Spain. The photographs were a little washed out and the styling was rather cluttered so the dishes didn't always look appetising.
Lots of the ideas were quite original - different and interesting twists on dishes that are more familiar as well as lots of less well known recipes. However, the ingredients were still things that are easy to find and not too expensive. They had a nice balance of recipes throughout with meals that could be put together either quickly or in advance and plenty of veggie dishes as well as a good sweets section.
The main body of writing was dotted throughout the book at the start of recipes rather than being altogether, there is a combination of notes on how the recipes were made and also some more personal comments.
The index is fantastic, as well as a regular index there is a separate section so that you can search for special diets, such as gluten free or meals with low saturated fat. Overall the recipes were interesting and there's a good range but they are not the most inspirational, good to have as a reference book with a few recipes that are sure to become favourites.
My favourites recipes were Ot's Chicken Ton-katsu; Benny's Scotch Eggs; the Puréed Brussels Sprouts and John Derham's Potato Cakes.
Disclaimer: I received a copy of 'Leon:Family & Friends' from Octopus publishing.