Pies, Glorious Pies - Maxine Clark
Ryland, Peters & Small - 2012
Photography: Steve Painter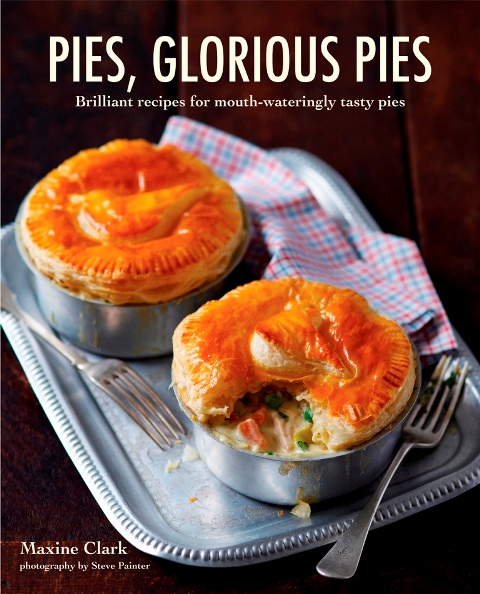 Pies, Glorious Pies opens with a really great introduction with lots of information on what equipment is needed and what you can use in a pinch. There is a long section on techniques which is full of step-by-step pictures to help you along. It is a very beginner friendly way of learning how to work with pastry but also helpful to seasoned cooks to see how Clark does it.
The sections of the book make it very easy to navigate with Everyday Pies, Posh Pies, Portable Pies and Sweet Pies. Probably the most valuable part is the long section covering many types of pastry and tips for using them.
The images are beautiful throughout with both the sweet and savoury pies looking hugely tempting with rustic styling matching the warmth of Clark's writing and recipes.
As well as traditional pies and pasties there are a lot of different and very unique types of pastry dishes shown in Pies, Glorious Pies with influences from varied cultures.
All of the ingredients are easy to find, even with the American style pies - Clark has listed
common ingredients in the UK. Some of them are pricier to make but there are a few that could be made on a budget.
There are no quick pastry recipes because pastry takes time to make but some of the basic pastry mixes can be made in advance and frozen. These are still not fast recipes as a whole and need both time and care to make. There are more savoury recipes than sweet but there are very few vegetarian recipes overall.
My favourite recipes included the 5-Spiced Venison Puffs, the Pecan and Maple Syrup Baklava, the Corned Beef and Sweet Potato Pasties, and the 'Auld Alliance' New Year Steak Pie.
This is a wonderful cookbook full of tempting recipes and beautiful photography.
Disclaimer: I received a copy of 'Pies, Glorious Pies' from Ryland, Peters & Small publishing.