The Clandestine Cake Club Cookbook - Lynn Hill
Quercus - 2013
Photography: Emily Dennison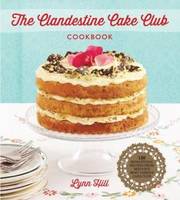 The Clandestine Cake Club started as a way for amateur bakers to get together, each bringing their own cake. It's now gone global and the Clandestine Cake Club Cookbook has a great sampling of recipes from club creator Lynn Hill and other members.
The book is split into types of cakes from Classic to Chocolatey and Fruity to Creative.
There are lots of photographs and the styling is beautiful throughout. The recipes are easy to read with clear instructions and well laid out ingredient lists. Each cake has a badge at the top identifying which club it came from.
Traditional cakes have been perfected or tweaked and there is a huge variety of flavours. Concentrating purely on cakes (not bars, muffins or tray-bakes) this is a very niche but lovely book. The Fruity section was the strongest with a fantastic mixture of ideas and loads of original ways of using fruits in cakes. The weakest section was the chocolate one, which was more run-of-the-mill than the rest.
Most of the recipes fit on one page but annoyingly when they go onto a second page the next recipe is started directly below which can get confusing. There is a great section at the back of the book about common cake catastrophes and what to do about them. The index is well organised and there is a list of blogs by the Clandestine Cake Club members so you can see more about them. It would be nice to have a list of recipes according to author as well.
My favourite recipes were the Caramel Cake by Nelly Ritchie; the Plum and Cardamom Cake by Lynn Hall; the Sweet Potato and Pecan Cake by Gillian Tarry and the Toffee Shock Cake by Julia England.
The range of recipes in the The Clandestine Cake Club Cookbook will surely have a cake to suit any occasion and they are all so appealing that it's hard to choose just one. This is a gorgeous collection that will make a perfect addition to any cookbook shelf.
Disclaimer: I received a review copy of 'The Clandestine Cake Club Cookbook'