The Vegetarian Pantry - Chloe Coker & Jane Montgomery
Ryland Peters & Small - 2013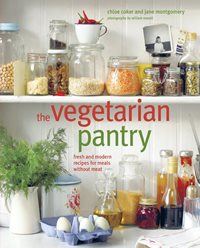 The Vegetarian Pantry wants to show both vegetarians and meat eaters alike that veggie food can be light, fun, modern and easy to cook. Coker and Montgomery advocate using seasonal produce and make sure that all of the necessary nutrients are still in their dishes.
The layout of the book is easy to navigate but there are few hints about which ingredients are available at which times of the year. It's easy to use and follow through while cooking. Although not all of the ingredients used are store-cupboard staples they are certainly easy to get hold of and a lot of the recipes are very budget-friendly.
There are some really innovative dishes as well as lots of recipes with multiple ideas for adaptation which work brilliantly at showing just how exciting vegetarian food can be as well as how easy it can be for home cooks. There is a brilliant section at the start of the book with lots of tips about shopping and storing foods.
The styling of the photography is quite old-fashioned but the pictures are clear and well lit showing the food off nicely. Most of the images are of the final dish so that you can see what you are aiming for while cooking.
The whole book is really well tuned into to how people cook at home, lots of interesting recipes that are still achievable. My favourite recipes were the Italian style tear and share bread, the cheesecakes with salted honey walnuts, the spinach and ricotta stuffed onions and the carrot and leek tarte tatin. The least appealing section for me was the Sweet Treats part which was rather boring, a shame as it could be the most exciting in a vegetarian cookbook - however a lot of the desserts were not only vegetarian but also vegan.
The Vegetarian Pantry does just what a good veggie cookbook should do - it makes non-Vegetarians want to use it on a regular basis as well as bringing together new ideas for people who have been Vegetarians for years. There are lovely recipes as well as ideas for how to experiment with vegetarian cookery. A fantastic addition to any household.
Disclaimer: I received a copy of 'The Vegetarian Pantry' from Ryland Peters & Small