Forget Valentine's for a moment, this Friday is all systems go for London Fashion Week. It's time for Somerset House to once again come alive with the hectic flurry of the shows, presentations, and oh-so-much-that-can't-be-missed. The courtyard, in particular, lends itself to be densely populated by the see-and-be-seen army, which makes it difficult to navigate at times. You may not always have time to negotiate the crowds, and you will regularly find yourself in need to sit down, focus, and quickly elaborate the multitude of visual stimuli you're expected to digest critically and professionally.
And when the work is done, you'll want to make the most of LFW as a rare opportunity to catch up with a number of colleagues that, after weeks of disparate schedules, are finally all to be found in the same small area of London.
So what you'll be looking for will be first a quiet lounge, that most evasive of spaces, and then a stylish bar for a well-deserved cocktail.
Now, with a press pass you can access Somerset House's own lounge. Which has all you may need, but a quite place it is not at all times; and while it offers refreshing drinks and a much-appreciated Lavazza espresso machine, it crucially lacks an evening bar.
So my suggestion is: explore the surroundings. Somerset House is a magnificent building, but it also happens to be in an area dotted with some of the best hotels in London. Take your pick at liberty - or follow this neat guide I've put together for what might be your most relaxed and efficient London Fashion Week to date.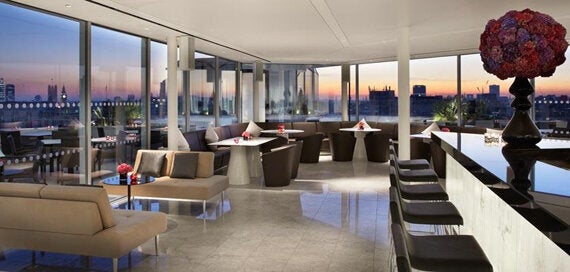 You don't have to walk far to reach the ME London Hotel. Do take some time in the foyer: it will be home to #FASHIONatMELONDON in partnership with Felicities, an exciting installation with pieces by designers like Ada Zanditon and Beautiful Soul. And then, make your way up to the Radio Rooftop Bar, where Felicities will host their media lounge: this certainly will be your best option if you're looking for a dramatic venue - that view will heighten your appreciation for all things London, and get your brain in gear for some great writing (or picture editing, or...).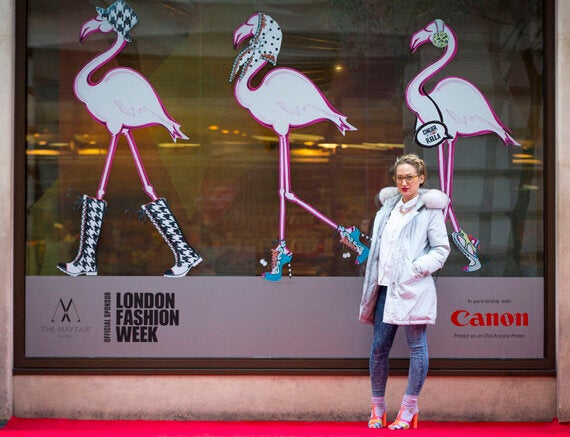 The official hotel for London Fashion Week is the May Fair, for the seventh consecutive year. This season, they celebrate with an installation for the hotel windows, specially commissioned to joyful and eclectic designer Sophia Webster. Sophia's window designs take inspiration from her love of flamingos and the colour pink. Be ready for a riot of colour! This is obviously a must-see - and while you're here, you can also enjoy a mini-mani at the Nails Inc. pop-up salon, picking from the exclusive May Fair Hotel Nails Inc. palette.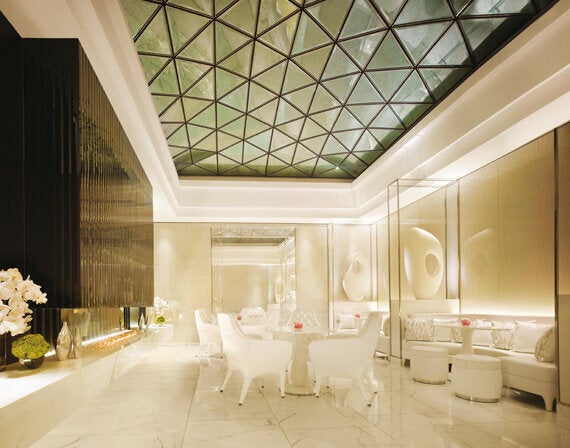 If you're looking for a really calm and secluded space, the Corinthia London have a café area right next to the spa. Now, that would be a way to recharge the batteries for another set of shows. Their Lobby Lounge is also kitted out with quiet little areas for a coffee and space to work, and it does serve afternoon tea.
When most of the day's work is done, and you want to just top it off with a cocktail, you have a few options, too.
At the May Fair, Sophia Webster has also designed four special cocktails, inspired by her love of flamingos, unicorns and pink, that will be added to the drinks list for the whole of February.
Expert mixologist Stafano Cassio has devised a 'London Cocktail Collection' to be served during the five LFW days only, every afternoon in the Bassoon Bar at the Corinthia - with its seven meters long piano serving as a bar, this space certainly makes a style statement.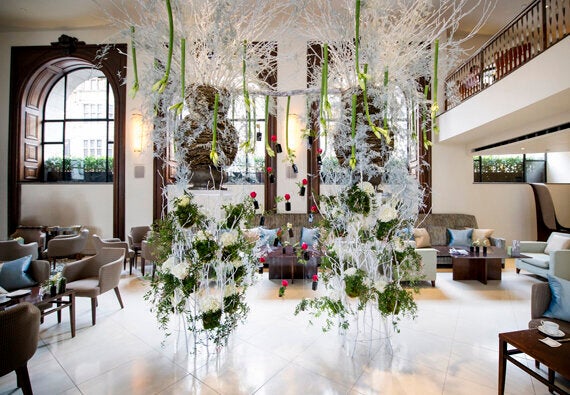 One Aldwich Hotel also has had their bar team devise a special recipe for a cocktail - inspired by the Isabella Blow: Fashion Galore! exhibition currently running at Somerset House. The cocktail references the heady, sensuous notes in Fracas by Robert Piguet Parfums, Blow's signature scent. The whole lobby bar has actually been transformed to this theme, with a spectacular floral installation that wants to be as dazzling as the late Ms. Blow's style always was.
Make sure you make the most of all of these amazing set-ups - LFW can be hard work, but there no reason why it shouldn't be done in style.