The London Olympics is not just about the athletes, but also about celebrating the culture of the 204 participating nations.
The dozens of national hospitality houses, or social embassies for athletes and fans alike, across the capital are a great way to follow all the action from the Games and experience different cultures without having to travel. Here is a selection of Olympic Houses I visited this week.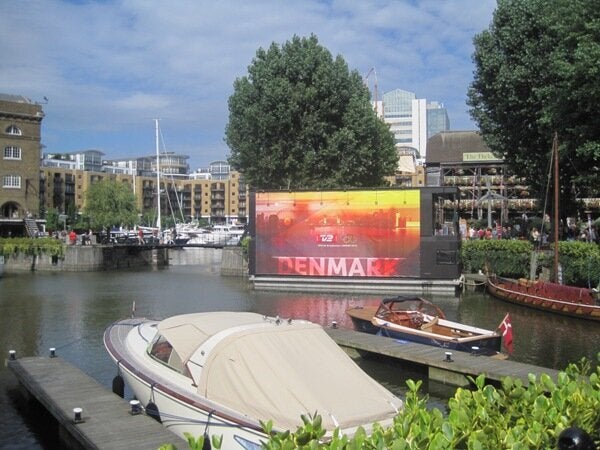 Business Design Centre, Angel tube
Mon-Sat: 10-12am; Sun: 10am-10pm; £5
This is a futuristic place to chill out and enjoy panoramic projections of the Olympics from the comfort of a chaise lounge. You can also explore Czech art and photography, play games, listen to live music every night, and even appear live on Czech national television.
"It's better to be here than at the events," says American businessman and tourist Shane Gibson, who describes the London Games as "incredibly well organised". The highlight of visiting the Czech House, says Mr Gibson, 50, is "the opportunity to rub shoulders with celebrities and athletes".
Indeed, as I wandered through this beautifully lit and designed space, former British athlete Colin Jackson appeared on stage to greet the visitors before being interviewed in the newsroom live on Czech television.
This is a clear favourite with the Czech expats in London. When the newsroom goes live, they flock the space to wave at the cameras to friends and family back home.
The Czech House also offers information about visiting the country. You will be able to taste the herbal Becherovka liquor, an oplatky (a popular pancake-shaped warm waffle), as well as mineral water from the Karlovy Vary spa region. "It makes me want to go to these places and discover them," says London student and volunteer at the Czech House Anna Hlavsova, 24.
Remember the wellies the Czech Olympic team wore at the opening ceremony? Priced at £20, they have been going like hot cakes in the Olympic shop at Czech House.
Trinity Square, Tower Hill tube
Until 12 August; 10am-10pm; free
First the Alpine landscape banners, then the ski gear and the smell of schnitzel. As you near Trinity House behind Tower Hill tube station, you are instantly transported to the Austrian Alps.
The official Austria House is an Alpine hut with a terraced bar where you can follow all the action from the Games. There is an ample choice of culinary delights from Austria, including Weisswein Spritzer, Almdudler and Kaiserschmarrm.
Come in the afternoon and you will notice many City workers enjoying a pint in this atmospheric open-air space, with the Tower of London in the background.
Inside the building is a tourist information point about Tirol, Innsbruck, which hosted the first Winter Youth Olympics in January this year, as well as other Austrian destinations. You can also sample a variety of Austrian breads for free. They were so delicious I was tempted to buy some, but to my bitter disappointment they were not for sale.
Kensington Gardens, Knightsbridge tube
Until 12 August; 10am-9pm; free
African rhythms and culture against the backdrop of the mighty Albert Memorial - that's what you get when you first set foot in the Africa Village in Hyde Park.
This space is a collection of pavilions offering snippets of Cameroon, Equatorial Guinea, Algeria, Libya, Egypt, Botswana, Gabon, Ivory Coast, Nigeria, Tunisia, Morocco, Rwanda, Togo, Ethiopia and the Republic of Congo.
The Libya pavilion is a taste of old and new Libya through sport. On sale are objects and traditional clothes made by Cameroonian women. As some of the stalls are sponsored by national tourism offices, you can find out about visiting these countries.
A personal highlight is the Moroccan pavilion, where a gentleman wearing a fez can write your name in Arabic and where visitors can get henna tattoos. Inside is a recreated Moroccan sitting room, where you can relax and soak up the atmosphere.
Africa Village is equipped with a bar and two giant screens where visitors can catch up with all the action from the London Olympics. Live African music also sounds daily from 6pm.
East Thames Community Centre, Stratford tube
Until 12 August; 9am-5pm; free
Located ten minutes away from the Olympic Park in Stratford, this hospitality house boasts a cultural exhibition about Kenya's past, present and future.
Visitors have the opportunity to not only rub shoulders with the Kenyan athletes, but also discover a replica of the Turkana boy's skeleton, the most complete early human skeleton ever found, dating back to 1.5 million years.
Proud of its Olympic history, Kenya House offers visitors a glimpse of the tracksuit worn by athlete Kipchoge Keino at the 1968 Mexico Olympics. The exhibition, which highlights the country's export industry, also features hand-stitched safari boots.
Once you're done exploring, you can sample local food in the cafeteria and follow all the action from Kenya's athletes on television monitors.
And while you're there, why not stop by next door West Ham Park and watch the Olympics on a giant screen.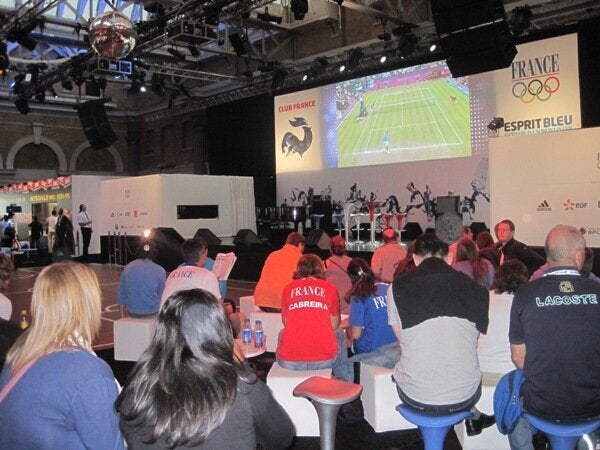 Old Billingsgate Market, Monument tube
Until 12 August; 9am-3am; £5; £40 after 7pm
It's true that most hospitality houses have some sort of controlled entry, but security must be tightest at Club France. The set up is similar to passport control at airports, so you would need an ID.
I found it amusing when, despite the fact it was going to take five seconds to pay by card, the grumpy Frenchman at the ticket booth moaned about me not having cash, because "it would take longer by card and there are people waiting".
The bar inside the Old Billingsgate Market is especially popular with visitors, who can sit in front of the giant screen and watch the Olympics with French commentary. There are some interactive games children can play, and exhibition stands include Omega and BMW.
It's a glamorous place, which turns into a nightclub. The French House is also a media hub for French RMC radio and L'Equipe, France's top sport newspaper. There is a dedicated VIP space upstairs for the French Olympic team.
If you have an Olympic ticket for the day, entry to Club France is free.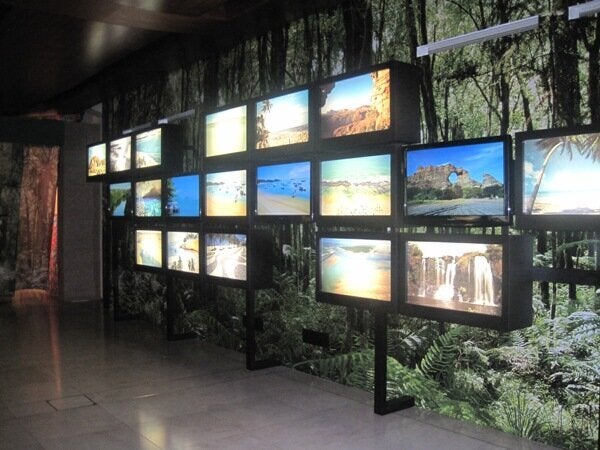 Somerset House, Temple tube
Until 8 September; 10am-6pm; free
Once the London Games are over, the spotlight will be on Rio de Janeiro, where the next Olympics will be staged in 2016. With this in mind, visiting Brazil's Olympic house in the Strand is an exciting experience.
Breathtaking images of Brazilian landscapes, rainforests and architecture draw you in like a magnet as soon as you enter Casa Brasil.
"From the Margin to the Edge" is an exhibition asking visitors to wipe out their preconceptions about Brazil and immerse themselves in unsettling 21st-century art and design.
Housed in a stunning vaulted space, the gambiarra (or craftsmanship) exhibition showcases photography and prints with messages about material culture.
This creatively used space ends with Rio 2016, which highlights its social inclusion mission and explores the city's dramatic urban transformation.
St Katherine Docks, Tower Hill tube
Until 12 August; 11am-11pm; free
Located at the foot of The Dickens Inn in St Katherine Docks, Imagine Denmark is an open-air space bringing you a taste of Danish culture, food and lifestyle.
Visitors can explore the country's trendy interior design, sustainable architecture, jewellery and green bicycles. It showcases a greener living through a LEGO wind turbine and an exhibition about cycling in Copenhagen.
The adventurous-hearted can get on board a stationary replica of a real 17.3m long Viking ship, dating back to c.1030, from the Viking Ship Museum in Roskilde, Denmark.
Children can take part in activities at the Hans Christian Andersen pavilion and fun LEGO competitions. A young Danish dance group will be performing from 9-12 August.
Imagine Denmark is a fun and interactive hospitality house where you can enjoy watching the Olympics on a huge screen.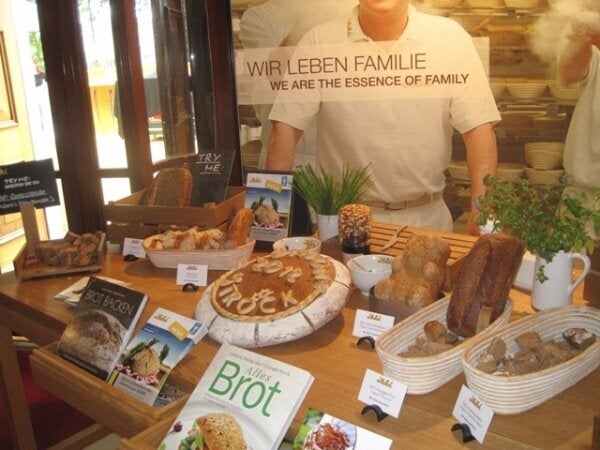 Museum of London Docklands, West India Quay DLR
Until 12 August; 12pm-1am; free before 5pm; £5-10
There is something about a German crowd inside the Museum of London Docklands getting excited and then frustrated at their Olympic heroes cycling in the Velodrome.
Visitors to the Deutsches Haus, an old inn with wooden tables and beams, will be swept away by the emotions of this sporting nation as the Games progress.
"It's like you're in Germany," says Londoner Kelly Hood, 34. The TV producer describes the Olympic houses as "travel without travelling" and a "world party", as people from across the globe can come together in one place, London. Another visitor to Germany House, Emma Martins, 33, describes them as "pop-up bars".
Here you can enjoy all the Olympic action on television monitors while drinking German beer, savouring a German Bratwurst or sampling an apple strudel, as well as dancing to live music every night. You can even get a free souvenir photo in an authentic beach chair.
William Road Gallery, Warren Street tube
This Olympic house has a different purpose to the others. The Maison d'Haiti is a mere cultural message from Haiti to anyone in London during the Olympics, in the form of the "Discover Haiti" exhibition.
It features carefully arranged ceramics, sculpture, paintings, papier-mâchés, decorative objects and home and fashion accessories. Crafted by native Haitians, these are the fruits of designers from Port-au-Prince and other Haitian cities.
Also on show is metal drum art - a unique Haitian tradition, which flourished in Croix-des-Bouquets, Haiti, after local artisans started transforming industrial waste from the capital into art.
A traditional gallery experience, there is neither music nor big screens to watch the Olympics.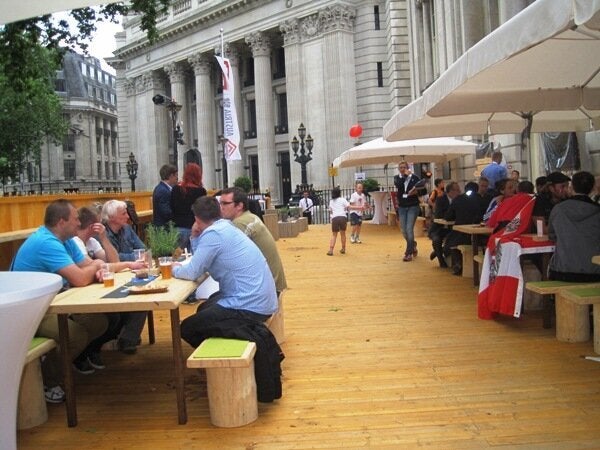 The charm of the Olympic houses lies in the impression they give you of being in the actual country. It's true that they are predominantly a place for national communities to cheer on their Olympic heroes. However, anyone with an interest in the Games or culture, or simply wanting to chill out, would have a fabulous time there.