I've always loved live music. My first ever concert was going to see The Backstreet Boys when I was much younger. I will always remember it, as it was also the first time I experienced being segregated at a concert.
All the other wheelchair users at the concert were seated really high up, looking down at the other fans. I was only allowed to sit with one friend in the disabled area, so my other friends had to go downstairs in to the crowd. I was sad to be separated from them, but I just put up with it. I thought that because I'm disabled, that was how it had to be.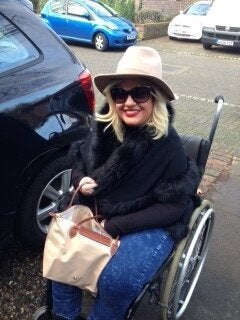 About ten years ago, I tried to book tickets for the Reading Festival. I had to go through a long process to prove I was disabled so they would give me a ticket. And when I looked into it further, I found that the viewing platforms for wheelchair users would have given me a restricted view, so it put me off going.
Now that I'm older, I no longer think disabled people should have to put up with poor access to live music events.
My boyfriend and I love live music, but it's always a battle to get tickets. Huge venues such as the O2 Arena have limited seating, and only allow one carer a seat next to the wheelchair user. I have often tried to get one extra seat so I could take my niece or one of my nephews to come with me. But it just wasn't possible.
A few years ago I managed to get tickets to see Kings of Leon. I was so excited, as I really love their music. My boyfriend and I travelled by train to the O2 Arena. We were seated in the disabled viewing area at the back, but I didn't mind so much as I was just happy to be there.
They started the gig and it was amazing, but I started to feel small sweets landing on me, and I could see others in the disabled area were experiencing the same thing. It was really annoying. But then things got a whole lot worse. I was sitting in my wheelchair, and I could feel something wet hit the back of my head. I turned around and could see people sitting in the Boxes / VIP section above me. What on earth were they thinking? I could clearly see them, so they could easily see that they were throwing things at disabled people. They then started throwing pints of beer at us. It was continuous. I was soaking wet, so we had to leave the gig.
I was so angry and felt so disheartened. How on earth could people do that to another human being?
I complained to the O2 afterwards and told them I was coming back in a week's time to watch Coldplay and didn't want to sit in that area again in case the same abuse happened. They suggested I sit somewhere else and I ended up in an awkward area where I was facing the audience instead of the stage, which I couldn't see anyway due to a metal bar blocking my view!
When I went to see Beyoncé last year, I was once again seated right at the back. Because of the way the stage was set out, I couldn't even tell which performer on stage was Beyoncé. In the end, I left early because I was fed up and so disappointed.
It's not just accessing live music events that I've had problems with. When I went to Wembley Stadium last summer to see a boxing match between Carl Froch and George Grooves, I booked two tickets for the disabled area (I was only allowed one seat for a carer) and I had to book two separate tickets for my friends in standard seating. On the night, my carer and I were the only two people in the disabled area. But when we asked if my two other friends could sit with us so we could enjoy the match together, the steward said no. It left me feeling segregated.
A group of my friends have recently all booked to see Ed Sheeran at Wembley Stadium, but they couldn't book my ticket to sit with them. As a wheelchair user, I had to book my ticket separately and although I am overjoyed I have got tickets, it would be nice to be able to do a normal thing and sit with my friends. But I can't.
I strongly believe that music venues and ticket companies need to do much more to improve access for disabled people.
Last month, Radio 1 DJ Jameela Jamil launched a new initiative Why Not People? which aims to provide accessible live music events for disabled people and their friends. It will be interesting to see how this works and it will make a nice change for disabled customers, like myself, to be prioritised rather than treated as second class citizens.
Vicki Dennis is a member of Trailblazers, the Muscular Dystrophy Campaign's network of young disabled campaigners.www.mdctrailblazers.org