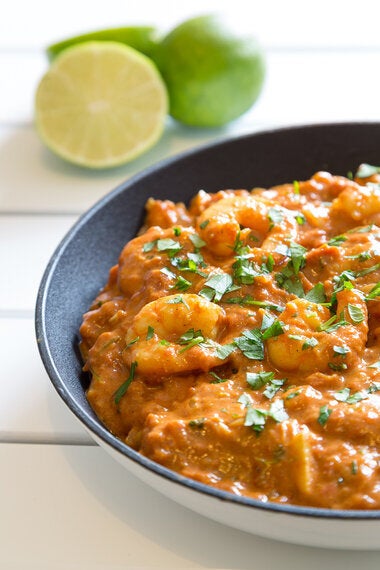 Forget reaching for the the takeaway menus, because this home made curry is equally tasty and a lot healthier than most of the curry house alternatives.
I adore one-pot cooking, finding it almost therapeutic. There's something incredibly relaxing about escaping to the kitchen, glass of vino in hand, slowly building up the flavours of my culinary creations.
The recipe below outlines my recommended quantities of flavours, but as with any one pot dish, I always recommend a 'trial and taste' approach so you can create a dish suited to your own personal preferences.
Masala comes from the Hindi word for spice,so as you can imagine this dish packs a punch but you can cut down on the chilli powder if you prefer milder flavours.
Using prawns is a great alternative to chicken which is primarily associated with this style of curry.
200g natural Greek yoghurt
400g raw king prawns, deveined
1 large onion or 2 medium onions, diced
2 small green chillies, finely chopped
2-3 cloves garlic, finely chopped
1 can of chopped tomatoes
Handful of fresh coriander, chopped
In a medium sized bowl, combine the garlic, ginger, lemon juice, turmeric, garam masala, chilli powder, coriander, cumin and salt. Stir well so all ingredients are mixed together.
Whisk in the yoghurt before adding the prawns. Ensure the prawns are well covered by the mixture, cover and leave in the refrigerator for 4-6 hours.
Heat the oil/ghee in a large pan over a medium heat, add the onions and cook for around 10 minutes until soft and aromatic. Add chillis and garlic for a further 5 minutes and then add the marinated prawns.
Add the chopped tomatoes and tomato paste to the pan, add the lid and leave to simmer on a low-medium heat for 30-40 minutes until the sauce has thickened.
Half way through cooking taste the curry and adjust chilli, salt and other flavouring as desired.
When ready remove from pan and serve with a generous helping of fresh coriander and squeeze of lime juice.
For more delicious recipes follow Honest Mum on her blog HERE.