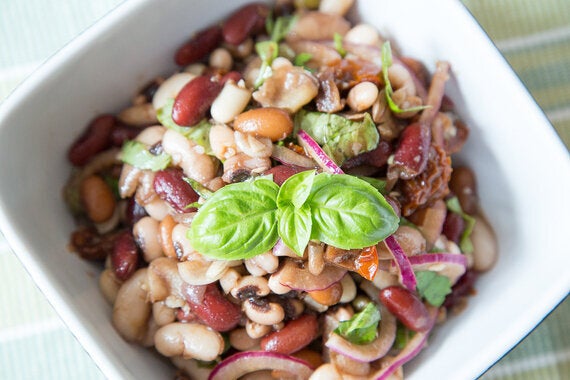 It's all about the beans, baby. There's a sentence I never thought I'd write!
Seriously though, packed with protein, slow releasing carbs and fibre, this is one healthy and filling salad that works all year round.
To make it easy I like to buy a mixed beans tin but my Mum would boil the beans up from dry beans.
Ideal for #veganuary, something I'm doing and loving this month or those who love a good bean dish!
1 x 400g tin mixed bean salad, drained and rinsed
2 spring onions, finely chopped
1 red onion, finely sliced
4 tbsp Extra Virgin olive oil
1 tbsp white wine vinegar
1 tbsp chopped fresh parsley
sea salt and freshly ground black pepper
Pour the beans into a bowl with the onion and tomatoes. Mix the dressing in a small bowl and pour over. Decorate with basil, season and enjoy! My husband loves to pile the salad on toasted baguette too.
For more stunning recipes head to the blog: Honest Mum and like Vicki's FB page HERE