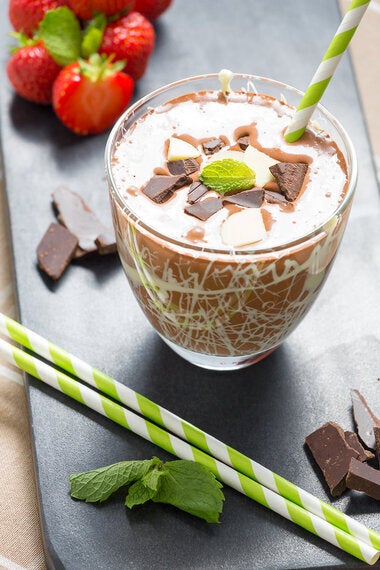 This natural chocolate protein shake is my new favourite drink with, or instead of breakfast when I'm in a rush.
Packed with natural protein with the rice protein powder and Greek yoghurt, this will keep you and your family, full until lunchtime.
2 small frozen ripe bananas, previously peeled & sliced
120ml coconut milk/ almond milk or regular milk
180g Greek yogurt (use coconut cream if you prefer)
1 tsp honey (I like manuka)
2 tbsp brown rice protein powder with raw cocoa or a natural whey powder
1 teaspoon peppermint extract
Dark chocolate (70% or higher) and some white chocolate if you like, and fresh mint leaves for garnish
Add all of the ingredients to the blender and blitz until it is smooth and creamy (approx 3 minutes).
Taste and add more cocoa protein powder for a chocolate-ier taste and more milk if you prefer it not as thick. I personally love thick, creamy shakes.
I decorated the glass with Greek yoghurt using a fork in a flicking motion, for the pretty effect you see here before pouring in the shake. I snapped chocolate pieces and a mint leave to decorate the top.
You can also follow Vicki on FB HERE.